Palacios carries team through tough start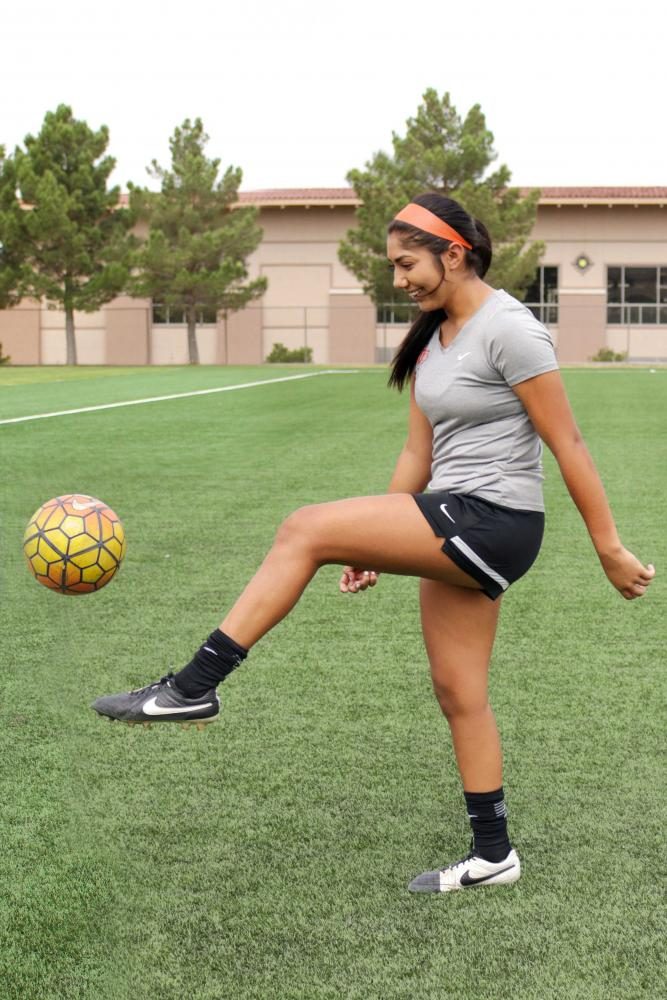 Mike Flores, Staff Reporter
September 11, 2017
Not even halfway into her third year with the UTEP soccer program, junior goalkeeper Alyssa Palacios, has already rewritten the record books. The standout goalie is the heartbeat and backbone for the Miners. If Palacios plays well – UTEP can compete with just about anyone.
Palacios is third all-time in UTEP history with 294 total saves.
Prior to UTEP, Palacios called Carrollton, Texas, home and lettered three years at Carrollton Creekview High School, where she first started to make a name for herself. Just like her time at UTEP, Palacios played a huge role for Creekview HS.
From day one of her freshman year in high school, Palacios had one goal on her mind and she wasn't going to stop for anyone or anything to achieve what she put her mind to—play soccer at the collegiate level.
In 2013 and 2014, Palacios was not only the back-to-back team captain, but she was also her team's back-to-back MVP for those years as well. She also garnered the 2013 first team All-District goalkeeper honors and was the Dallas Morning News Class 4A Player to Watch.
In 2014, her senior year, Palacios was recognized with the National Soccer Coaches Association of America Senior Excellence award and did enough to capture All-State goalkeeper honors. She was also named to the second team in All-District in her final season of high school soccer.
Palacios was a member of Sting 97 ECNL, a team that she helped guide to win the 2014 ECNL National Championship after coming so close the year before (third-place finish in 2013).
It's simple why Palacios was on UTEP's radar and what a grab that was for UTEP head coach Kevin Cross.
"At first I was kind of hesitant to come out on a visit here (UTEP). I kept on getting emails, and I kept thinking 'El Paso? What's in El Paso?' But my club coach convinced me to finally accept the visit, so I did. And right away, I fell in love with this city," Palacios said. "The Friday night game I came to when I visited got me a lot. It's so cool on how much the city comes out and supports their teams and get into it. Also, the team made it seem like a big family, so I knew it could be a good home away from home."
In her freshman year for Palacios, the Miners had just lost their four-year starting goalkeeper Sarah Dilling and it seemed as if Cross was leaning toward starting the junior goalkeeper Keighton Allen over Palacios. But due to an injury Allen received in training camp, before the season kicked off, the doors opened for Palacios.
She was thrown into the mix from the get-go and took advantage of this opportunity to never give back her starting role. As a freshman, it was apparent Palacios belonged. Palacios was third in Conference USA in saves (111), recorded 5.5 saves per match, sixth in save percentage (.816) and tied for third in UTEP's history with six shutouts in a single season.
To top off her freshman outing, Palacios was named to the C-USA All-Freshman team—something only one Miner goalkeeper had ever done before her.
"My freshman year, it was really intimidating. I wanted everyone to trust me playing. What drove me really hard was wanting to prove myself to my teammates. It was nerve racking, but then I finally saw it was the more games I get, the better I'll get," Palacios said. "I'm appreciative of that opportunity as a freshman. Playing from day one has helped me grow into a leader."
After her freshman season, there was no sophomore slump for the standout goalie. Instead, she upped her game and had one of the most historic seasons in UTEP's history.
As a sophomore, Palacios set a school record in shutouts (nine) and finished second in school history in many categories such as save percentage (.874), saves (132), saves per game (5.79).
Many could argue that defense, in large part with Palacios anchoring, is what guided UTEP to winning 13 games last year—the program's most since 2009, and a mark that tied the program for fourth-most wins in a single season. The Miners lost 11 players from last year's team—six starters—but they showed Palacios the way to become a leader.
"That team taught me that relationships are important. It makes you want to work that much harder for everyone on the field,"  Palacios said. "Now I want to have that with my new teammates and build relationships with them. I want them to trust me and be able to lean on me. It will translate onto the field."
Now in year three with a young and inexperienced team, Palacios has had to take over the responsibilities of leadership. It's been a rough start to the season, but UTEP has won three games in a row after starting off the season on a  five-game skid. Now UTEP sits at 3-5, but Palacios sees growth and the will to win in this young team.
Out of the eight games, UTEP has battled in five overtime games. UTEP could be one play or one break away from having an improved record. And that's saying something for this young team.
"Our team identity is respect, unity and discipline. We live through that in everything we do. I want us to be known as the hardest working team there is. I want teams to know it's going to be a fight when they play us—from first whistle to last,"  Palacios said. "We stay positive. We know we're right there and we can do this with anyone."
The Miners are only one game away from starting conference play. Palacios said the rough start has only pushed them to keep improving and it's a process. UTEP is looking to get all the kinks out before Southern Mississippi to open C-USA play on Sunday, Sept. 17.
Palacios' goal for her time at UTEP is to leave an impact, even when she's not playing anymore. She wants to build a culture at UTEP that makes players want to come and play for the Miners.