New voter ID laws aim to tighten voter rights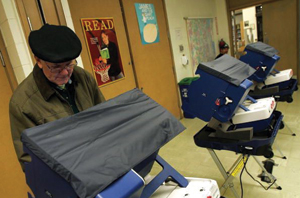 Starting next year, Texas will have a new voter ID law, which will allow more ways to confirm your identification.
While the acceptable forms of ID remain the same, those who swear an affidavit of "reasonable impediment,"— meaning they cannot reasonably obtain a state issued ID—may use a bank statement, utility bill or a paycheck to confirm their identification.
While this does seem as though it relaxes voter ID laws, critics say that since the new law also enforces perjury of "reasonable impediment" with an up to a two-year sentence, the law is actually trading one barrier for another that primarily impacts blacks and Hispanics in Texas.
Oscar Sanchez, president of UTEP's College Republicans, said that in the last three elections he was a part of, he only saw one person ask for a reasonable impediment waiver.
"Whether the local or federal government did find out you lied about it when you signed that form, then yeah, there should be a punishment for it," Sanchez said.
The bill, SB 5, was thrown out in August by District Judge Nelva Gonzales Ramos, who called the threat of perjury as efforts of voter intimidation, and that the bill "trades one obstacle to voting with another—replacing the lack of qualified photo ID with an overreaching affidavit threatening severe penalties for perjury."
But last Tuesday, Sept. 4, the Fifth Circuit Court of Appeals in New Orleans ruled in a 2-1 decision to stay Judge Ramos' decision. According to Rebecca Reid, assistant professor of political science at UTEP, this was not necessarily because they disagreed with Ramos.
"Their biggest concern was simply to make sure the status quo is maintained so there wouldn't be a lot of confusion for this election," Reid said. "So for them it was a much more practical issue of how to ensure that the elections go on as normal and that there isn't confusion that would tamper with the elections.".
The dissenting judge,  James Graves Jr., thought that the stay would keep the status quo before the legislative order and SB 5. Judge Graves wrote, "the correct approach would be to stay both the district court's order and the new legislation."
The Department of Justice asked the Fifth Circuit Court to block Judge Ramos' ruling.
Lauren Ehrsam, a spokeswoman for the DOJ, wrote in a statement, "We are pleased that the Fifth Circuit has stayed the injunction and allowed Texas to proceed with its duly enacted voter identification laws. Preserving the integrity of the ballot is vital to our democracy, and the Fifth Circuit's order allows Texas to continue to fulfill that duty as this case moves forward."
When asked whether SB 5 is likely to either increase or decrease the amount of voters, Reid was skeptical of any change.
"I imagine it's going to stay the same," Reid said. "So considering SB 5 essentially just makes permanent the interim orders, I don't imagine it's going to have a huge effect at least not since last year's elections, but imagine future litigation will continue though." Sanchez also did not think any change was likely to happen.
"Well, in the county voter turnout is horrible, so really don't think it's going to change it at all, not even at the state (level)," Sanchez said.
A hearing on the merits of SB 5 is set to begin oral arguments on December 4.
The Prospector reached out to the El Paso GOP, but did not receive a response in time for publication.