Miners beat Samford in opener of Borderland Invitational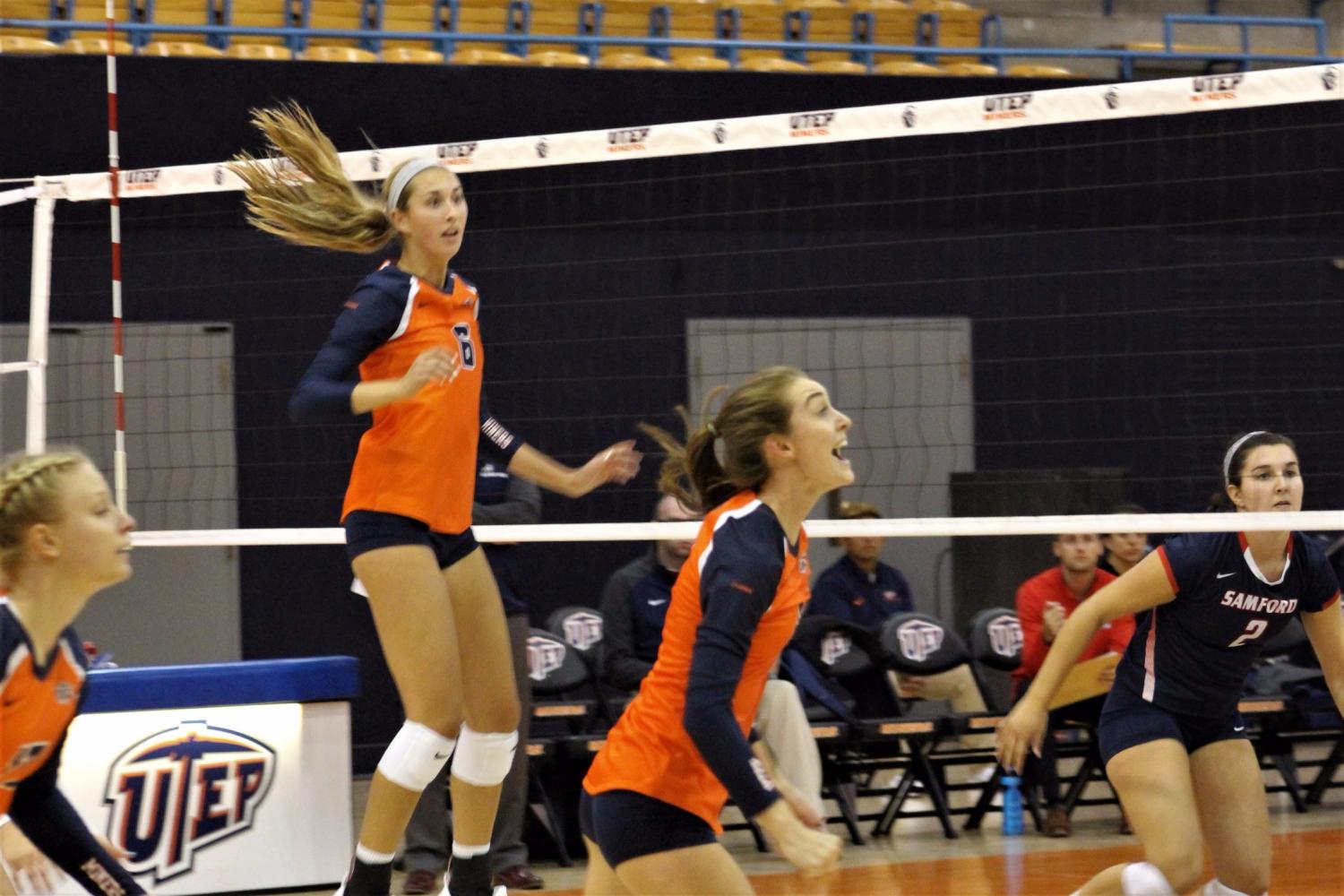 The UTEP volleyball team won their second match of the season, taking down Samford 3-1 in the Miners' first match of the Borderland Invitational in Memorial Gym on Friday, Sept. 8.
The Miners took the first two sets 25-22, 25-21 before the Bulldogs rallied to take set three 25-22. The Miners kept composure and took the come-from-behind set four victory, 25-23, and the match 3-1.
"It was huge for us to respond," head coach Holly Watts said in a press release. "That's what we talked about in the huddle between sets was 'What are we going to do now?' and I think we did a good job. In the fourth set we were a little bit behind in that too, so we had to push to come back and respond well in the fourth set but it was nice to get the win."
Pacing the UTEP offense was Macey Austin, who finished the day with 18 kills, and Briana Arellano, who recorded 13 kills. Defensively, Niki Cebak was everywhere for the Miners, picking up 19 digs and also notching two service aces.
Senior setter Amanda King had a nice return from last weekend's injury, dishing out 43 assists and tallying 8 kills from her setter dumps as well as five digs.
"It felt good to be back, I realized after last weekend that I'm going to push to play no matter how I feel," King said. "My team did really well last weekend not having me there and the freshman setter Sahara [Martinez] stepped up really well and took control over the court and did awesome but I'm glad to be back. Performance wise, I couldn't have done it without my team, they gave me perfect passes in order to dump so it's all on them."
In total, the Miners hammered down 60 kills at a .250 hitting percentage while also tallying 52 assists, 52 digs and four total blocks. The Bulldogs managed 49 kills, 47 assists, 47 assists and five total blocks.
"We hit .250 as a team, so we're excited to have done that as a team and for it to turn into a win," Watts said.
The Miners took the first two sets 25-22, 25-21 for their first 2-0 lead of the season. The Bulldogs would prevent the Miner sweep however, taking set three 25-22. A shootout would ensue in set four, with UTEP battling for the victory and Samford fighting for a decisive set five.
Behind back-to-back kills from Austin and Mallory Yost, the Miners stuck first for the 2-0 lead. The Bulldogs would capitalize on consecutive UTEP errors, and would begin to gain momentum before Watts called a timeout at the result of a Samford service ace. Arellano hammered down a kill to respond to two Samford kills, which began a back and forth attack from both teams.
An Austin kill followed by a Cebak service ace shifted the momentum in UTEP's favor to help break from an 11-all score. The score would be all tied up six times before three consecutive Bulldog kills gave Samford the 20-17 edge. Consecutive kills from Yost and Cheyenne Jones brought the Miners within one of Samford, 21-20, and prompted a Bulldog timeout.
Austin's attack out of the timeout was blocked, but she bounced back with an effective kill and Jones mirrored with one of her own. Another kill by Samford brought the score to 23-22 in the Bulldogs' favor, but Arellano's power hit into the block evened the score at 23. Yost notched a service ace for the set point, and an attack error by Samford ended the set 25-23, giving UTEP its second victory in front of its home crowd.
The Miners will be back in Memorial Gym for a free match Saturday, Sept. 9 at 11 a.m. against Delaware State (0-7) and will finish off the Borderland Invitational on Sunday, Sept. 10 against Abilene Christian (1-7) at noon.