Defense will be key to Miners success in 2017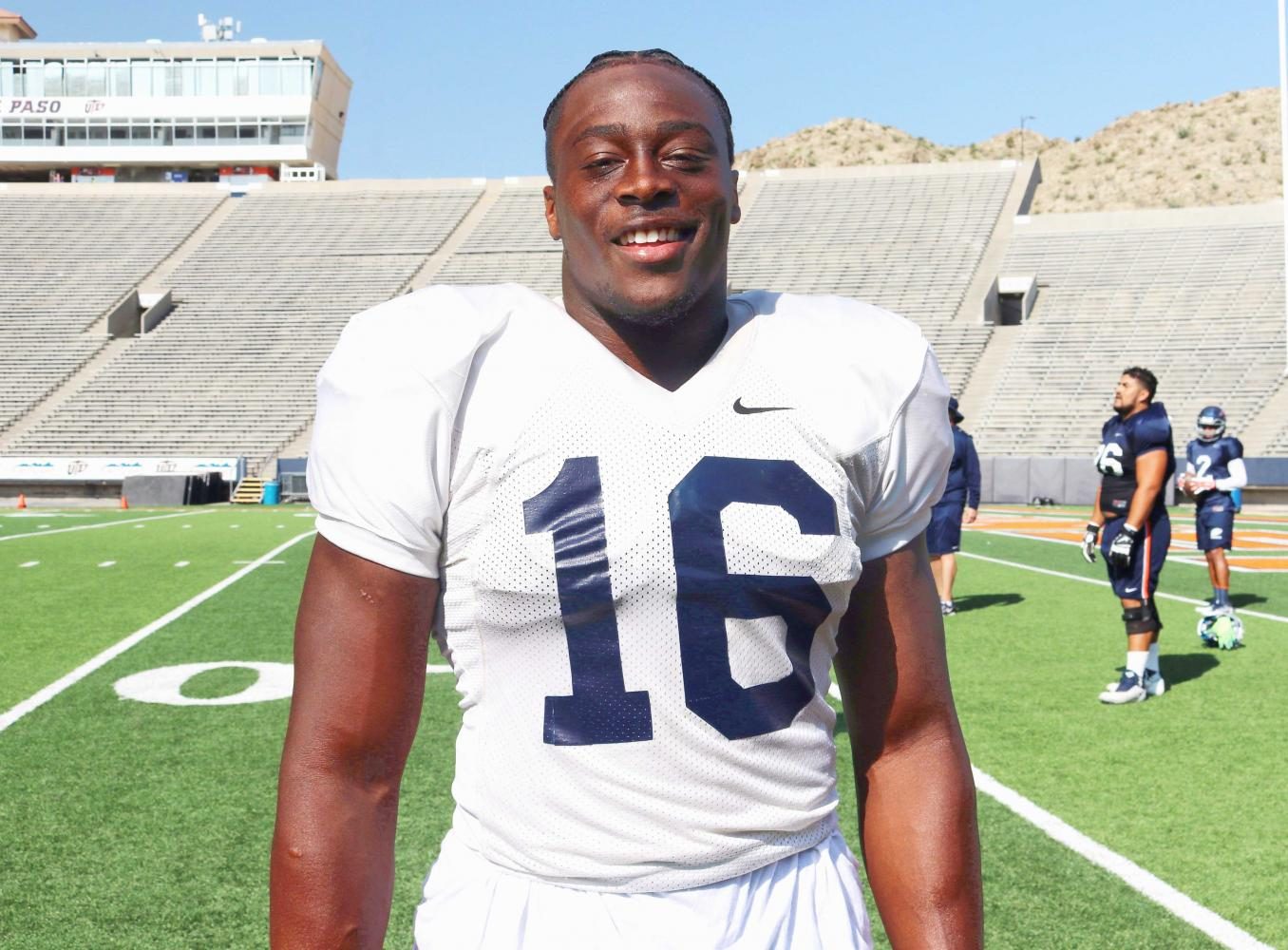 Mike Flores, Staff Reporter
September 5, 2017
UTEP football gave up nearly 35 points per game in the 2016 season, so needless to say, the defense for the 2017 season will need to be better for the Miners to compete and to avoid going 4-8 or even worse this year.
Head coach Sean Kugler made some adjustments in the middle of the season as he went for a 4-3 defense to a 3-4. This year, the Miners will continue with the 3-4 defensive scheme, seeking to produce more pressure on the opposing quarterbacks, improve the running game and increase the number of interceptions.
"We're not rolling out there with 230 or 240 pound guys.  We're rolling out there with guys who are 275 pounds or better, and it gives you a better chance to compete," head coach Sean Kugler said. "I think we have really upgraded our athleticism and size there. Our entire starting defensive line [from 2016] didn't even crack the two deep.  That just shows you that these guys have some talent."
Under second-year defensive coordinator Tom Mason, the Miners hope to make major improvements on the defensive side of the ball. His primary coaching position is with the linebackers.
"Coach Mason's defense is predicated on blitzing," Kuglar said. "We didn't hit home a lot last year, we didn't get a lot of pressure on the quarterback, and that stems from the defensive line position and from linebacker.  And no fault of coach Mason's, we didn't have the personnel to do that last year."
It all starts and ends with Alvin Jones, UTEP's leading tackler from last year. Last season he accounted for 93 tackles and was named to C-USA's second team for his performance.
Last year, Louisiana Tech recorded 42 total sacks—which led Conference USA in that category—while UTEP was tied for last in C-USA with only 14 sacks recorded throughout the entire season. The Miners finished with only six interceptions last year, which was second-to-last in C-USA.
Ironically, UTEP's bread and butter last season was their rushing offense, but one of their glaring weaknesses was on the other side of the ball in rushing; UTEP gave up an eye-opening 210 rushing yards per game (10th worst in C-USA).
However, the defensive line expects much-improved play in their games, vowing to be better against the run and harassing opposing quarterbacks more often.
"We as a defense are joining together as one and trusting each other more. We're trusting each other really well out there," sophomore defensive lineman Denzel Chukwukelu said. "Our strength is our speed. We know what's going on and we're not thinking too much."
Staying low and coming out aggressive on every snap is key to getting more sacks in this new season.
In the first game of the 2017 season, the Miners showed the same weaknesses on defense, albeit that it was against powerhouse Oklahoma and their Heisman-hopeful quarterback Baker Mayfield.
The Sooners put up 56 points against the Miners, with second string quarterback Kyler Murray coming in for Mayfield in the beginning of the second half. In total, UTEP's defense gave up 676 total yards (496 passing, 180 rushing).
Coming into the year, Kugler kept mentioning how important it is for his defensive players to win their one-on-one matches and stealing possessions from opposing teams to give the Miners a chance in every contest.
Kugler's players have bought into the new 3-4 defense and the potential it brings to the table. One of the strengths for the defense is the secondary, with veteran players coming back for the Miners in those positions.
"Practice has been good. We've been getting our reads down. We're executing and we're playing with confidence," safety Devin Cockrell said. "Everybody is playing aggressive; everybody understands what they need to do. And the linebackers are making good calls with great communication. You know, the little things and putting it all together."
Last year, UTEP gave up eight 30–or–more point games.
UTEP will look to bounce back and get their defense on track in their first home game of the season against Rice this Saturday (Sept. 9) in the Sun Bowl.