UTEP football overwhelmed by powerhouse Oklahoma in first game of the season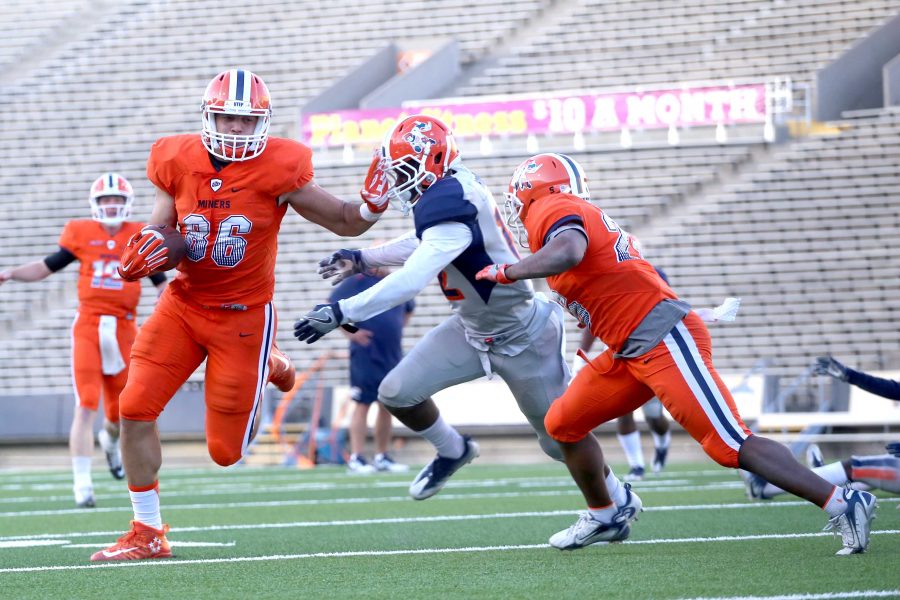 Mike Flores, Staff Reporter
September 2, 2017
Despite a quick first quarter score, the UTEP football team was overmatched against national powerhouse Oklahoma. The Sooners easily cruised past UTEP, 56-7.
The advantages of size, athleticism, talent and play-making ability were apparent for the Sooners. It came as no surprise that UTEP did not have the firepower to even keep the game competitive.
Oklahoma's Heisman hopeful Baker Mayfield was close to perfection. He destroyed the helpless Miners defense, throwing 19-for-20 (95 percent) on the day. His efforts combined for 329 yards and three touchdown passes.
The only sign of life for the Miners came in the first quarter. Running back Walter Dawn Jr. broke two big runs, including one 29-yard rush. Dawn Jr. put up the only points of the day for UTEP. He ran for 56 yards on seven carries, averaging 8 yards per carry .
Mayfield's day was done by halftime, as Oklahoma had the game in the bag with a 35-7 lead on the Miners. The Sooners scored on five of their six first half possessions.
UTEP's leading tackler from last year, Alvin Jones, was ejected from the contest after a questionable targeting call on Oklahoma's backup quarterback Kyler Murray. Jones will miss the first half of the game next week against Rice due to his ejection.
The UTEP passing game was atrocious, non-existent at times. Junior quarterback Ryan Metz went 10-for-18 but refused to take shots down the field and take some needed risks to try and cut the Sooners' lead. Metz finished with only 56 passing yards before Zack Greenlee took over.
In ten fewer pass attempts, Greenlee passed for 31 yards, including a 13-yard pass.
It was a one-team show. Oklahoma recorded 676 total yards on offense, compared to 167 total yards from UTEP—making it nearly impossible for the Miners to keep pace with the high-flying Sooners.
"We were outmatched today," UTEP head coach Sean Kugler said. "I knew going into this game that's a potential national-championship quality offense."
UTEP's defense was overmatched both against the run and Oklahoma's explosive passing game.
Even Oklahoma's backup quarterback Kyler Murray couldn't be contained when he was thrown into the sleeper, as he threw for 149 yards, one touchdown on 10-for-11 pass attempts. Sooners' wide receiver Mark Andrews did as he pleased, as he finished with 134 total receiving yards and one touchdown.
Three running backs for the Sooners, M Sutton (56 yards), Abdul Adams (53 yards) and Trey Sermon (51 yards) picked up over 50 yards each.
"We didn't match up defensively," Kugler said.
Next week the Miners will look to bounce back in the first home game of the season against Rice. The game is set to kickoff at 6 p.m. on Sept. 9.