Bob Stull addresses the media following his retirement annoucement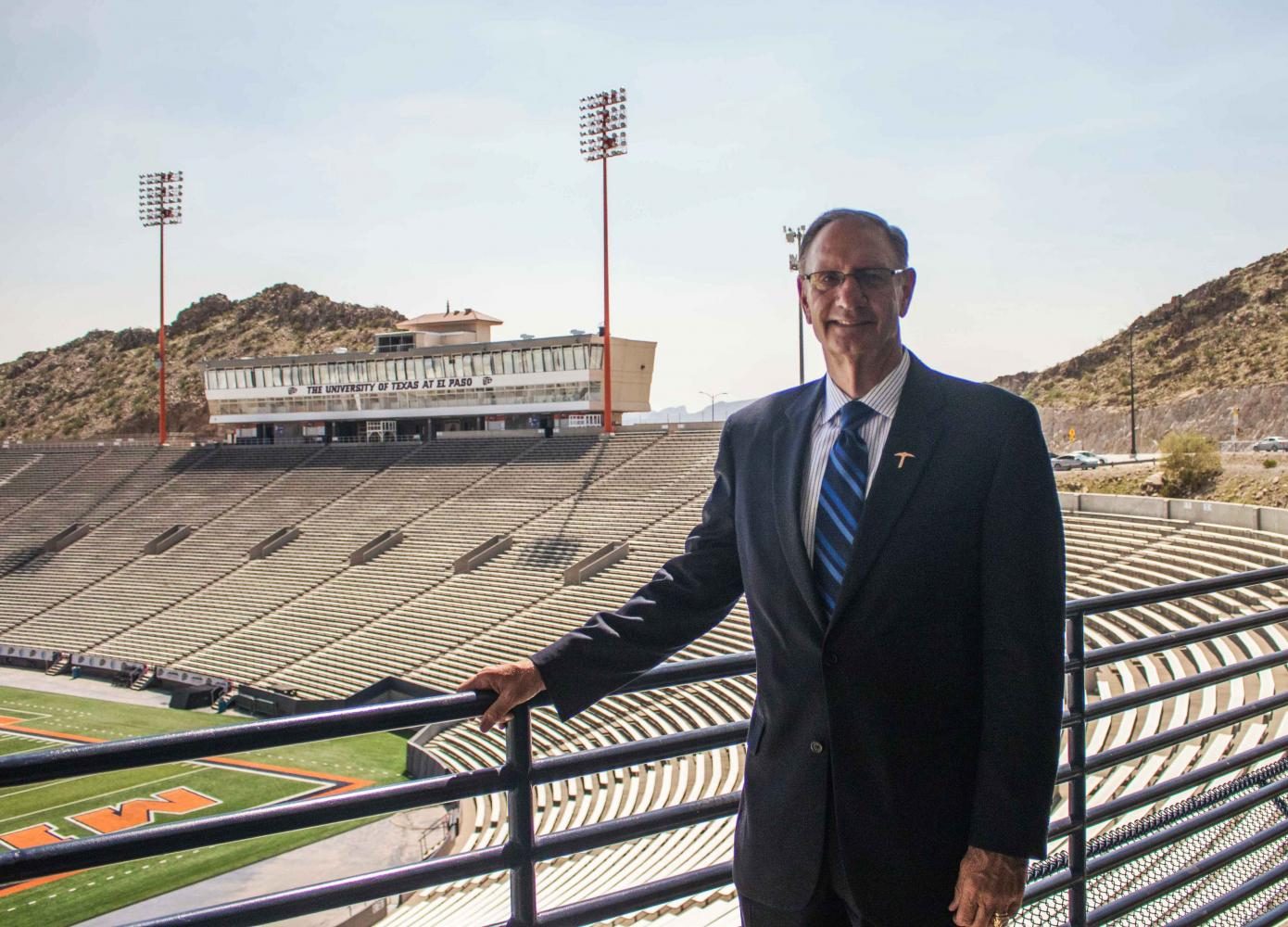 Mike Flores, Reporter
August 31, 2017
After 18 years of being the Director of Athletics for UTEP, Bob Stull has officially retired, as he announced on Thursday. Since 1998, UTEP has won 29 conference titles in seven different sports under their time with Stull.
Stull's final project for UTEP and their community is to lay down the foundation and expand the Sun Bowl with a facelift, as he announced at his retirement press conference on Thursday.
When Stull first got the job, he took over an athletic program that was on NCAA probation for 10 years. But since Stull took over, UTEP has since stood clear of NCAA violations.
Not only did Stull have to deal with the sanctions, but he was also dealing with an ailing athletic program at the time.
UTEP football had only been to one bowl game in over 30 years prior to Stull's arrival, but in 18 years with Stull, the Miners found themselves in five bowl games (2000, 2004, 2005, 2010, 2014). Also, the men's basketball team has been to the NCAA tournament three times and the women's basketball team has gone twice since Stull's arrival.
"What I tried to do was make us a solid D1 program that is recognized nationally, and we've done that. Everyone knows UTEP. Everyone knows the UTEP logo. Our UTEP brand, everyone knows it. We're national champions in track, we've been to the NCAA tournaments and we've been to bowl games," Stull said. "Everyone recognizes us now, and we think that's important."
Another aspect Stull really took in stride was keeping the student-athletes at UTEP intact. Over 600 student-athletes have graduated from the university since the Miners moved the Conference USA from the WAC in 2005. In 2016, 154 Miners made the C-USA Commissioner's Academic Honor Roll with a grade point averages of 3.0 or above, which was a school record for UTEP.
"The most important thing to me is that student-athletes now perform better academically than they ever have in our history with all teams at all times. Everyone is performing way beyond the minimum in most cases. We're very happy with the academics of our student-athletes. That means leadership from the coaches and important work in the Miner athletic academic center," UTEP President Dr. Diana Natalicio said.
Stull saw that UTEP's athletic facilities needed much improvement when he took over at AD. He helped many facilities come to life in his tenure, such as the Larry K. Durham Sports Center, the Foster Stevens Basketball Center and the Helen of Troy Softball Complex.
"The beautiful facilities Bob has managed to lead us to. Acquiring more buildings and space. Bob understood the importance of high quality facilities and what they portray and how they play a role in athletics," Natalicio said.
Attendances under Stull were always impressive in the conference. UTEP football is familiar with almost always staying in the top three in attendance, and basketball is usually always ranked first.
"We have great fan support. We have set records here. In 2005, we averaged 47,000—that was the average. In basketball, we averaged 11,000. And I believe we had 20 sellouts since I've been here. Women's basketball sold out in NIT, and that's really unheard of," Stull said. "Everyone knows coming to El Paso that this is the toughest place to play. We have the best fans."
A new family of logos was introduced under Stull, and that resulted in a 500 percent increase in product sales his very first year on the job as AD. Ticket prices were also adjusted and the community was introduced to attract more families to football games.
He left his mark on UTEP and El Paso. Stull was inducted into the El Paso Athletic Hall of Fame and El Paso Business Hall of Fame as well. In 2000 by El Paso Inc., Stull was named El Pasoan of the Year and Sportsman of the Year in 2000 and 2001. In 2006, Stull was named Sports Administrator of the Year by El Paso Inc.
"I can't pick one thing out that was my favorite. There was so much that stands out. There have been so many great times, with conference championships and working with all these great players and coaches," Stull said.
Now the search for the new UTEP AD is in the works.
"UTEP is a great place. Whoever gets it has a great supporting cast and a community that cares about their sports. They will have a lot to work with," Stull said.