Volleyball opens home schedule against Texas Tech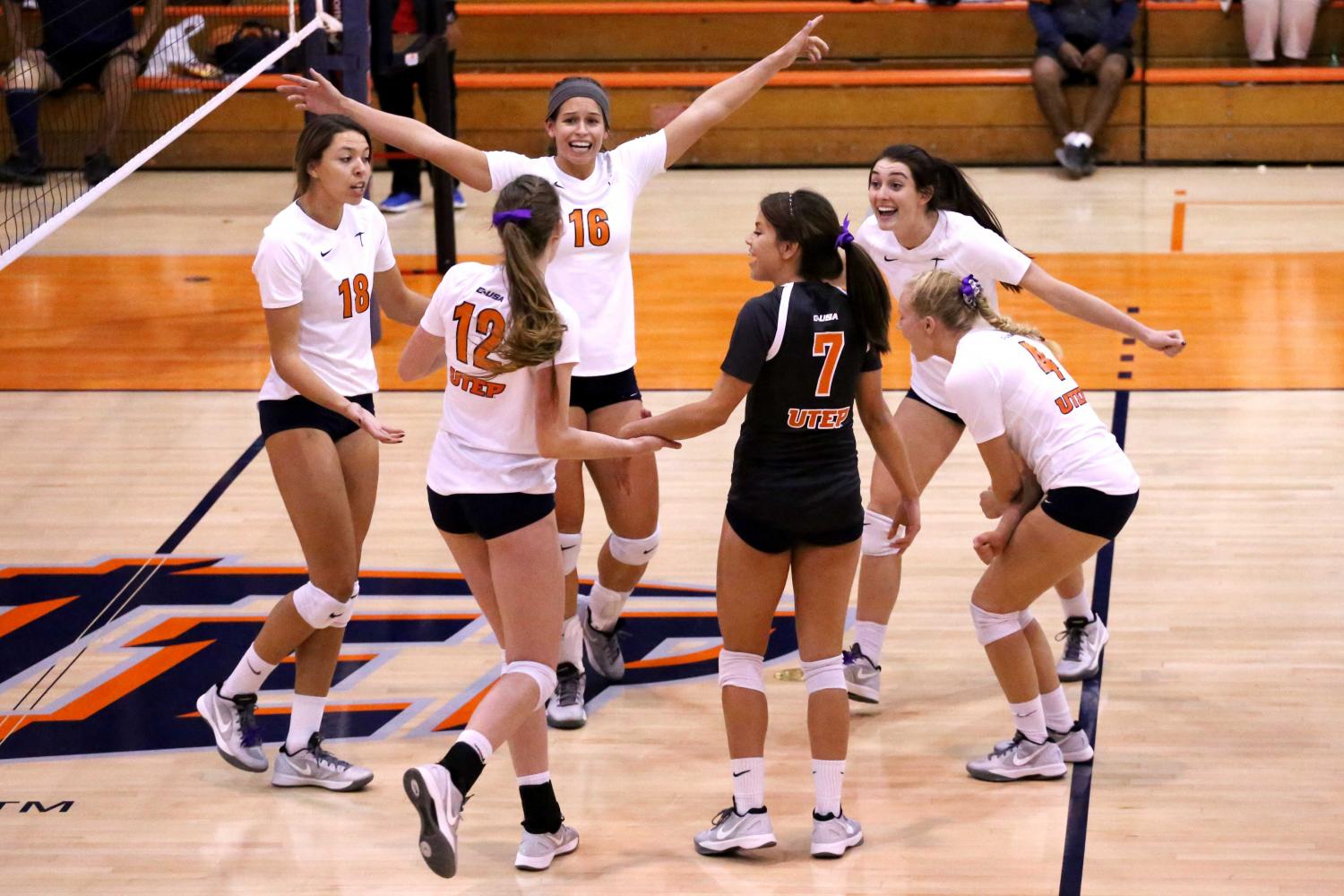 The UTEP volleyball team is set to open the home portion of their season against Texas Tech on Wednesday, Aug. 30.
The Miners (0-2) will try to come back from their losses with sophomores Macey Austin and Briana Arellano and junior Kylie Baumgartner and senior Amanda King highlighting the rest of the roster.
After their originally scheduled tournament was canceled in San Antonio due to Hurricane Harvey, UTEP athletics announced that the Miners would join the North Texas Invitational, featuring Montana, Tulsa and host North Texas in place of the I-10 Cardinals Classic.
In the first game, the Miners battled with Montana. UTEP started the game strong, winning the first set, but could not fend off Montana's rally in the second set that eventually led to a 3-1 Grizzlies win.
Arellano hammered down 10 kills with six digs and a block. Freshman Mallory Yost compiled nine kills of her own out of 13 attempts, while King dished out 27 assists to go with four kills in the loss.
In the second and final game of the tournament on Saturday morning, the Miners collided with former WAC and C-USA rival, Tulsa.
The Golden Hurricane shut out the Miners 3-0. UTEP yet again slowed down their play after a close first set loss (25-23), and Tulsa cruised in both the second (25-15) and third (25-19) sets to earn the shutout.
Arellano hammered down three kills and King dished out 18 assists with five digs. Freshman Cheyenne Jones led the Miners' offensive efforts with nine total kills and Austin added six of her own in the match.
Austin earned a team-high 280 kills last season as a freshman and was named to the 2016 Conference-USA All-Freshman team. Arellano, who is a former Canutillo High School player, is both a strong outside hitter and defensive player. She recorded 220 digs last season. Baumgartner led the team in blocks with 111 and King led the team in assists with 371.
King will be the Miners' pulse this year as the lead setter and team captain.
"Amanda is our team captain and senior setter, so she is going to be out there a lot," said head coach Holly Watts. "Sahara Martinez is our other setter and that's an option we can use, but Amanda is our go to right now as far as leading the team and taking charge on the court. She brings a ton of leadership, personality, drive and all those things you need from the leader."
While the Miners have a leader in King, freshmen Jones and Yost have added a refreshing feel to the team. In the Miners' exhibition win against Western New Mexico (Aug. 19) and recent tournament in Denton, the two young players have filled the stat sheet.
The two shined the last time the Miners played in Memorial Gym. Jones led the team in kills (13) and points (16). Yost followed Jones with 10 kills and 14 points in the exhibition win over Western New Mexico.
"I'm really looking forward to getting to know all these girls better and getting to play with them," Jones said. "I'm excited to maybe get UTEP to a higher ranking, to get into the conference tournament and win it because we have never done that before and I just have really high hopes for this year."
Looking at last season, UTEP struggled, going just 9-22 overall and 5-9 in Conference-USA play, while ending 2016 on a three-game skid. The Miners dropped their final regular season game in straight sets on the road to Marshall, lost to eventual champion Western Kentucky in the quarterfinals of the Conference-USA tournament in straight sets, and then dropped their final match of the year to Battle of I-10 rival New Mexico State in five sets.
UTEP is using the pains of last year as motivation to improve their game in 2017. One positive note the Miners can take away from last season is winning three of their final four conferences matches to claim the last spot in the Conference-USA tournament. Only the top eight of 12 teams that compete every season make the conference tournament, and the Miners were the eighth team.
"Last year was my first year with UTEP, and while we did make it to the conference, we placed last, so this year our goal is to place higher in the conference tournament," King said. "It's pushing me (referring to last year) because I know we didn't really have any support last year, no one thought we could do it, no one thought we could make it and we did (conference tournament). We didn't really end the way we wanted to, but to see we did actually make it so it shows hope for this year."
Texas Tech (1-0) also had their opening tournament in Houston (Barcelona HBU Classic) canceled due to the hurricane. The Red Raiders were able to pit a matchup in Denton just like the Miners, but were not a part of the invitational. Tech played a single game Saturday, Aug. 26, against host North Texas.
Emily Hill led the Red Raiders to a three-sets to one victory against the Mean Green with 17 kills, 11 digs and four blocks.
Following the matchup with Texas Tech, UTEP will host the Glory Road Invitational on Sept. 1-2. The Invitational matchups for the Miners will be I-25 rival New Mexico on Friday, Sept. 1, then Youngstown State and North Dakota on Saturday, Sept. 2.
The Miners open Conference-USA on Sept. 22 against Rice at Memorial Gym.