Top UTEP freshmen to watch this year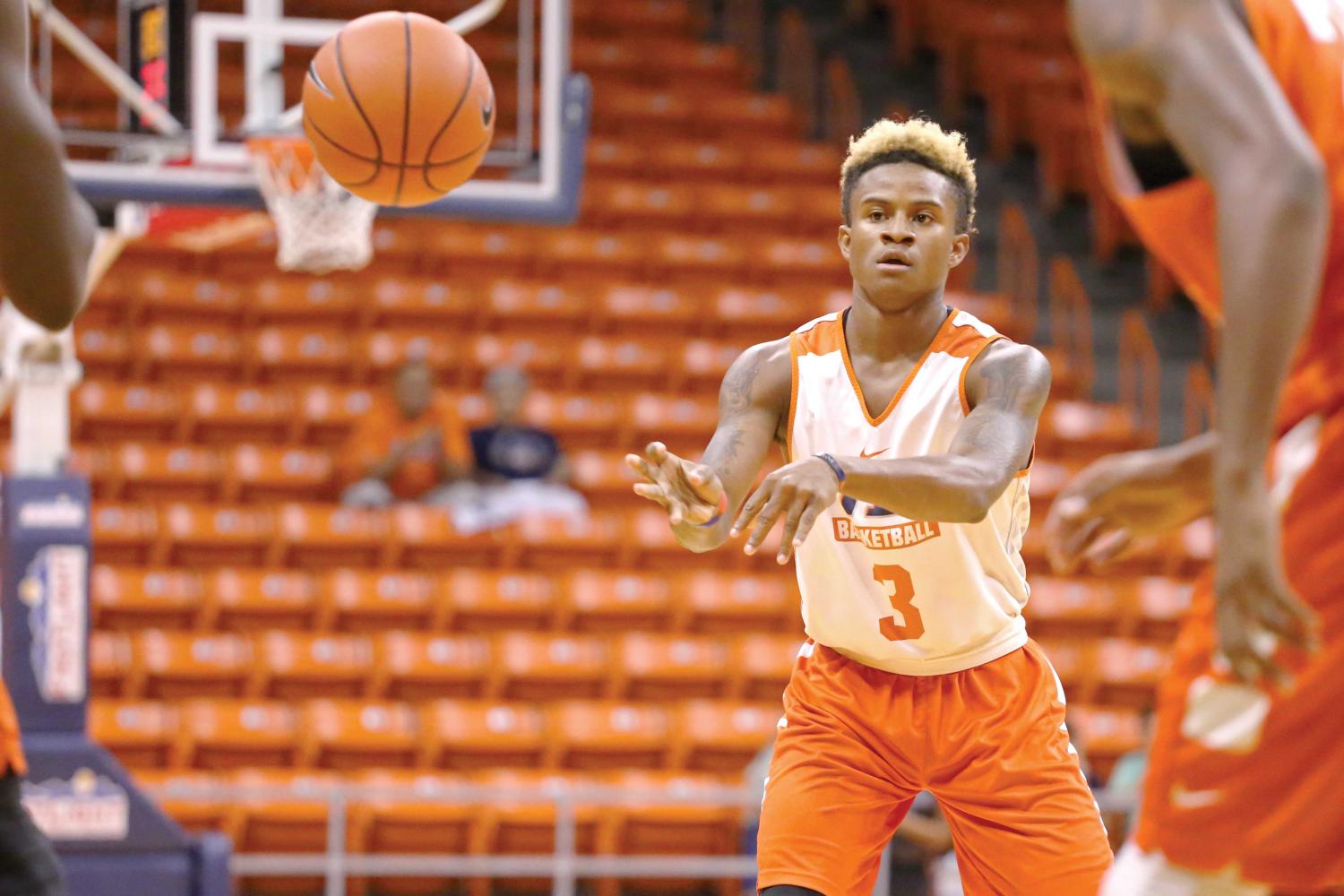 Mike Flores, Staff Reporter
August 29, 2017
With a new athletics season come new athletes. Here are a the six UTEP athletes people should keep an eye on:
Evan Gilyard (Guard, men's basketball)
Floyd used his Chicago connections again to sign Evan Gilyard—who went to the legendary school of Simeon Career Academy.  It appears that Gilyard is going to be a starter in his first year with the Miners since the team lost Dominic Artis last season.
Gilyard is not afraid of any big moments and players bigger than his 5-foot-9 frame. His senior season, he averaged 17 points per game with six assists while leading his team to a 29-4 record. Throughout the course of Gilyard's high school career, he led his team to a 125-11 record.
Gilyard was named first team All-State and first team All-City, receiving  a three-star rating out of high school. He won MVP of the Pontiac Holiday Christmas Tournament, as well as the Penny Hardaway National Hoop Fest in Dallas and Memphis.
Vic Bohdan (Forward, soccer)
In her three years at St. Francis High School in Canada, Vic Bohdan was a perfect 3-for-3 in division crowns and was selected to the All-District All Star game. Bohdan's resume speaks for itself. As a member of the Napoli women's team and former player of the Calgary Blizzards' soccer club, Bohdan scored the most goals in her division. She guided her team to the provincials and nationals too, where they won bronze. Bohdan made her way to being ranked fifth nationally with Calgary.
She was a three-time all-star from 2011-14 on the provincial team.
In four games played for the Miners, Bohdan is second on the team, with one goal scored on two shot attempts (tied for second)—given that the Miners have only scored four goals so far this season.
Ariana Valles (Infield, softball)
From Chapin High School, Ariana Valles played all four years on varsity. In that time, she was named to the 2017 El Paso Times All-District 1-5A first team her senior year.  Hitting is what makes her standout; Valles hit .530 (62-117) with 58 RBI, 50 runs scored, 24 doubles, seven triples and three homers. In 2016, she hit a remarkable .700 on the year.  Overall, Valles knocked out 17 home runs, 20 triples, 56 doubles, 196 RBIs and scored 170 times.
She led the Huskies to a 33-7 (14-0 in district) overall record and then continued in the playoffs as Chapin made it to the final four. She's a big step in what the Miners need if they want to improve the softball program.
Mallory Yost (Middle blocker, volleyball)
The 6-foot-1 middle blocker lettered all four years at Gretna High School, where she totaled 816 kills at .377 hitting rate, added in 182 digs, 151 blocks and 11 assists.
Yost was a two-sport athlete in high school, juggling between volleyball, basketball and academics. During her senior year, she helped lead her team to a 30-4 record (9-1 in district). Yost ranked as the eighth prospect in Nebraska.
In her first action with the Miners, Yost has had 10 kills with 14 points in their 4-1 victory over Western New Mexico. And in UTEP's first regular season game against Montana, Yost has the second-most kills with nine, led the team in percentage (.615) and was second on the team with 10.5 points.
Jordan Jenkins (Guard, women's basketball)
As a star of Buffalo High School outside of Dallas, Jordan Jenkins hopes to continue her winning streaks in El Paso. Jenkins has been on UTEP's new women's basketball coach Kevin Baker's radar since she was in 7th grade. And it's really no surprise either.
Jenkins played all four years at the varsity level,  making her mark with Buffalo High.  During her time there, Jenkins was named the District MVP three years, won Defensive Player of the Year and was a two-time All-Star at TABC, All State and All Region. Her team was just two points away from being state champions.
In high school,  Jenkins scored more than 1,800 points, averaged 20 points per game, seven assists and six rebounds, as well as connecting on 60 percent from the floor.
Tirus Smith (Forward, men's basketball)
Miner fans will be thankful once they see the 6-foot-9, 250-pound forward step out and do his thing on the hardwood come October. Miner fans will also be grateful that Smith decided to ditch his first and hometown commitment to Ole Miss to come and join UTEP.
In high school, Smith was undoubtedly one of the best prospects that Mississippi had to offer. He was named to "The Clarion-Ledger's Dandy Dozen"—a list that recognizes the 12 best players in the state of Mississippi.
During Smith's senior outing, he recorded 10 double-doubles and showed that he could score in multiple ways, as he shot 51 percent from the field and 32 percent from beyond the three-point line. Smith received District 6A honors for pouring in 14.2 points, 9.5 rebounds and two blocks per contest.
Smith is a member of the 1,000-point club in varsity ball, as he cashed in 1,003 career points. Smith will be a huge part in what the Miners hope to accomplish this season, and will give them a much-needed depth that UTEP did not have last year.
Joshua Fields (Running back, football)
After losing the all-time leading rusher in UTEP's history, Aaron Jones, UTEP head coach Sean Kugler went local to try and fill the void with freshman sensation Joshua Fields. Kugler snatched Fields, who was recognized as District 1-6A All-District football offensive MVP, as well as El Paso Times offensive MVP from Americas High school.
Fields played three years on the varsity level in high school and rushed over 1,000 yards for each of those seasons. The freshman ranked second in El Paso and seventh in the state of Texas with 2,447 rushing yards on 329 carries (7.5 average) his senior season. He also scored an eye-opening 26 times, leading city wide.
Fields finished his Trailblazer career with 5,151 rushing yards on 820 total carries (6.3 average) and scored 50 times.
With the running back position up for grabs, Fields has the chance to win it with time.  He would have a great line to run behind. Fields left behind offers from Air Force, Louisiana-Monroe and New Mexico.
He has gotten a three-star prospect coming out of Americas and it's no wonder Kugler called him an "Aaron Jones-type of talent" when he announced Fields made his decision to stay in the Sun City.