Palacios ties career-high in saves despite loss to UNM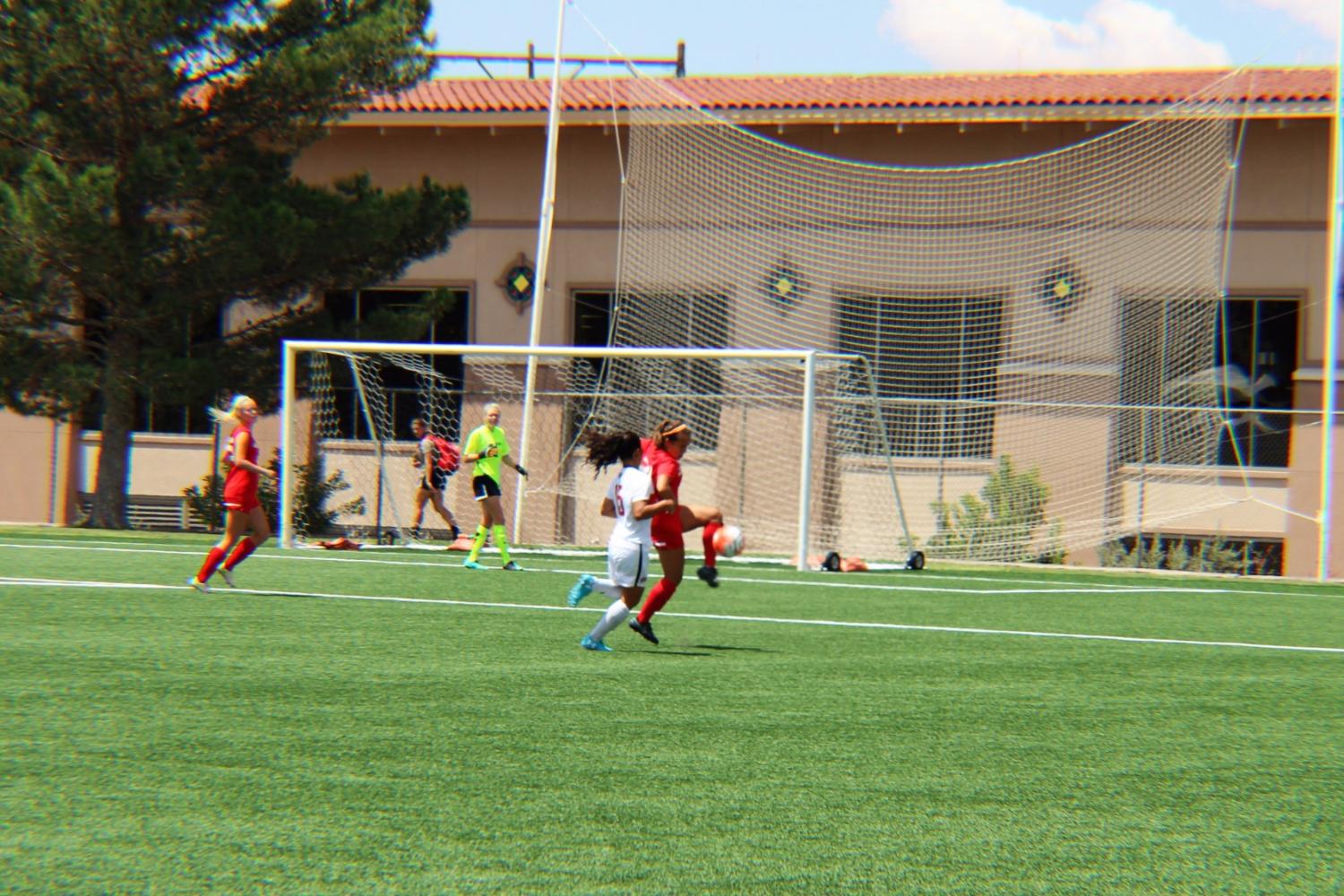 Mike Flores, Reporter
August 27, 2017
For the fourth consecutive game, the UTEP soccer team battled in an overtime contest when New Mexico came to town Sunday afternoon.
Not even three minutes into the first half of overtime, UNM's Jill Olguin seized her opportunity and hit the game-winning goal for the Lobos to come out on top 1-0 over UTEP.
This is the first time the Miners have ever gone to four consecutive overtimes games to start off a season. Now UTEP is off to a dismal start at 0-4, while UNM advanced to .500 at 2-2 on the year.
"This is about as cruel as a soccer season to go through," Cross said. "The defensive side of things is strong. We have to start generating opportunities and putting away the ones we've had. The first three games we clearly had the opportunity to win; not so much today. That's where we need to grow."
In a game where UTEP's standout goalkeeper Alyssa Palacios tied her career-high with 10 saves on the day, it was a game where Palacios was under attack for the whole game it appeared. The Lobos' goalkeeper Emily Johnson was sitting pretty for the majority of the game while Palacios had her hands full.
In total, UNM outshot UTEP 23-7 throughout the game, with 13 of the Lobos' shots coming during the second half.
"It's frustrating because we're right there, with these overtime games and these one goal losses," Palacios said. "We keep saying it's a process. We understand that the struggle is part of us building something. We just have to learn from each game and put it behind us. The work ethic is there, people are hustling and defense is there, but we have to create and generate more shots."
Out of the seven attempted shots from the Miners, only two were shots on goal coming from Danielle Carreo and midfielder Kennadi Chaudhary—who played all 93 minutes. Besides those two shot on goals, the Miners were on the defensive end of the field trying to fend off the UNM attack.
UTEP could not maintain any good level of play from the offense, and when it seemed as if something could get going for the Miners around 20 minutes into the game, freshman Vic Bohdan was called for one of the Miners four offsides calls.
In the 85th minute of the game, UTEP's junior Carleigh Simmons failed to convert on a free kick as the ball flew over the net. UTEP blew one of the few opportunities that came their way at home.
Next, UTEP will look to grab their first win of the season when they take on Wyoming on the road on Sept. 1 at 4:30 p.m. MT.