Football luncheon preludes upcoming UTEP football season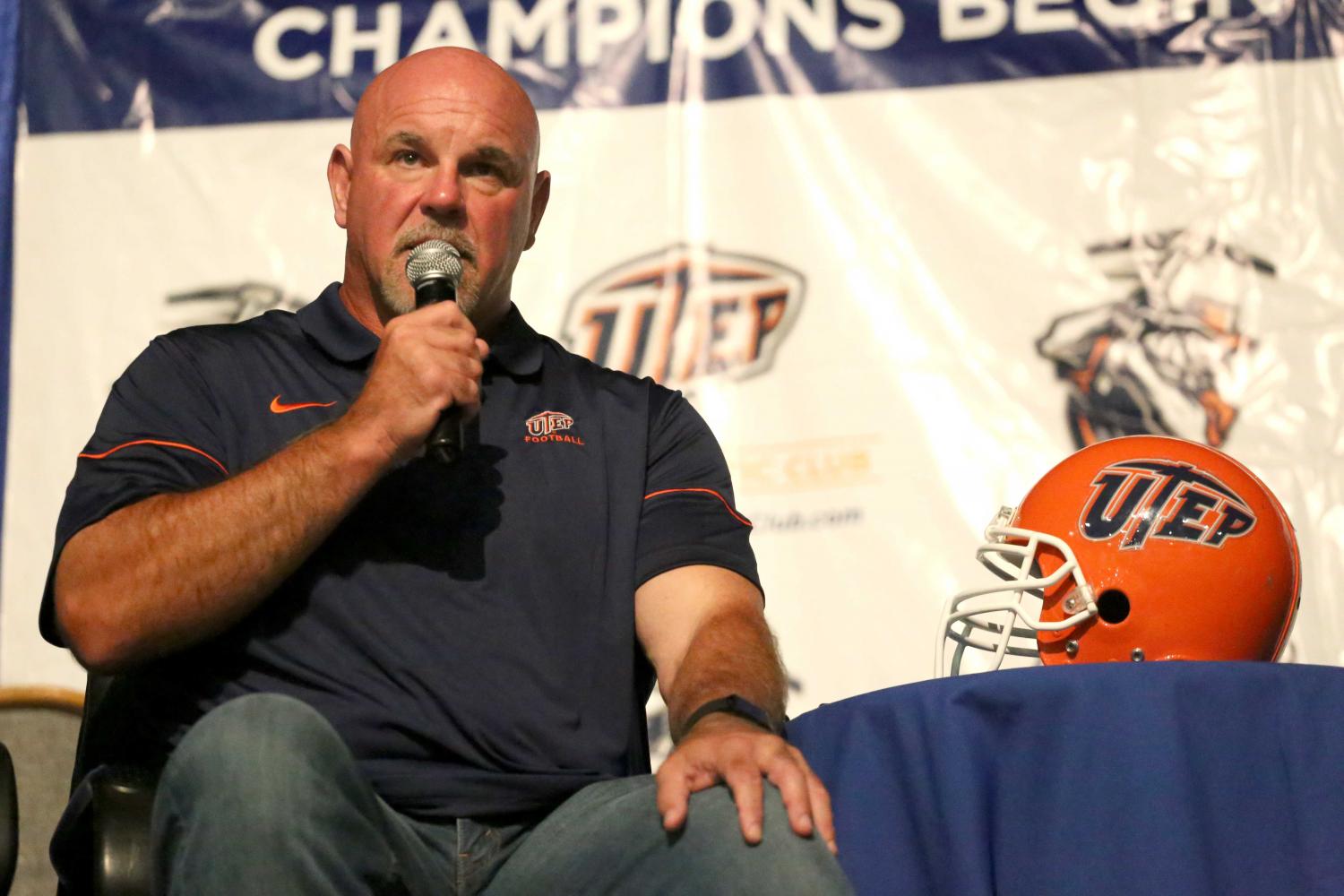 Mike Flores, Reporter
August 25, 2017
With football season right around the corner, the UTEP football team gathered for their annual Kick-Off Luncheon on Thursday to build the excitement for fans and talk about the team's expectations.
UTEP football will be entering into their 100th year of existence when Sept. 2 rolls around as the team will travel to Norman to face the no. 7 team in the nation, Oklahoma.
The Miners' strength of schedule is a challenging one as they play eight teams that made it to a bowl game from last year.
"You want to play against the best, you want to compete against the best. You want to play the Oklahoma's, the Arizona's and the conference champions in La Tech and Southern Miss," fifth year head coach Sean Kugler said. "We play seven straight bowl game teams, you can look at it as 'that's a difficult schedule or that's a challenging schedule' and we see it as a way to get better. We accept that challenge."
The offense will look different than years past with the absense of Aaron Jones at tailback. The running backs on this year's roster include sophomores Quardraiz Wadley—who was expected to miss the whole season with an injury, but now could come back as early as October, Kevin Dove, TK Powell, Walter Dawn Jr., Joshua Fields and Ronald Awatt.
"You can't replace a guy like that (Jones), so I think we're going to see a more balanced team out of the field. We do have several talented running backs that are all young and don't have the experience yet, but they do have the talent. It will be more a committee type of effort," Kugler said.
With the running backs needing game experience to grow and teammates to lean on, the keys to the offense were handed over to junior quarterback Ryan Metz after Jones left for the NFL. Metz has started 12 games in two years.
"Ryan Metz was probably out on the field sooner than he should have been, but now he's exactly where he needs to be. He's the leader of the team and ready to go," Kugler said.
Last year the Miners finished last the passing attack in Conference USA and Metz knows that's something that can't happen again if the Miners want to improve on their four-win season from last season. He's looking forward to having more responsibilities fall on his shoulder.
"This is what I've always wanted. It's basically my dream playing out to reality. Ever since I was little, I wanted to be the starting quarterback for UTEP and hopefully the in the NFL one day. I don't see it as I have all the responsibilities, I have a lot of guys that can help me. My team is really going to help me out," Metz said.
Blocking for Metz is an experienced offensive line led by AP Preseason All-America second team recognized and senior offensive lineman Will Hernandez. He has started all 36 games in his UTEP career and has never allowed one sack while being out there. He guided Jones to becoming UTEP's leader in rushing. Kugler has stated many times that he believes Hernandez is the best offensive lineman in the nation.
"The running backs don't have the experience yet, but they all want to leave a mark at UTEP. They want people to know who they are, and they are going to go hard every play," Hernandez said. "I feel like our offensive line is the backbone of our offense, I feel like once we solidify that the guys around us will feel a lot more comfortable."
On the defensive side of the ball, the Miners are filled with veterans in the secondary. The play of the defensive line is expected to improve with the size and the athleticism this line possesses compared to years before. Most of the lineman are now 300 lbs. and are very mobile for their size.
Kugler and defensive coordinator Tom Mason switched the defense to a 3-4 strategy, which will allow more linebackers to be on the field. Led by senior linebacker Alvin Jones, the Miners window for improvement on defense is apparent.
"We have a lot more physical bodies out there on defense. And we have a lot more depth," Jones said.
There will be 25 newcomers this year for UTEP football that have never touched the field as a Miner. They will play four non-conference games and eight conference games.
"There's a lot of new faces, a lot of talented faces. The fans will get to know their names really quickly," Kugler said. "This team reminds me of the 2014 team (7-6 bowl team), but much more talented. They all hangout and like to get better together, and that's a recipe for success," Kugler said.