UTEP basketball veterans prevail over newcomers in scrimmage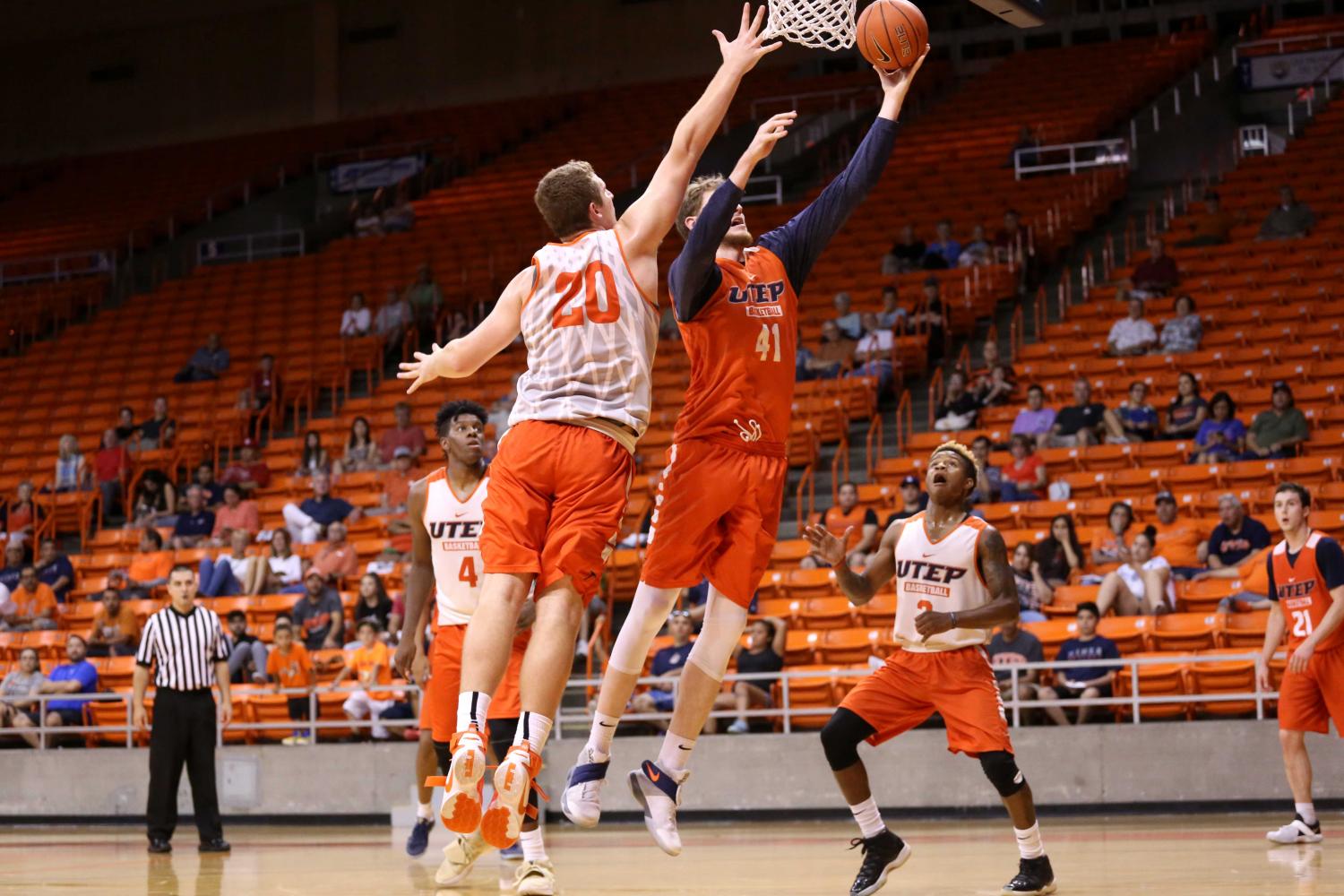 Mike Flores, Staff Reporter
August 12, 2017
In preparation for the Costa Rica trip, the UTEP men's basketball team held a scrimmage on Aug. 12 at the Don Haskins Center. The exhibition featured the returning players from last year's team going up against the newcomers. It was the veterans who came out on top, 80-70 in the tight battle.
"It was the first time we really scrimmaged at all in the ten days we have practiced. I saw some really positive things from our young guys, they hung in there and were in it with three-four minutes to go. They exposed themselves as they weren't in game shape, which we expected," head coach Tim Floyd said.
The veterans outscored the newcomers 50-22 inside the painted area, and most of the damage was done by junior Paul Thomas, who scored a team-high 21 points to go along with his team-leading six assists. Thomas' expanded range from a year ago was apparent on the hardwood. Sophomore center Kelvin Jones added 15 points and eight boards.
"I saw improvement from Kelvin Jones and Paul Thomas today," Floyd said. "Great post play from Paul, Kevin and Matt (Willms). The two young bigs in Tirus Smith (14 points, five rebounds) and Joey St. Pierre (six points, five rebounds) are not in any kind of basketball shape, but you see the skill. I saw enough to know they are going to help us."
One of the newcomers who raised eyebrows was freshman Trey Wade, who also scored 21 points on 8-for-17 from the field. Wade showed the ability to hit from anywhere on the court, all while having to deal with the responsibilities of guarding Omega Harris on the other side of the ball.
"I saw three different phases from Wade today. He drove it, he hit the offensive boards and hit from the three and mid-range," Floyd said.
After sitting out last year due to transfer rules, sophomore Isiah Osborne showcased his skills for Miners fans today. He was four-for-four from the three-point arc and totaled 19 points, along with helping with his eight rebounds.
"I keep seeing kind of a quiet guy out there that keeps doing good things for us in Isiah Osborne. I thought he was really efficient today. He handled the ball well and got it to the rim," Floyd said.
Floyd also said that their nerves of playing in front of the UTEP crowd for the first time might have affected the performances of freshman guards Evan Gilyard and Kobe Magee, who are battling for a starting job at the position.
Gilyard got the start and went ice cold from the field, as he shot 0-for-10 (0-for-6 at the three-point line) on the night, and turned the ball over twice. Magee, on the other hand, finished with eight points and two assists. However, their defense was up to par, according to Floyd.
"We had a kid or two that didn't shoot the ball well today that can shoot it usually. I think they were a little tired and nervous coming in," Floyd said. "Neither of our point guards weren't vocal enough or organized enough. We have enough scoring, we need them to get us into play offensively and defensively."
In total, the veterans shared the ball much more efficiently than the newcomers did, as team Orange finished with 19 assists compared to just nine from the new guys. Combined, both teams turned it over 20 times—11 from the newcomers and nine from the veterans—a cause for concern according to Floyd.
UTEP will depart for Costa Rica on Tuesday, where they are set to play three games on the trip from Wednesday to Friday. The scrimmage was enough to excite Floyd for the upcoming season.
"We're obviously deeper, better rebounding team, more athletic, have more scoring options on the wing now and we're more experienced than last year. All these guys give us the indication that we should have a better basketball team," Floyd said.