Hernandez paves the way on offense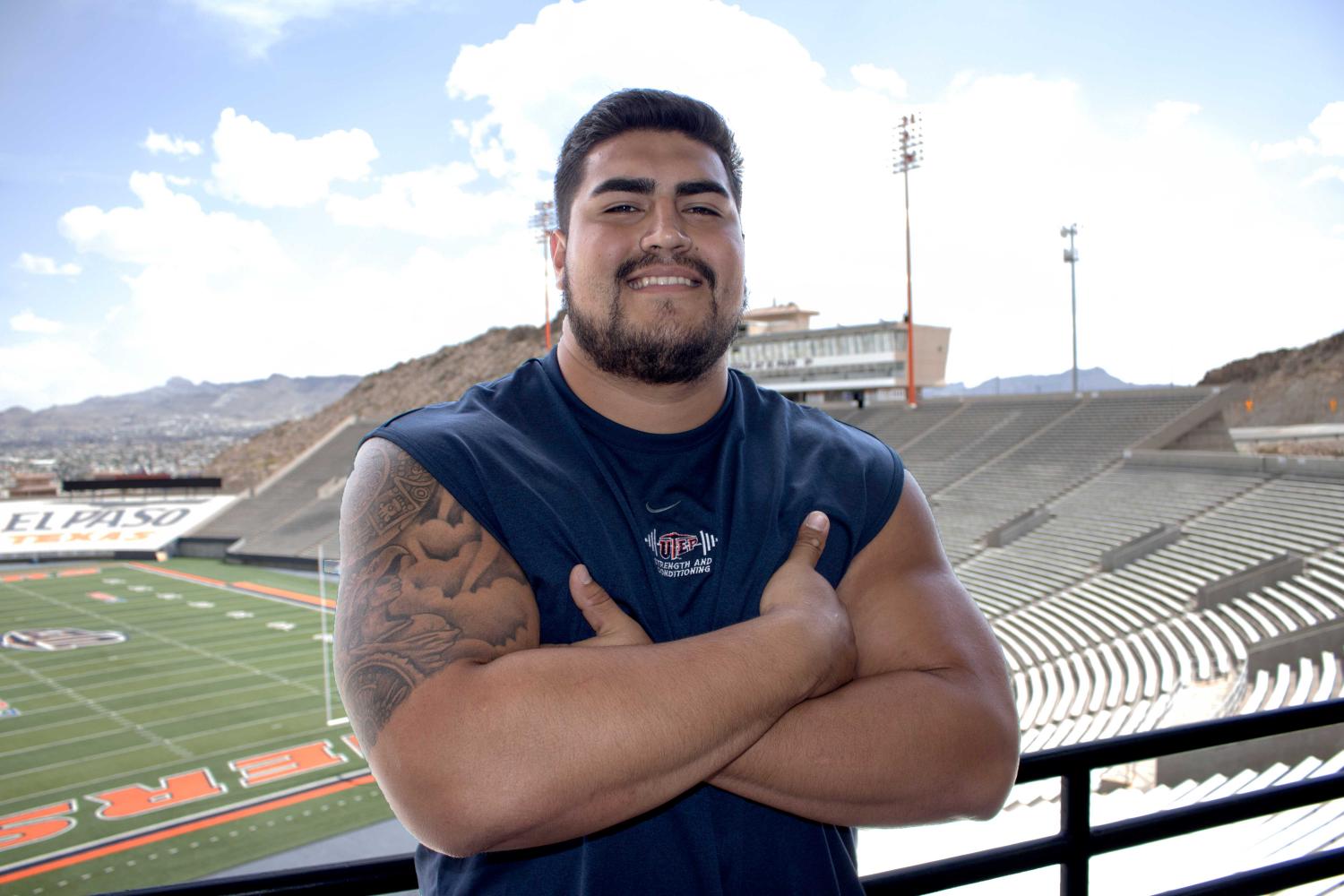 Ranked No. 6 out of 61 top eligible draft guards for the 2018 NFL draft and a preseason All-American by Athlon Sports, senior guard Will Hernandez has embarked on his highly anticipated and final season as a Miner.
On Thursday, July 13, the Football Writers Association of America also announced Hernandez as a 2017 Outland Trophy watch list. Named after John H. Outland, the trophy is awarded to the nation's best interior lineman in college football. Hernandez is one of 81 standout interior lineman and one of just 15 offensive guards named to the prestigious list.
According to Pro Football Focus, Hernandez ranks as the highest returning guard and second-highest returning player in all of college football in 2017, with a grade of 94.4, behind Oklahoma's Baker Mayfield, who sits first with a grade of 96.1.
In his highly respected annual College Football Preview Publication, Phil Steele ranks UTEP's offensive line as No. 1 in Conference USA and 40th overall in the country heading into the upcoming 2017 season. UTEP is one of just five schools that made the top 40 from outside a power five conference.
"I try not to pay too much attention to that (awards and rankings), but it is a cool feeling seeing that and seeing us being recognized, especially not being from a power five school. It's a cool feeling knowing somebody is watching you," Hernandez said. "What I do with these (awards) is that I use it to motivate all the guys on the team, show them that there are people watching you and seeing what you are doing in every game, and not that everything we're doing is not in vain."
Last season, as a junior, Hernandez's unit ranked third in sacks allowed (22) and fourth in sacks allowed per game, both national marks. The Las Vegas native was thought to be considered for the 2017 NFL draft after an outstanding 2016 season that saw former running back, Aaron Jones, become UTEP's all-time leading rusher setting the single-season program record for rushing yards with 1,773.
Jones always credited his success to the offensive line while he was a Miner, often saying he could not have done it without them. For his offensive protective efforts, Hernandez earned Second-Team AP All-American honors and was also named an All-American by Fox Sports and Pro Football Focus.
"A lot of the games didn't turn out the way we wanted them to last season, but I definitely felt we got better as a team and I felt like it showed in the last game against North Texas. I felt like that's what we should have been doing all season long," Hernandez said. "We recognized that we showed it too late in the season to get where we wanted, but I definitely saw improvements in everybody in that game and it is going to carry on into this next season."
It was a pleasant surprise to Miner fans when Hernandez announced he would return for his senior season. Hernandez's decision to stay meant something more to him personally. He wants to finish his degree in kinesiology and improve upon his game.
"I wanted to help UTEP get to a bowl game this year and especially win a conference championship. I know we can do it," Hernandez said. "That's one of the major reasons why I stayed and another one was because coach Kugler said that it was best for me to stay and I trust the guy 100 percent, and I feel this year is going to be a great year for us and I am glad I stayed."
No. 76 has played in all 37 games with the Miners since jumping on board as a freshman. In 2015, Hernandez and his offensive line allowed the fewest sacks in Conference USA (12) and tied for the sixth-fewest in sacks allowed per game (1.0) in the county.
Overall, UTEP's offensive line since Hernandez stepped on the field has only allowed a total of 47 sacks in 37 contests (1.3 sacks allowed per game).
"I love all our running backs that we have and I feel that whoever is back there, whoever has that starting job, whoever is in there backing them up, I am going to block for all of them the same either way," Hernandez said. "It doesn't make a difference, I just want to make those guys look good, and hopefully they will make me look good too."
During his freshman season in 2014, Hernandez and his offensive line surrendered just 13 sacks, which ranked first in Conference USA and eighth nationally.
The Miners' success on offense propelled the team to an unexpected seven-win season and first bowl appearance since 2010, thanks to seven 200-plus yard rushing games and four 300-plus total yard games.
Hernandez is hoping that this season, his final one, will be like his first when the team reached the coveted six-plus win mark needed for a bowl opportunity.
"I feel like my freshman season and this season coming up are going to be very alike, especially the way that our schedules were set up," Hernandez said. "My freshman year, when we did go to a bowl game, we have seven away games and only five home games, exactly what we have this year, and we were underdogs in almost every game that we played and nobody thought we were going to have a good season."
This year, he sees a lot of similarities between now and the 2014 team. "We came out and won seven of those 12 and won road games that got us to that bowl game, and I think this season is going to be very similar to that year and especially because the way these guys have been training, we always step up to adversity and that's exactly what this year is, adversity and I feel like we will rise above and have a very good season this year, even though a lot of people don't think we will."
UTEP has only appeared in two bowl games since 2005 and has not won one since defeating Ole Miss 14-7 in the 1967 Sun Bowl.
Hernandez and the Miners open the 2017 campaign at Oklahoma on Sept. 2 (1:30 p.m. MT), followed by their first home contest and Conference USA opener against Rice on Sept. 9 (6 p.m.).