Downtown Fitness Saturdays promote health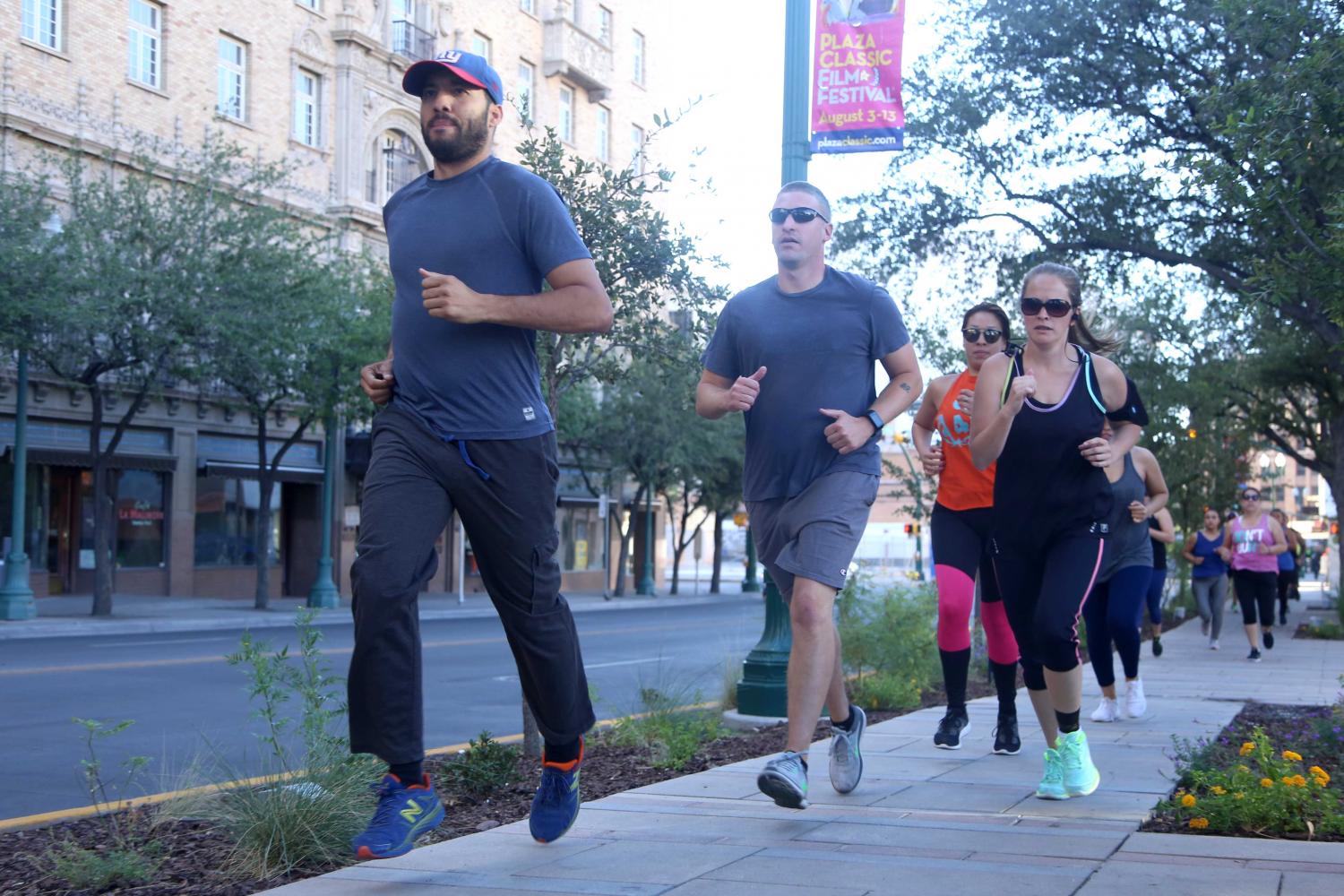 Mike Flores, Sports Editor
July 18, 2017
Every Saturday from July 8 to October 21, Fit City Gym and trainer Walter Cupa are hosting Downtown Fitness Saturdays for the El Paso community at the San Jacinto Plaza from 7 a.m. to 9 a.m. There is no charge and all ages are welcome to join.
Downtown Fitness Saturdays is being run by local fitness, yoga, timba and Zumba instructors. No equipment or weights are needed for the workouts, it's strictly body callisthenic-movements and body weight exercises.
Since Cupa became a certified personal trainer seven years ago, he has always wished to create a free workout event for the community. He is aware that a lot of people might not have the funds to pay for a monthly gym membership or be able to pay for a personal trainer, or that many people do not know where to get started, so he wants to help people out without making them have to pay to be in shape.
This year, the local businesses and sponsors for Fitness Saturdays are Fit City Gym, El Paso Downtown Management District, Body Hero Gym and Power Hour Pre-Workout.
When Cupa first got certified to be a trainer, he started offering boot camps outdoors because he didn't have a place to train people. However, with time, his group kept growing and growing. Cupa didn't want to lose the progress he had made, so he saved up money to have a place to keep training people in the winter. He rented out a downtown gym called the Lion's Den.
As Cupa's business picked up, he made his way to other gyms, such as Planet Fitness, where he would do TV segments. That's when his following grew and the possibility of running a downtown event was finally achievable in Cupa's mind.
Cupa's right-hand man for Fitness Saturdays is his former trainee David Claudio, who has won multiple first-place prizes at competitions and is opening up his own gym, Body Hero, on the Westside. Claudio has accomplished all of this despite the fact that he has to deal with a heart issue  knowing that his aortic valve might rupture at anytime.
The main goal for participants of Fitness Saturdays is to keep in shape and start a change in the perception of how El Paso is looked upon.
"We were one of the fattest cities in the United States, I think we were second. And I got invited to do a TV segment in San Diego last year for the CW, because we were one of the fattest cities," Cupa said. "Since San Diego is one of the fittest cities, we spoke about that and what it's going to take to keep the Latino community fit."
The first hour of Fitness Saturdays, from 7 a.m. to 8 a.m., consists of a lot of the workout routines that revolve around plyometrics, which concentrate on explosiveness, movements, coordination and speed. Then, the second hour of the workout is the yoga segment.
"It's sunrise yoga. The buildings downtown cover the sun, so by the time we are finishing at 9, the sun is starting to rise and everyone ends up on the grass and wakes up to the sunrise," Cupa said.