Men's basketball releases 2017-18 schedule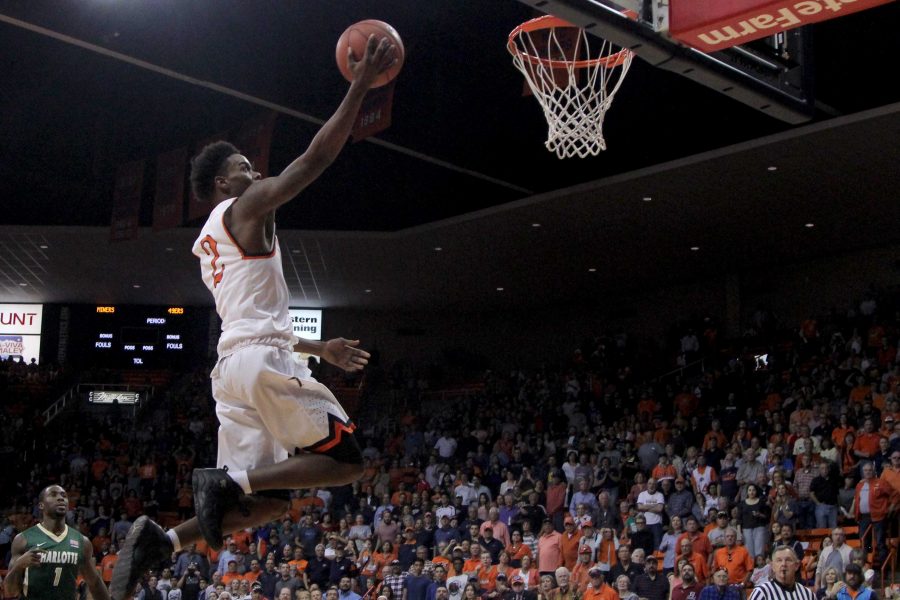 The UTEP men's basketball team released their 2017-18 basketball schedule per UTEP Athletics.
Highlighting the 2017-18 season is a trip to Puerto Rico, as well as home games against New Mexico and Washington State.
UTEP will be one of eight teams competing in the 2017 Tire Puerto Rico Tip-Off. The Miners will join Appalachian State, Boise State, Illinois State, Iowa State, South Carolina, Tulsa and Western Michigan in the event Nov. 16-19 at the Tomas Dones Coliseum in San Juan.
After restoring their historic rivalry in Albuquerque last season, the Miners and the New Mexico Lobos will square off at the Don Haskins Center for the first time since 2008, as they will meet on December 2. The Lobos defeated the Miners 78-77 in the thrilling renewal last season. Overall, New Mexico holds a 77-65 edge in the series with both schools meeting a total of 66 times as members of the Western Athletic Conference.
On Dec. 9, Washington State returns to El Paso to conclude a four-year series agreement. The Miners beat the Cougars in back-to-back seasons both in Pullman (64-51) during 2013-14 season and in El Paso (65-52) to open the 2014-15 campaign. The Cougars beat the Miners 84-68 in Pullman the following season (2015-16), and the two programs did not meet last season.
"Our home schedule has been upgraded with Washington State and the Lobos, who have been our biggest rivals for nearly 90 years," head coach Tim Floyd said in a press release.  "The series makes sense, and I applaud the administration at New Mexico for recognizing that.  We like the multi-team event in Puerto Rico because of the quality of the opponents, including a potential matchup with 2017 Final Four participant South Carolina.  The WestStar Bank Don Haskins Sun Bowl Invitational has an NCAA Tournament team from a year ago in North Carolina Wilmington.  We always try to schedule teams that will prepare us well for a strong conference slate."
After a 10-day break for finals, UTEP will host Incarnate Word on Dec. 19 prior to battling Howard on Dec. 21 for the first round of the 56th annual WestStar Bank Don Haskins Sun Bowl Invitational.  On day two of the tournament, the Miners will meet either North Carolina Wilmington who claimed 29 wins last season and made the NCAA Tournament, or North Dakota State who won 19 games a year ago.
The Miners will be home for the entire month of December for the first time since 2012 and only the second time since 2005.
Looking at Conference-USA play this season; the Miners will play 18 games and will kick off play at home against North Texas on Dec. 28, while closing out the regular season at North Texas on March 3.
"There are always challenging games both home and on the road in conference play," Floyd said.  "Because there are 14 teams, it's hard to tell who the frontrunners will be.  There are teams coming to our place that have always presented problems.  And we have three very difficult road trips against teams that we have struggled against away from home."
After a two-year stint in Birmingham, Alabama, The Conference-USA Championships will have a new home this season at The Star in Frisco, Texas from March 7-10.
The Miners return four starters and five of their top six scorers from last year's squad that tied for third place in Conference-USA with a 12-6 record.
Below is the schedule for the Miners per UTEP Athletics:
2017-18 UTEP Men's Basketball Schedule
Oct. 21 Orange & White Scrimmage
Oct. 28 Sul Ross State (EXB)
Nov. 3 Western New Mexico (EXB)
Nov. 10 Louisiana College
Nov. 16 vs. TBA+
Nov. 17 vs. TBA+
Nov. 19 vs. TBA+
Nov. 25 at NM State
Nov. 27 Lamar
Nov. 30 NM State
Dec. 2 New Mexico
Dec. 9 Washington State
Dec. 19 Incarnate Word
Dec. 21 Howard#
Dec. 22 North Carolina Wilmington/North Dakota State#
Dec. 28 North Texas*
Dec. 30 Rice*
Jan. 4 at Southern Miss*
Jan. 6 at LA Tech*
Jan. 11 Florida Atlantic*
Jan. 13 FIU*
Jan. 20 at UTSA*
Jan. 25 at UAB*
Jan. 27 at Middle Tennessee*
Feb. 1 WKU*
Feb. 3 Marshall*
Feb. 10 UTSA*
Feb. 15 at Charlotte*
Feb. 17 at Old Dominion*
Feb. 22 LA Tech*
Feb. 24 Southern Miss*
March 1 at Rice*
March 3 at North Texas*
March 7-10 at Conference USA Championship^
+ Puerto Rico Tip-Off
# WestStar Bank Don Haskins Sun Bowl Invitational
* Conference USA game
^ Frisco, Texas