Spurs' Danny Green brings camp to El Paso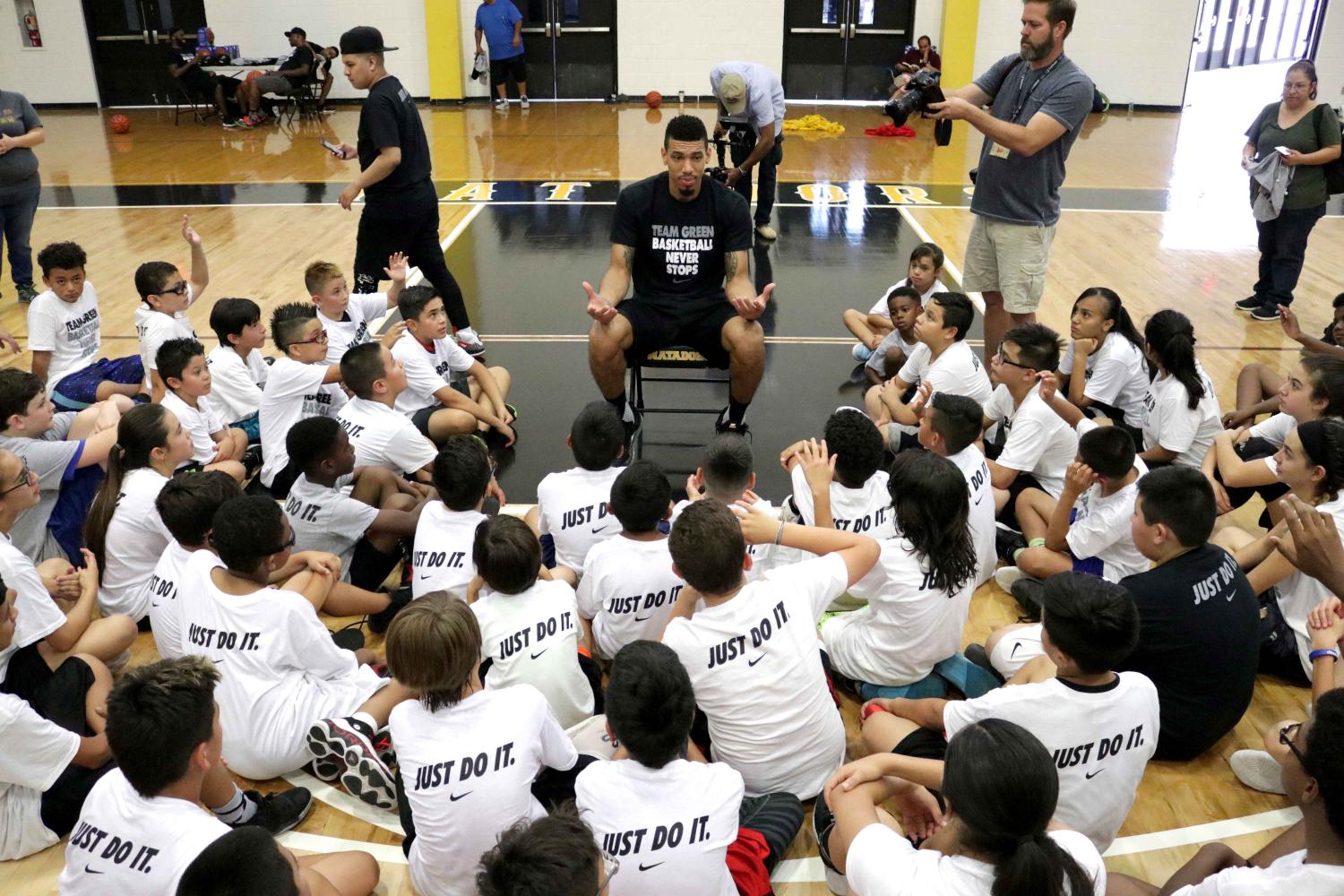 Mike Flores, Sports Editor
July 11, 2017
For the second year, Gold Level Sporting Events brought Danny Green, NBA champion and shooting guard for the San Antonio Spurs to El Paso. This time around he was at Parkland High School from July 8 – 9.
"I always enjoy my time here in El Paso, especially being able to spend some time with the kids and being able to have some fun with them too," Green said. "Last year was a good turn out, so it was really a no-brainer for us to come back here (El Paso)."
With the cost of $199 to join and learn from the star shooting guard and professional coaches at the summer camp, kids from the ages of 8 to 17 got their money's worth through improving their skills in ball handling, shooting, passing and defense–something Green prides himself on. He is coming off being handed to the NBA All-Defensive Second Team.
Green's main focus is to teach kids the right way to play basketball. The flash and the showboating cannot beat old-fashioned fundamentals, according to Green.
"I want to show the kids the fundamentals of basketball and also the fundamentals of life. There's no secret to it, if you want to be good at something, you have to keep working at it. I want to help them find the right ways to approach the game and attack it," Green said. "I show them the basics on how to shoot and pass properly, on how to use both hands when dribbling the ball."
The kids are not only being taught by Green himself, but also by professional coaches from all levels, who made time to teach them more than they could have bargained for. A lot of coaches who dedicated their time to the kids are former Division 1 coaches, or former Division 1 players.
"These aren't regular people out there coaching the kids, they are people that are very passionate about the game. They know the game inside out and understand it. They know how to present it to them better than I do," Green said. "The coaches do a collectively good job on getting the kids the right information about the game."
To start off the camp, all of the coaches worked with the kids on defensive drills in both full court and half-court scenarios. Shooting drills were taught as well as a wide variety of different dribbling drills that the kids could take home with them.
After all the drills, scrimmages were next on the to-do list. In these full-court scrimmages, the coaches were very active in the games themselves, as they would coach from every angle of the court and tell them what they are doing right or what they could have done better on a specific play.
A chance to perform under an NBA standout such as Green is a rare opportunity for young El Pasoans. For some parents with children hoping to continue improving in basketball, Green's skill camp was a must.
"I think the way they teach the kids here with their skills, I think it will benefit the kids in the long run," said Jim Jurado, a parent of one of the campers. "Last year, my kid came to this camp, and I saw him improve a lot afterward in his game and his defense, so I wanted him to come again."
As a treat for everyone in the gym, and after the hard-fought scrimmages, the kids in the camp would gather around for a question and answer session with Green. He informed them about the NBA lifestyle and what it takes to become a better person and basketball player.
Green said he had to work for everything he has right now, nothing came easy for him and he wanted to share that message with the kids who participated in his clinic.
"To be successful, you have to sacrifice a lot of your time. You have to put in the hours that no one wants to, and while everyone else is sleeping. That's what I did," Green said. "I had the height, but I wasn't the fastest, most athletic or most talented player, so I had to work at everything. I worked on my foot speed, dribbling and shooting day and night."
Every camper received an exclusive Danny Green camp shirt, "Team Green. Basketball never stops." All of them also got the opportunity for a photo with Green as well as his autograph. Next on Green's schedule, is to hold his clinic in San Antonio, followed by a trip to Corpus Christi, McAllen and his last stop in Laredo.