Roller Derby: The grunge and grit of sports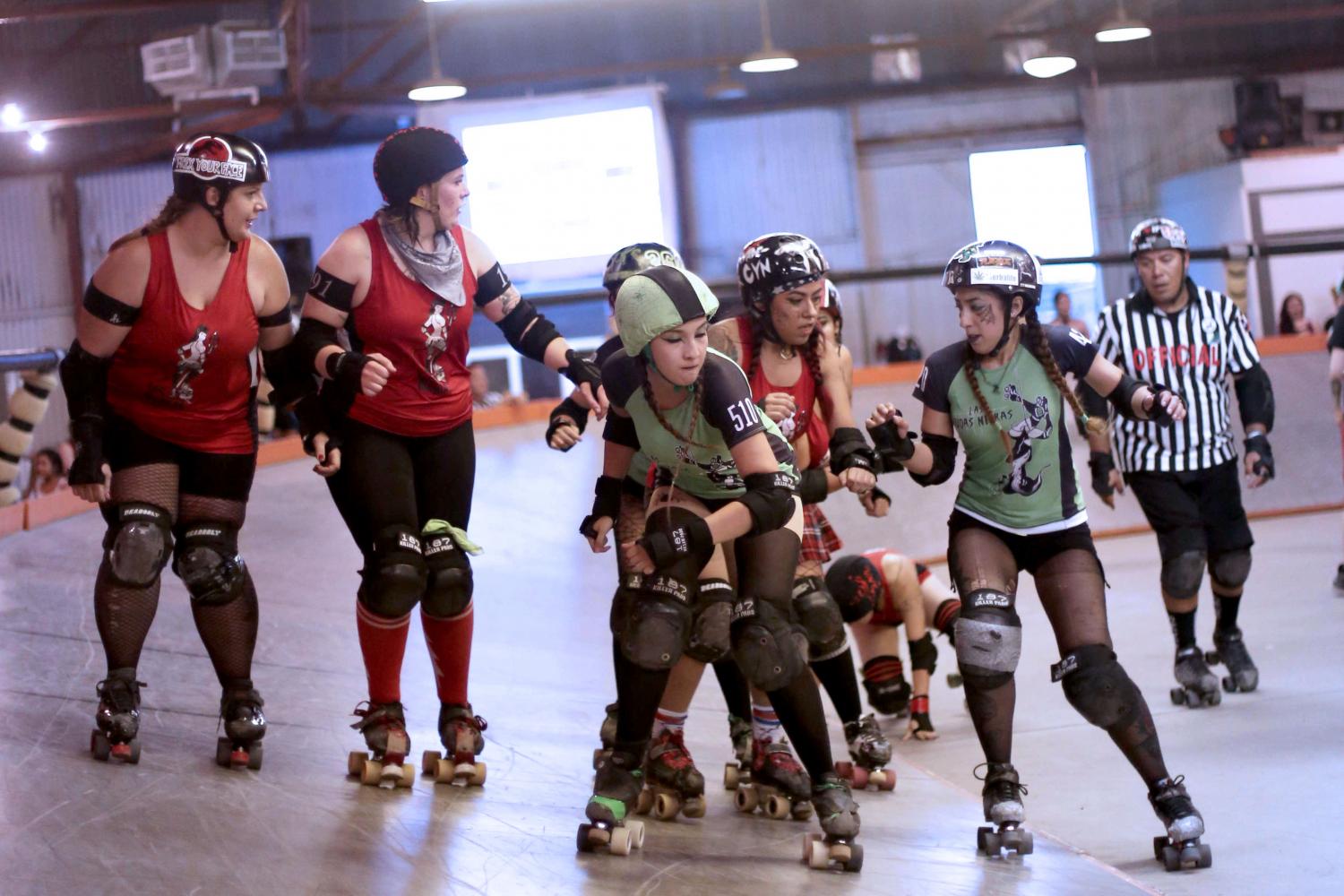 In central El Paso sits a scanty, shabby warehouse where organized action is practiced on a regular basis.
Elbows are thrown, women are shoved almost constantly and hundreds of fans cheer for each team.
It sounds like some sort of an underground exclusive fight club–one that is seldom talked about.
No, quite the contrary–the sullied building is home for the Sun City Roller Girls roller derby bouts, which attract hordes of fans, who have supported the sport for some time.
On Sunday, June 25, the organization embarked on their first doubleheader of the ninth season, called "Brawlesque," featuring bouts between the Chuco Town Chulas and the Sexecutioners, and Las Viudas Negras and Las Diablas.
The Sun City Roller Girls opened the doors to the El Paso Coliseum's judging arena, a dingy building in the backside of the arena and built the roller derby track inside the place for the bouts.
It's a gritty, grimy, adrenaline-filled sporting event that is nothing but constant action.
"So many people put so much work into this," said Chuco Town Chulas' jammer, Lady Latte Pain, who prefers her roller derby name to be used. "This is it–the bruises, the scratches, the falls, the pushing; it's roller derby."
Despite two lopsided games as the Sexecutioners defeated the Chuco Town Chulas 108-68 and Las Viudas Negras topped Las Diablas 108-27, the sold-out audience fed off every aspect of the bouts and were lively throughout the evening.
"The crowd absolutely loves it," said the co-founder of SCRG Teresita Lopez, aka coach Frida Krueger of the Chuco Town Chulas. "When we have doubleheaders, we have four teams selling tickets, so that means we have a better turnout. All our fans come out when we have these doubleheaders and that's why it sells out."
Rules Breakdown
An outsider looking in might think roller derby is based off speed or a simple race. However, they are mistaken. Roller derby is an intricate sport with distinctive rules, points and winners and losers.
First off, both teams square off against each other and line up on one side of the bank of the rink. The key components of a roller derby bout are the jammers, who evidently score the points. The jammers start behind the pack, which is composed of four blockers from each team, and try to get through the pack to gain points for their team. The pack's job is to try and allow their jammer to get through to get points while simultaneously blocking the opposing team's jammer from scoring. This is where the pushing, shoving, hitting, scratching and other strategies are used to scrape up points.
Jammers score points each time they pass an opposing player, beginning with their second pass through the pack. The jammer, who is leading in the pack, is known as the lead jammer, who can initially call off the jam session if they choose to do so. If they do not call it off, jams will last one minute.
The referees play a big part in this game too. They award both major and minor penalties to anyone who intentionally trips, leaves the rink and comes back into play or anything else at their discretion. If a player is called for a penalty, she must spend time in a penalty box until her timeout is done.
"It does take time (to learn the rules), but the first thing you learn is how to fall," said Lady Latte Pain, who has been in the league for five seasons. "If you can get that part, get good gear, maintain safety, respect the girls out there, you will have fun."
The girl-power culture
If punk rock could have a local roller derby organization, SCRG would be it. The culture surrounding the experience is like none other. The girls are vicious and they're willing to throw elbows or push at any given time.
Starting with the team's names, the SCRG shows true grit. According to the ladies, the way they come up with their roller derby names is by word of mouth, earning it or through practice.
Some of the players also go a long ways with their uniforms. Some use dark face paint for a more menacing look, while others go as far as coordinating their outfits with their dyed hair or flamboyant piercings.
Feeding off the grungy energy the women deliver, the crowd gets just as hyped for the bouts as well. Most fans have a specific team or player they cheer for and some even sport their favorites by wearing their team's shirts.
"I was initially attracted to the punk rock-grunge girls, who are all about women empowerment and getting it out there and getting it done," Lady Latte Pain said. "I think it's like fighting back against all those in life who told you that you couldn't do it. Don't ever let anyone tell you that you can't do it."
Another huge aspect SCRG focuses on is empowering women of all shapes, ages and sizes. That's what truly sparks a deep love for the sport for Willa Meanstreak, a blocker for the Chulas.
"We work with such powerful women and encourage women to do their best," she said. "If you look around, there's larger women, there's older women and they push you to be better. Some of the bigger girls are some of the fiercest competitors. We really work hard to get where we are today."
Meanstreak hopes that if a person comes to see a bout for the first time, they recognize the hard work each individual puts into this sport.
"I want fans to have a lot of fun and appreciate how hard we work to do it," Meanstreak said. "There's a lot of sports that don't get a lot of attention and this is one of them. It's a sport for all different ages, all different sizes."
The Bout
In the matchup between the Chulas and Sexecutioners, both teams had extremely shifty jammers, who were able to get by the blockers and score points for their respective teams.
Led by standout jammer Trixie Poleverizer, the Sexecutioners were able to build a commanding lead at the beginning of the bout, leading 27-4, 31-12 and 41-15, and took a dominant 61-28 lead at the half.
In the second half, the Chulas were able to claw their way to some impressive points, but it was no match for the consistent resilience of the Sexecutioners, who are the reigning SCRG champions from last year. The team held on during the second half, winning 108-68.
Poleverizer was like a running back, easily maneuvering through blockers like none other. She was named the MVP jammer of the bout.
"I've been playing for three years and it never gets old," she said. "It's a great experience and one that feels so exciting."
In the second game of the doubleheader, Las Viudas Negras and Las Diablas were in a close match for the first couple of minutes, both teams trading off points left and right. However, at the seven-minute mark of the first period, Las Viudas Negras were able to break off and build a lead. They led 52-15 at the half and scored 36 unanswered points in under 10 minutes. The second half wasn't too much different, as Las Viudas Negras built their lead even more and won the bout 108-27.
In most other sports, opposing teams usually have a tough time getting along with one another, but the teams in SCRG are very supportive of one another.
"It's such a friendly learning experience. Even before this, everyone had a get-together and got to hang out with each other," Poleverizer said.
SCRG Takes it on the Road
The SCRG recently began to travel throughout the U.S. to compete against other roller derby teams from across the nation.
Recently, the teams traveled to Phoenix for "Battle on the Bank," which is an annual banked-track bout featuring teams from El Paso, San Diego, Los Angeles, Seattle, Houston, Dallas, Austin, Philadelphia, Florida and Phoenix.
"It was a lot to learn and it was good to venture out of El Paso," Lopez said. "It makes them want to work harder and they learn so much."
Lopez, who helped coordinate the different teams going off to travel, has plans for other teams across the nation to come to El Paso for a big bout. She hopes to invite teams from Austin, Houston and Phoenix for big events the SCRG participates in, such as the annual Rockabilly Riot.
The next bout for the SCRG will be on July 23, with time and location to be announced. For more information on the organization, visit their website at www.suncityrollergirls.com.