Fernandez hopes to bring new era to tennis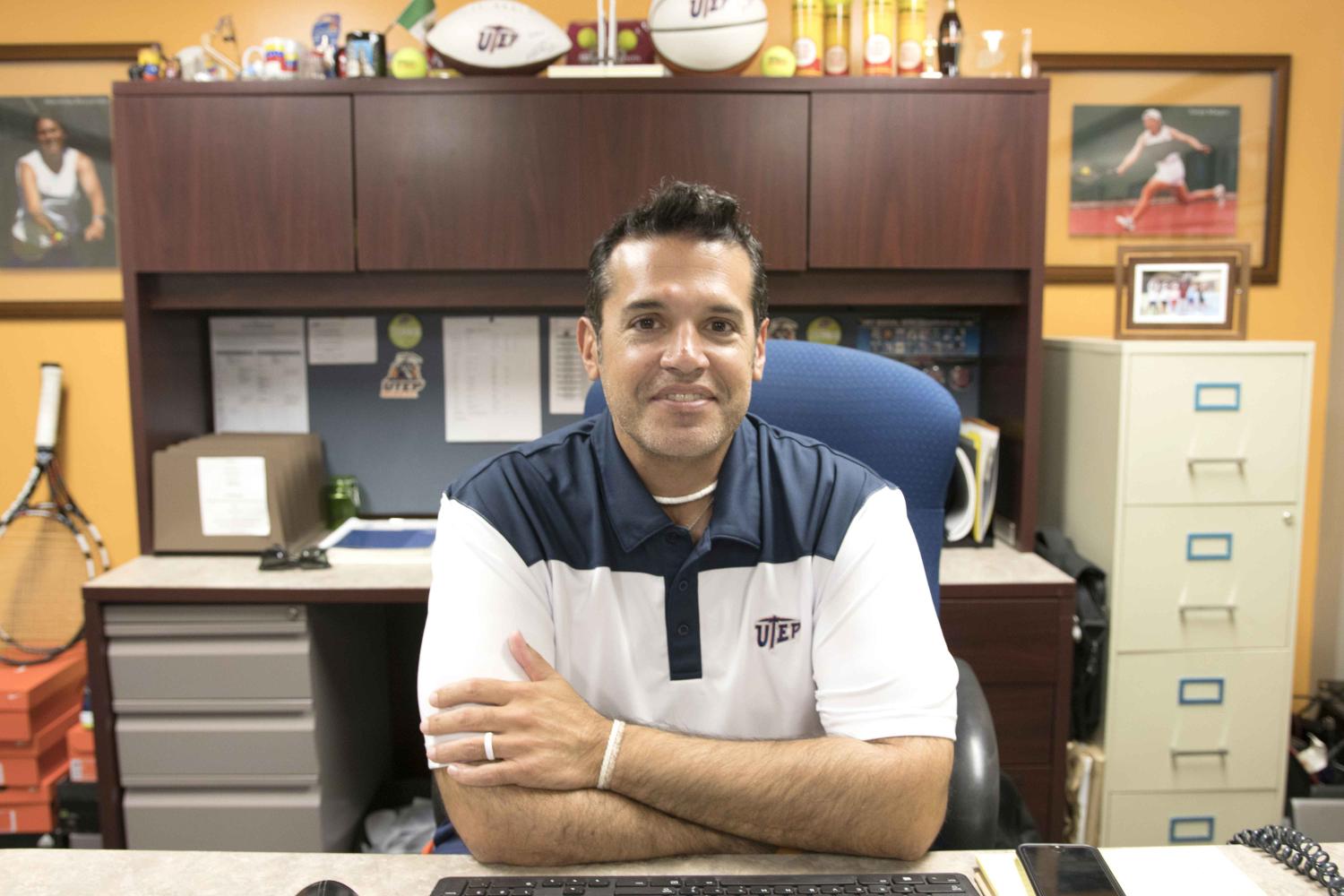 Mike Flores, Sports Editor
June 27, 2017
Since 2010, the UTEP tennis program has seen six coaches in the last seven years.
However, the Miners have finally seemed to find the right person for the job with Ivan Fernandez. Fernandez brings great experience, knowledge, a winning attitude and, most importantly, he brings a much-needed stability to the ailing program.
Fernandez, a Puerto Rico native, has been teaching tennis since 1990 when he became a P1 Certified Tennis Professional with the United States Professional Tennis Association (USPTA). A decade later, Fernandez earned his first collegiate coaching job with New Mexico State as an assistant coach, where he stayed from 2000 to 2003.
The following season, Fernandez made his way to FIU (2003-04) as a women's assistant coach and quickly left to East Tennessee State for the 2004-05 season. In his one year with ETSU as a men's assistant coach, Fernandez helped lead the Buccaneers to the 2005 Southern Conference Championship with an undefeated record of 13-0. The Buccaneers earned themselves an automatic bid to the NCAA tournament.
At FIU, Fernandez thrived under Ronni Bernstein, who was the head coach for the Panthers. Now, Bernstein is going into her 11th season as the head coach of a powerhouse school, the University of Michigan.
Being able to learn and take in everything from the coaches above him has led Fernandez to where he is now.
"I did jump around at the beginning of my career because I didn't want to get pigeon-holed into a coaching style or a specific way of dealing with a student-athlete," Fernandez said."The fact that I got to work under many great coaches, that experience is key for my success."
Fernandez found himself back with the Aggies as their assistant coach from 2005 to 2010. Fernandez worked under his mentor Don Ball at the time, who is from El Paso and was the head pro at the El Paso Tennis Club. Before Ball retired, he taught Fernandez structure, organization and how to run a well-oiled team. And the keys to NMSU program were handed over to Fernandez in 2010.
In seven years as the Aggies head coach (2010-17), Fernandez led NMSU to four consecutive berths in the Western Athletic Conference championship match (2014-17), including the program's first-ever WAC title in 2015. And in 2010, NMSU had the first nationally ranked doubles tandem in the school's history under Fernandez.
Fernandez's ability to not only lure in talent to his program but to also develop them to reach their full potential is unquestioned. He groomed two WAC Player of the Year players, Ashvarya Shrivastav (2016) and Rimpledeep Kaur (2017). Also, Fernandez had a total of 18 All-WAC honor players in his time with the Aggies.
But after seven successful years at NMSU, a change of scenery and colors were in store for Fernandez, as it was announced on June 5 that Fernandez will be taking over the tennis program at UTEP.
"I was kind of shocked to be named head coach after so many years at NMSU. It took a little while for it to sink in, you know having to wear orange and blue instead of crimson and white. But it's a very exciting opportunity and I'm looking forward to the challenge of taking over a program that has had its up and downs the last few years," Fernandez said. "I have a lot of plans for the future here. I'm here for the long haul."
With a world of experience leading into Fernandez's second head coaching job, the ceiling and future of UTEP tennis has not looked as high in quite some time. However, Fernandez knows how much time and patience it will take to build a program from nearly scratch.
"The first thing is bringing some stability and comfort in a coach. I want to have people recognize the UTEP coach for longer than one year," Fernandez said. "The recruits need to know that I am going to be here for their entire career and that I'm here for a reason—it's to build a program for the long run. This isn't a stepping stone for me."
As soon as Fernandez stepped into his new office at UTEP, his work was cut out for him. He immediately had to get to work on recruiting since only three players (Raven Bennett, Maria Paula and Lois Wagenvoort) from last year's team are returning next season. This left Fernandez with five spots to fill. Fernandez is searching for players who are going to give their all to the team, their teammates and the university, and girls he can improve year-in and year-out.
"Right now I'm not really focused on wins and losses, I hope the UTEP community understands that," Fernandez said. "I don't want to look at that as much as the effort and the family atmosphere I'm trying to create. The better the atmosphere, the better we will do in the future."
Nearly three weeks into the job, Fernandez has done just that by snatching two incoming student-athletes in Erandi Martinez Hernandez from México City and Alisa Morozova from Russia.
As successful as Fernandez is with coaching, he is just as impressive when it comes to making sure his players are students before athletes. At NMSU, he garnered 42 Academic All-WAC selections and he helped NMSU receive a Public Recognition Award from the NCAA in May for posting a perfect 1,000 multiyear Academic Progress (APR). His Aggies finished with a 3.5 GPA average.
"Their education has to be the most important. Realistically, these girls are not going to go pro. Maybe one out of 50 or 100 will actually be able to make it on the tour, so they have to take advantage of their education," Fernandez said.  "Communication and building relationships with my players is key. I want to see how they're feeling in all their classes."
Building relationships with the players began from day one. They know Fernandez runs his programs differently and are stoked for the new start. Fernandez has high praise from the returners of last year's UTEP team and he's looking forward to getting them motivated for a new year.
"Lois is a top player. She can play on top of the lineup. Raven is a total warrior out on the court, she fights and never gives up. Maria Paula is very, very talented; she just hasn't had the mental support from the staff. And that's my main goal to support them physically and psychologically," Fernandez said.
A new era for UTEP tennis is underway, and UTEP got everything they were searching for in Fernandez.
"I really try to be more than a coach," he said. "At times, I'll have to be a dad, a big brother, a counselor. I might have to wear many hats at a time. I want my players to  know that I'm leading them in the right direction."
Fernandez's vision for UTEP down the road is to be a consistent team in the top half of the conference, be a top-50 program and ultimately win conference championships.