Sharp-shooter Magee brings depth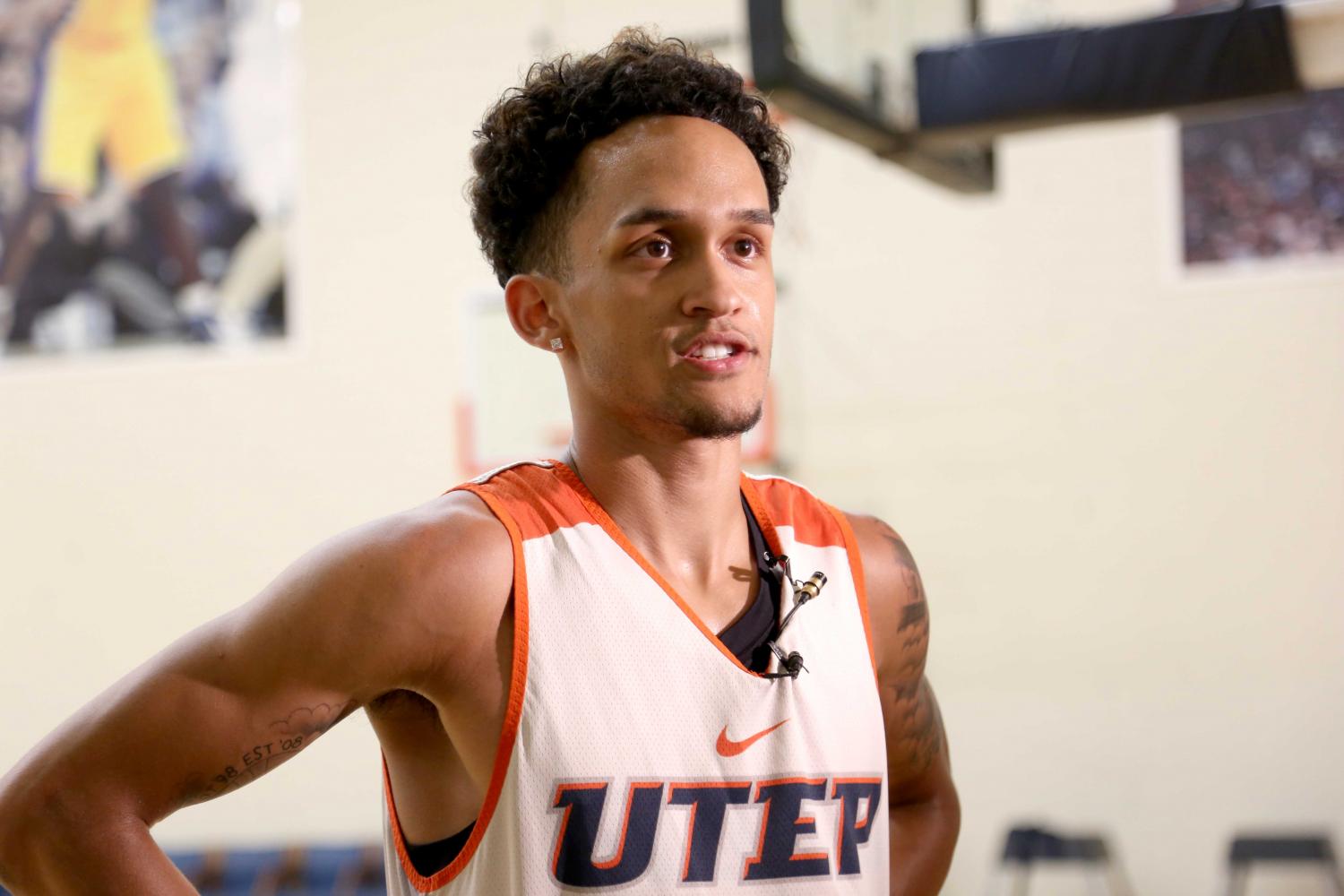 Mike Flores, Sports Editor
June 21, 2017
UTEP basketball is set to introduce their six incoming freshmen for the 2017-18 season in the next couple of weeks. The first one to get the spotlight was the 6-foot-1, 150-pound point guard from San Antonio, Texas, Kobe Magee.
Magee was a four-year letter at Brandeis High School, where he finished as the school's all-time leading scorer with 1,876 career points scored. He recorded 334 career assists and won a total of 93 games during his time with BHS.
As a junior, Magee led the Broncos to a 31-2 record and helped lead his team to a top-10 ranking in all of Texas high school basketball. He put up 17.9 points per game, along with 2.4 helpers to his teammates, 3.6 rebounds per contest and recorded over one steal per game.
In Magee's spectacular senior season, where he averaged 19.2 points per game, 4.7 assists per contest, 3.9 rebounds per game and nailed a career-high 85 three-pointers on 36 percent from long range, the sharp-shooter was named the 2017 District 28-6A Offensive MVP and was an All-Region selection by the Texas Association of Basketball Coaches.
Before committing to play for the Miners, Magee received interest from other universities such as Long Island, LIU-Brooklyn, St. Francis, Sam Houston State and, his hometown, UTSA.
Magee stated that the Miners' head coach Tim Floyd was the main factor in picking UTEP to continue his playing days on the hardwood. The history of Floyd, in which he has coached at the NBA level and at other colleges, really lured in the San Antonio native.
"UTEP was the first school to offer me back when I was a freshman, and I feel like they saw something in me that I didn't even know what was in myself yet. They had confidence in me since I was in ninth grade," Magee said. "When I came for my first visit, I already knew this is where I wanted to be."
The incoming freshman is positive his game can transfer over to the college level as he hopes to add something the Miners struggled with all of last season—the 3-point shot, for which UTEP found themselves in the bottom three in Conference USA in made long-range shots (180 total).
"I feel like the best thing I do offensively is my 3-point shot. I'm very confident from that range. I feel like I can shoot from anywhere," Magee said.
With UTEP's team-leading assist player Dominic Artis playing his final game with the Miners last season, UTEP had some big shoes to fill. However, not only does Magee bring the ability to connect on long-range shots, but he feels his passing touch can make the lives of his teammates easier.
"I describe myself as a pass-first point guard. I like to get my teammates involved. I feel like the most important thing as a point guard is getting your team the ball, getting your teammates going first before you get yourself going," Magee said. "I model my game after Chris Paul (Los Angeles Clippers point guard). I feel like he does a good job getting his bigs involved. He makes the right reads, comes off of screens, makes the right plays in transition and that's what I like to do."
One aspect that Magee wants to work on before the start of his first season in orange and blue is improving his strength and working in the weight room. He is seeking to get bigger and stronger, knowing that the transition from high school to college basketball is a huge leap.
With key returners for the Miners, like starting center Matt Willms and high-scoring guard Omega Harris, Magee is looking forward to working alongside with what UTEP has to offer on the roster already.
"We have a lot of great players on the team, and I feel like I can put them in the right position for them to be able to score easier," Magee said.
Magee will be engaged in a position battle with fellow freshman Evan Gilyard from Chicago when the season rolls around. Head coach Tim Floyd has hinted that he won't be hesitant to give big minutes to a freshman guard if it is necessary for the team's success.
"It's very important that coach Floyd has a lot of confidence in me and Evan (Gilyard), and a couple of others players as well. I think that just boosts my confidence as well, knowing that my coach has that confidence in me. It's going to make it a lot easier to play my game," Magee said.
With a slate of games coming up for UTEP basketball team earlier than usual, as they are set to compete in a Costa Rica tournament from Aug. 15-20, the freshmen on the team will get a chance to showcase their skills the months before the regular season kicks off in October.
"Preparing mentally starts here (practice). I feel like I'm ready right now. The Costa Rica tournament will be a good way to start the year off, as far as getting ready for the season," Magee said.
The incoming freshman is familiar with UTEP's rich history in the program.
"In eighth grade, coach Nevil Shed coached me because he had a couple of adopted sons that played with me. So I think it's cool to represent for them (1966 Miners), and I felt the tradition here and I felt like this is a basketball school. I think we can be good this year, too," Magee said.