Amusan battled her way to an NCAA crown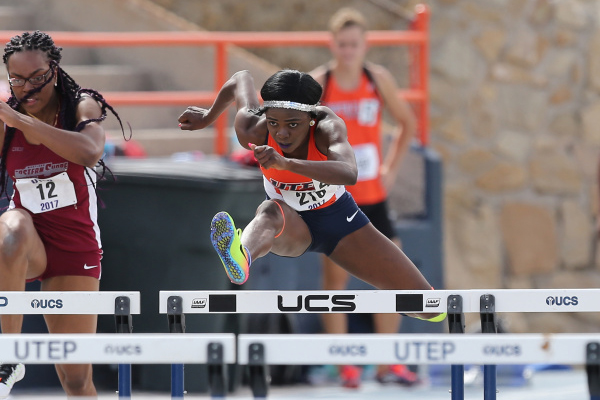 Hang on for a minute...we're trying to find some more stories you might like.
Tobi Amusan, runner-up in the 100-meter hurdles at the 2016 NCAA Track and Field Championships, found redemption in her second appearance in Eugene, Oregon.
The sophomore's personal-best time of 12.57 was just enough to earn her the NCAA title and revenge over defending champion Jasmine Camacho-Quinn of Kentucky with the time of 12.58.
"I didn't realize I was the national champion," Amusan said. "I am not very lucky when it comes to photo-finish results, so I felt like if this is a photo finish, which I know it was I was going to lose it."
Amusan became the first Miner to win the 100-meter hurdles event at the NCAA championships since Kim Turner in 1984. Her time of 12.57 is the fourth-best performance time in the event in collegiate history.
"Oregon-crazy. Weather-terrible, but I got over all the obstacles," Amusan said. "I felt terrible because I was not warmed up, my routine was one hour and 20 minutes, but I ended up doing over two hours and I still wasn't warmed up."
In 2016 as a freshman, the Nigerian native was named the 2016 C-USA Track Athlete of the Year while earning first-team All-American honors for outdoor and second-team All-American honors for indoor. Amusan took first-place in the 60-meter hurdles at the C-USA Championships with a personal-best time of 8.23 while leaping a season-best 5.84 meters (19-02) in the long jump.
In the 2016 Outdoor C-USA Championships, Amusan notched the fourth-fastest time in the nation in the 100-meter hurdles with a personal-best time of 12.83 at the time.
For her most recent efforts in the 2017 Outdoor NCAAs, Amusan was named as one of 10 semifinalists for The Bowerman Award by the U.S. Track and Field Cross Country Coaches Association (USTFCCCA). The Bowerman Award is the highest accolade given to the year's best student-athlete in American collegiate track and field.
On June 16, Amusan was also named the Conference-USA Female Track Athlete of the Year for the second time, due in large part to her spectacular all-around season. Amusan was no stranger to finishing first in invitationals this year. Her first-place finishes throughout the regular season include: the Jim Bush Invitational (100-meter dash), the UTEP invitational (200-meter dash and 100-meter hurdles), UTEP Springtime (100-meter hurdles), the Texas Relays (100-meter hurdles) and also at the Brutus Hamilton Invitational (long jump event).
"A lot of work goes into these things, and Tobi worked incredibly hard over these past two years. She absolutely deserves this award," said head coach Mike Laaksonen.
This indoor season, Amusan was the leading scorer for the Miners with 25 points at the C-USA Championships and set a meet record in the 60-meter hurdles with a time of 8.01. She placed sixth in the same event at the Indoor NCAA Championships.
It was outdoors where Amusan truly became known. In the UTEP Springtime meet, Amusan set a school record at the time, with a mark of 12.63 in the 100-meter hurdles. She also earned her team 24.5 points at the C-USA Outdoor Championships, leading the women's team to their first-ever outdoor conference title.
Amusan credits her stellar 2017 sophomore season to changing the way she thought and went about preparing for her races. It was to focus on herself and nothing else.
"As you grow, you must pursue some things differently," Amusan said. "Last season I was looking at everybody and that ultimately messed everything up, but this year I told myself I just wanted to focus on myself, I didn't care who was beside me, I just wanted to execute my race."
"Amusan is another special talent," Laaksonen said. "All the hard work she put in this season paid off."
While the season is over for the sophomore, time on the track is not. It had been just one week since bringing home her title on June 10, and Amusan was already back on the track in El Paso. It was a scorching 100-degree summer day at Kidd Field, but that did not stop the national champ. 
"It doesn't end," Amusan said. "This is the toughest part, but we have more chances, more seasons coming. I got to keep going."