Frederik Dreier reflects on illustrious career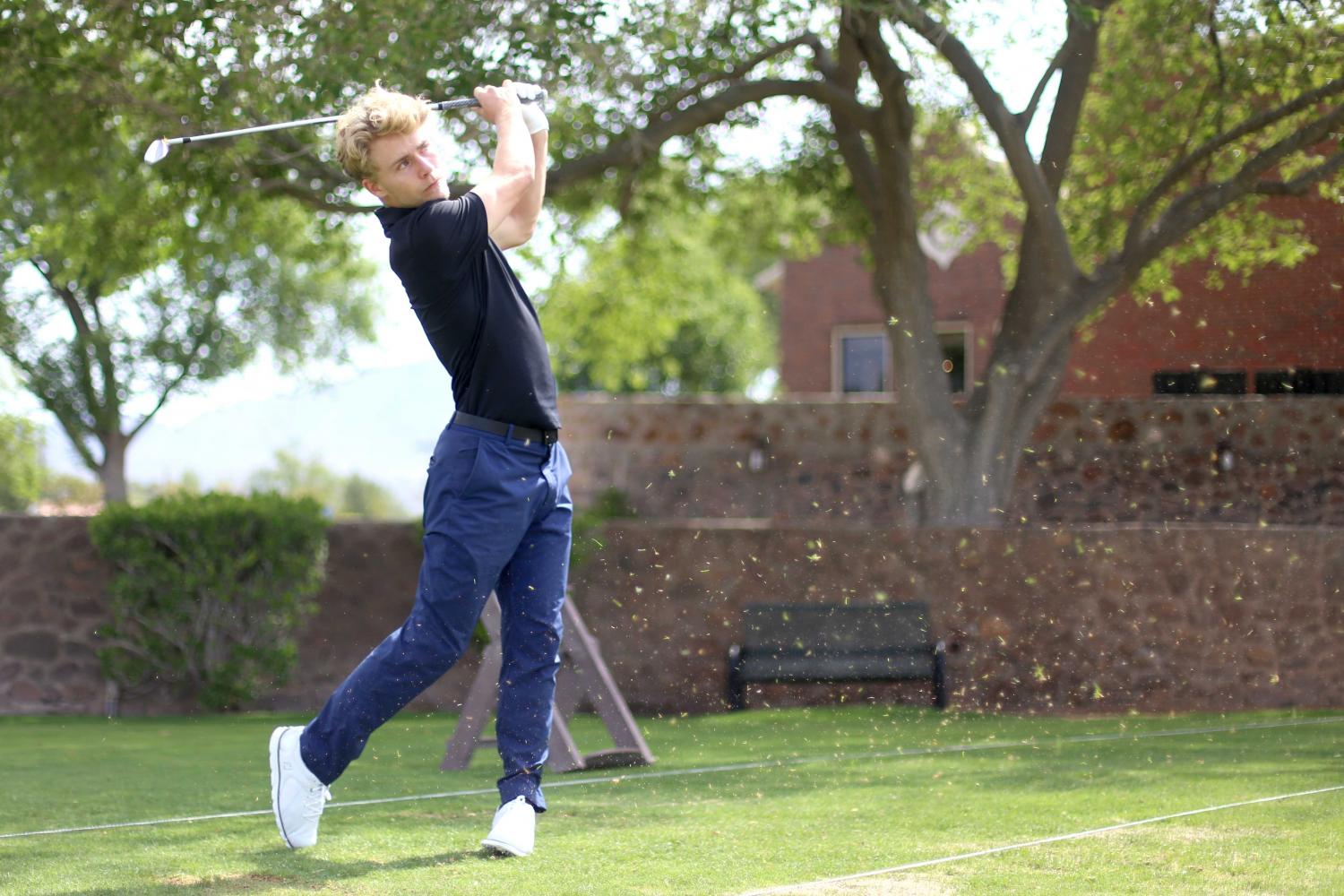 Mike Flores, Sports Editor
June 13, 2017
Since the UTEP men's golf program was first introduced to the school in 1983, not one student-athlete has ever been able to accomplish what Frederik Dreier has for the Miners in golf. He is the school's only back-to-back winner of the conference's most valuable award, the Conference USA Golfer of the Year.
Dreier finished off his junior and senior season with the Miners as the recipient of the prestigious award. As a two-time consecutive C-USA Golfer of the Year, Dreier is only the third player to ever do so in the entire league's history, joining elite company such as former U.S. Open winner in 2010, Graeme McDowell, who won consecutive C-USA Golfer of the Year awards in 2001 and 2002 with UAB.
Before Dreier made his way to El Paso, he was relatively new to the United States. He moved back and forth from Nykobing Falster, Denmark, where he was born, to Greenland, before he finally settled into the northern part of Copenhagen, which he has since called home since the age of 13.
Living in Denmark, Dreier almost went the route of pursuing soccer instead of golf.
It wasn't until his grandparents introduced him to the sport of golf that Dreier would later master the game. When Dreier turned 12 years old, his grandmother made holes in their garden for him to practice his golf stroke and she continued spending time with him on actual golf courses to help sharpen his game at a young age.
"We made holes in the garden, where I would hit plastic golf balls. I made a couple of hole-in-ones in the garden and I fell in love with the feeling," Dreier said. "It helped me chose golf over soccer when I was 15 years old. I still love the sport of soccer, but I don't regret my decision. I'm still a nerd about professional soccer, I know everything and everyone's names."
In his high school days, Dreier was selected into the Danish National Team in 2011, in which he is still a member as of today. He finished second-place at the Team Rudersdal Open, Mollea Open and Royal Tour III in 2011. Dreier also finished fourth in the Royal Tour Final and fifth in the Luxembourg International Amateur in 2011. The following year, Dreier picked up a fourth-place finish in both the Royal III and Danish Amateur.
Dreier's impressive resume and accomplishments had many colleges lined up for his talents. Some of the schools included Baylor, Lamar, Kennesaw State and Memphis—where he signed his letter of intent, but due to problems with his transcript conversions, Dreier had to sit out a full year.
Martin Simonsen, Drier's friend and former Miner golfer, heard about Dreier's problem and gave Dreier a word of advice—to get in contact with UTEP's head coach Scott Lieberwirth. That's exactly what the Denmark native did.
A week after getting to know each other, Lieberwirth offered Dreier a scholarship, and Division I golf was finally a reality for Dreier.
"I went to visit UTEP and that's when I decided to sign here. I loved the weather and the guys on the team seemed like really good people," Dreier said. "I've been away from home before college with golf schools and camps here and there, but I was still excited and ready for change."
In 2013, Dreier officially started suiting up for the Miners. Being nervous, anxious and not knowing what to expect, Dreier stepped foot on his first collegiate tournament—the Gene Miranda Invitational in Colorado Springs. After his first taste of college level golfers, Dreier could see that his future was bright after a second-place finish.
"When I finished second place, I knew I could play among the best golfers in the country. In fact, that first tournament was my mental breakthrough. I told myself, 'this is going to be tough, but I can do it if I play like I know I can.' I knew my goals were achievable from that point on," Dreier said.
Dreier finished his freshman year being named to the C-USA All-Freshman team after he was UTEP's top finisher four times that year, placed top-10 in three events and recorded the team's second-best scoring average (74).
However, after his spectacular freshman season, Dreier hit a bump in the road during his sophomore outing. He only finished top-10 in one tournament and was the Miners' top finisher only twice.
"I think it was part of the growing up process, you know guys are going to make mistakes," Lieberwirth said.
By the time he hit his junior year, he saw that he could be special. He vowed to right his wrongs and achieve his every goal. Dreier responded with a career-best 71.8 stroke average, which led the conference, placed top-10 in five competitions, tallied eight top finishes for UTEP's team, finished sixth in the C-USA Championships, participated in the NCAA Regionals and eventually was named UTEP's fourth-ever C-USA Golfer of the Year.
As hard as it was to top his junior year, Dreier did just that throughout his last year in orange and blue. Dreier's career-year consisted of seven top-10 finishes, UTEP's top finisher six times, helping the Miners win four tournament crowns and leading UTEP to their second-ever C-USA championship in program history—a first since 1985, along with being the most valuable golfer in C-USA again.
"My last two years were the peak of my golf career. This year was surreal, it was like it was written in a movie script," Dreier said.
Dreier's final tournament at UTEP ended when his team placed ninth in the NCAA Regionals at Sammamish, Washington. He shot seven-over 220 (76-68-76) to come in tied for 27th. His second round score of 68 was a team low.
"I was disappointed in my performance because I knew that was my last time playing for UTEP. I really wanted to do well in that last round, so I could walk out of my UTEP career on a high mark," Dreier said. "But that doesn't take away from all the good memories here (El Paso). One of my goals was to play with my teammates to regionals and we did it. I'm glad we all got to experience it."
After his senior year came to a close, Dreier gained C-USA First Team honors and became the only Miner to earn PING All-Region Division One honors. He was ranked as high as No. 4 on the Arnold Palmer Cup European Rankings.
"He (Dreier) had the best work ethic of any student-athlete I've ever coached in 14 years. He treated it like a pro would, and he was extremely dedicated and worked hard at everything," Lieberwirth said.
With his time at UTEP as a business major, Dreier not only excelled on the golf course, but in his classes as well. He was named the C-USA Commissioner's Honor Roll all four years at UTEP.
Dreier said he would sacrifice going out and having fun like most college kids do. During the week, Dreier had to juggle 6 a.m. workouts, school from 7:30 a.m. to noon, golf practice from 1 p.m. to 4 p.m., yoga at 5 p.m., night classes on certain days and studying to finish off his night. His weekends consisted of books and catching up with all his studies instead of being with friends.
"I tried to get ahead of my work, so I could be stress-free on the golf course. If you want to be a good golfer, you have to sacrifice some of the most fun things, and it's paid off for me," Dreier said.
After one more summer class, Dreier will be an official UTEP graduate.
The star golfer plans on taking his talents to a professional level back home in Denmark. Two tournaments he's been dreaming of competing in are the European Tour, which is equivalent to the PGA Tour in the U.S., or the Challenge Tour. Plan B for Dreier is the ECCO Tour.
"It's going to be tough, but I'm ready for the next level. I'm going to focus 110 percent on golf," Dreier said. "All my coaches and teammates here have helped me a lot on and off the golf course. The staff is amazing here. We all pushed each other to get better. And I'm going to miss all my friends I've made here. It's been a pleasure being able to play for UTEP."
Coach Lieberwirth will be losing one of the best players he has ever come across in his coaching career.
"He's highly successful in what he does and what he's going to do after college, everyone can see his elite talent. You're not going to find many athletes who care the way he did about his team," Lieberwirth said. "He wasn't only our best player, but our best leader, too. He had the respect of all of his teammates and other coaches. They saw how much he wanted to be the best. You could replace a good player, but it's hard to replace a good person and player like Dreier."