Miners crowned at NCAA Championships for the first time since 1978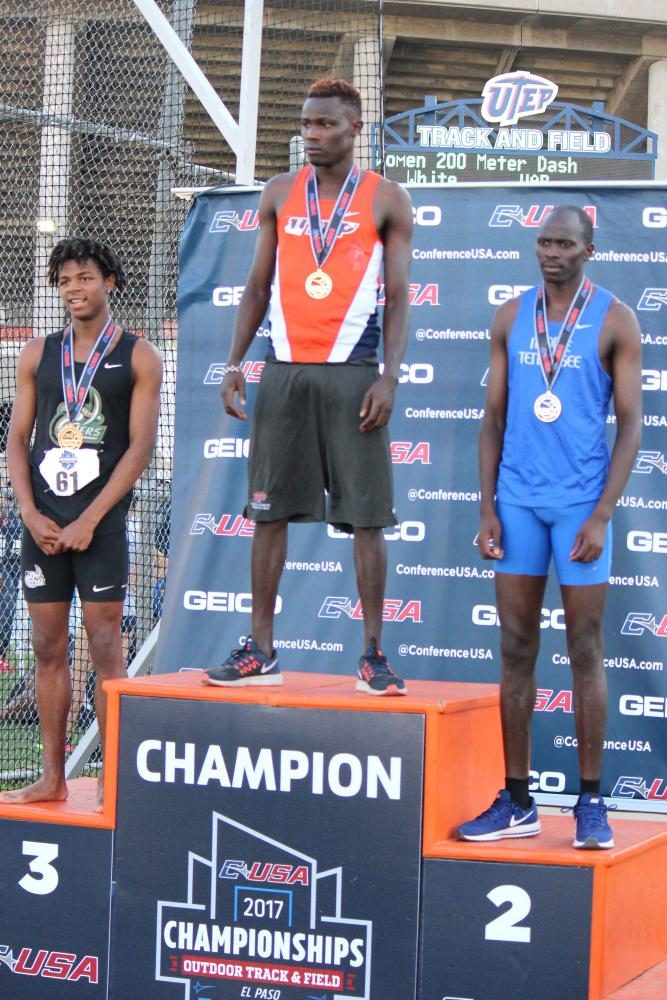 The 2017 NCAA Outdoor Track and Field Championships wrapped up on Saturday in Eugene, Oregon. Emmanuel Korir and sophomore Tobi Amusan will be the first Miners to return to El Paso with gold medals in the NCAA Championships since 1978.
Day three (June 9)
Korir won the gold medal and captured his second 800-m title (800-m indoor and outdoor) with a time of 1:45.03. Saruni took a hard fall during his run but still finished the race with a time of 2:15.56 finishing last. Both Korir and Saruni were predicted to finish the event in first and second respectively.
On Friday, Lucia Mokrasova represented the Miners, tallying a total of 3,178 points through the first four events of the heptathlon. In the 100-m hurdles, Mokrasova finished with a time of 14.49 for 910 points. In the high jump, she earned 666 points with a 1.54-m jump.

Her best performance of the four was the third event, the shot put. Mokrasova heaved the ball out to 13.36-m (43-10) tallying 751 points. The throw placed her first in the 24-athlete field.

In the final event, the 200-m dash, Mokrasova earned 851 points finishing with a time of 25.93.
Final Day (June 10)
After winning silver last year in the 100-m hurdles, Amusan will now have a gold to go along with it. With a final time of 12.57, the sophomore claimed revenge on defending champion Jasmine Camacho-Quinn of Kentucky, finishing just .01 seconds better.
Senior Samantha Hall's UTEP career came to end on Saturday as the senior missed a finals opportunity by placing 10th overall with a throw of 54.66-m in the discus throw.
Mokrasova placed 17th in the heptathlon with 5,172 total points. The junior scored 654 points in the long jump with a mark of 5.34-m (17-16.25), 612 points in the javelin throw with a heave of 37.10-m (121-9) and closed out the event with 915 points in the 800-m run with a time of 2:13.46.