UTEP names new women's tennis coach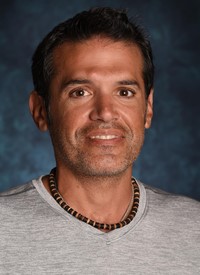 Mike Flores, Sports Editor
June 6, 2017
UTEP women's tennis hired former New Mexico State head coach, Ivan Fernandez to take over as head coach.
Fernandez ran the show for the Aggies for seven years, which included four consecutive berths in the Western Athletic Conference championship match during his time.
"Ivan is a great fit for us," said Athletic Director Bob Stull. "He has annually had NMSU in the WAC championship picture, and he's looking forward to leading UTEP Tennis to a new level of achievement. He brings a built-in knowledge of our program and players that will allow him to really hit the ground running, recruiting and planning for the 2017-18 season."
In the 2015-16 season, Fernandez led the Aggies to a 5-0 record in conference play and also brought home the program's first WAC regular-season title since joining the conference. The following year, NMSU went 11-13 overall (3-2 WAC) and came up short against the No. 1 seed in the conference, UMKC, in hopes of back-to-back titles.
Fernandez vows to bring back UTEP tennis to a winning way, after a 4-14 season during 2016-17.
"After more than 15 years in collegiate coaching, I am very excited to be named the next women's tennis coach at UTEP," Fernandez said. "I bring many years of experience as a head coach and much-needed stability to a program with a great history. I have been part of the tennis community in this area for the last 12 years and know how important the community is to the success of any program. I am committed to returning UTEP tennis to its former glory and with the continued support of Bob Stull, and the entire athletic department, I know I will be provided all the resources necessary to achieve this goal."
In his seven years with the Aggies, Fernandez had NMSU competing for the WAC title in the 2014, 2015, 2016 and 2017 seasons. After winning the crown in 2015, Fernandez and the Aggies earned a bid to the NCAA tournament, where they would eventually come up short against a Texas Tech team that went three rounds deep that year.
During the 2016 season, the Aggies were the WAC regular season champions.
In 2010, Fernandez coached the first nationally ranked doubles tandem in school history in Aleska Coast and Sophia Marks.
Under Fernandez, the Aggies have had 18 All-WAC honors and 42 Academic All-WAC selections. NMSU's tennis team also received a Public Recognition Award from the NCAA in May for posting a perfect 1,000 multiyear Academic Progress Rate (APR). The Aggies averaged a 3.5-grade point average, annually ranking among the best of all Aggies athletics.
As a director for NMSU, Fernandez and the Aggies hosted the WAC Championships three times during his time there.
Fernandez spent 12 years at NMSU—seven as the head coach and five as an assistant coach from 2005-10, but before, Fernandez was a volunteer men's and women's assistant coach at NMSU from 2000-03.
He also spent a season (2003-04) as a women's assistant coach at FIU. A year later, Fernandez served as a men's assistant coach at East Tennessee State, where the Buccaneers would end up winning the 2005 Southern Conference Championship with a 13-0 record and automatic bid to the NCAA tournament.
The Puerto Rican native is a P1 Certified Tennis Professional with the United States Professional Tennis Association (USPTA) and has taught the game of tennis since 1990. Fernandez was a tennis professional in Las Cruces from 1999-03.
Fernandez received his Bachelor of Arts degree in Psychology from St. Edwards in Austin, Texas in 1996.