Women's track celebrates first C-USA conference title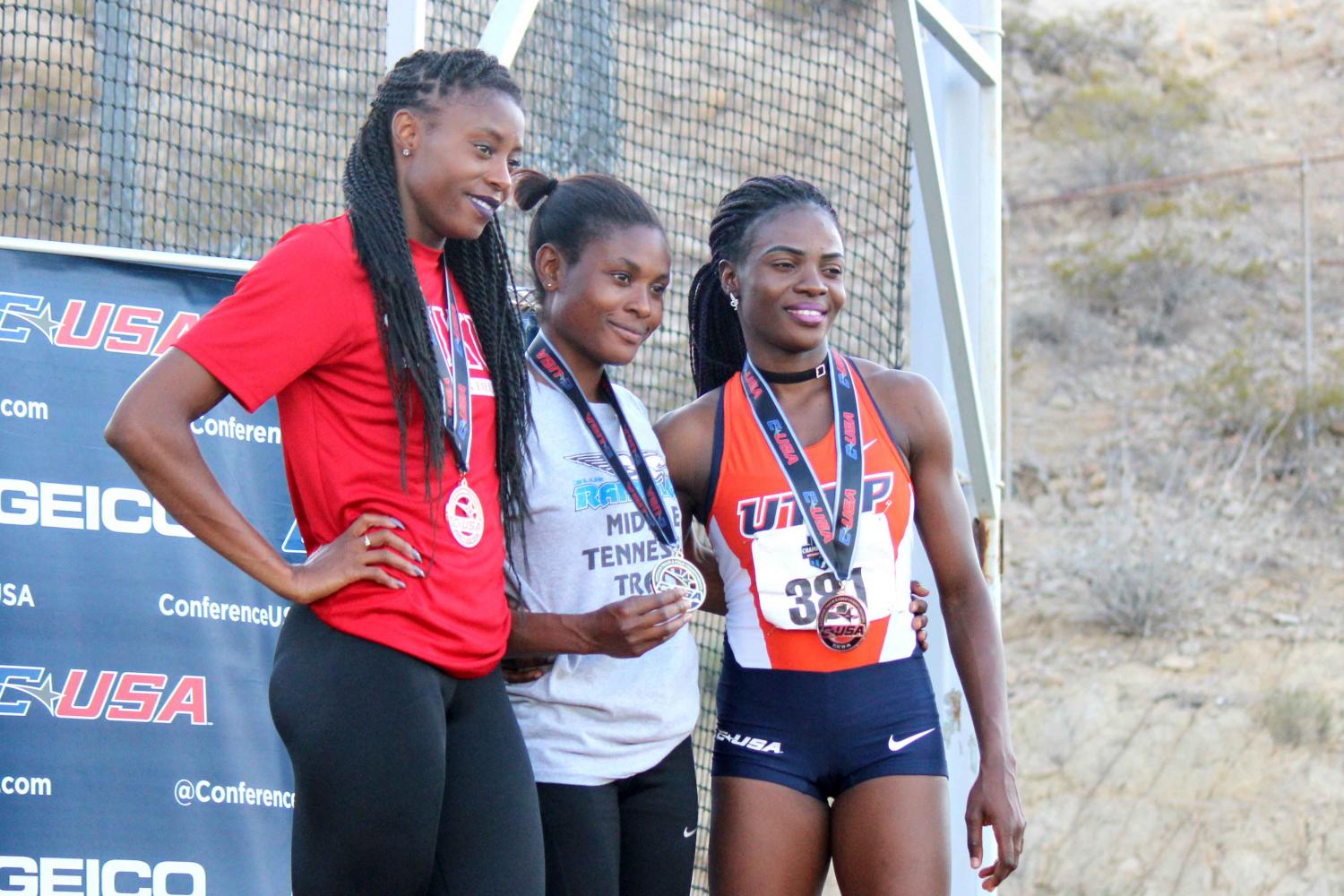 The UTEP women's outdoor track team won their first Conference-USA outdoor conference title in school history on Sunday, May 14 at Kidd Field
The Miners scored 27 points higher than second-place Middle Tennessee for a total of 153 points to claim their first ever conference championship.
Prior to this title, the Miners have finished as the runner-ups in six of the previous 11 Conference-USA outdoor championships, including three straight second-place finishes from 2006-2008. UTEP lost a nail-biting 2010 C-USA championship when they finished just five-points behind champion Central Florida

"Our women's team capturing their first outdoor title ever is a huge deal and to do it here at home makes it that much more special," said head coach Mika Laaksonen.
Indoors, the women have seen similar success more often. The Miners have four indoor Conference-USA titles since joining the conference in 2006. Their first title came in 2010, and the team is currently on a streak of three straight (2015-2017).
Four of UTEP's five Conference-USA track championships have come under eighth year head coach Laaksonen, who was named the 2017 Women's Conference-USA Coach of the Year for the outdoor season. Laaksonen has earned four consecutive coach of the year honors for indoor (2014-2017) with this outdoor honor being his first as UTEP's head coach.
It was Laaksonen's young talent that helped propel his team to their first outdoor crown.
Sophomore Tobi Amusan ran a personal-best 22.92 in the 200-meter dash to lead the Miners in scoring with 24.5 team points. Amusan finished fifth in the long jump, second in the 200-meter dash and first in the 4×100-meter relay and 100-meter hurdles. In the 100-meter hurdles, Amusan clocked a 12.79, which clinched both the gold medal and 19th-best time in the world. The mark was also a Conference-USA meet record. 
Two more sophomores, Winnie Koech and Rebecca Oshinbanjo also helped secure points for the Miners. Koech grabbed 20 points in winning both the 5,000 and 10,000 meter runs, while Oshinbanjo earned three points for a sixth-place finish in the 100-meter hurdles, recording a personal-best jump of 13.95 meters.

Freshman Linda Cheruiyot scored in two events, with an eighth-place finish in the 5,000-meter run that earned a time of 17:53.33 and a bronze medal finish in the 1,500-meter run with a time of 4:31.78.
Additionally, two experienced upperclassmen helped contribute to the team's success at Kidd Field over the championship weekend.
Junior Lucia Mokrasova finished in second place of the heptathlon for the second straight year. With a 37-point first place lead after day one with 3,474 points, Mokrasova was also able to add 2,051 more points to her total on day two. Despite this, Middle Tennessee's Elizabeth Danzie totaled 2,395 to push past Mokrasova and win the heptathlon.
Despite having three fouls on her final three throws, senior Samantha Hall placed first in the discus throw with a toss of 54.40-m (178-06) on her second attempt. The toss was 3.45 meters better than second place finisher Gabrielle Rains (50.95-m) from Florida International.
"We have a pretty well bunched team, we have scorers in multiple events and unfortunately a lot of them are seniors. So, we're going to have to rebuild and rebuild in a hurry," Laaksonen said.
On the men's side, the Miners finished in third-place overall with 117 points. Freshman Emmanuel Korir set the world's fourth-fastest time in the finals of 400-meter dash, clocking a 44.53 and breaking the school record previously held by Bert Cameron (44.58, 1981).
Qualifiers for the NCAA Preliminary Rounds in two weeks have yet to be announced.
Last season in Lawrence, Kansas, four out of the 12 Miners that competed in the West Preliminaries qualified for the NCAA Championships in Eugene, Oregon after the preliminary rounds concluded.
As a freshman last season, Amusan earned an automatic bid to the NCAA Championships due to her first-place finish in the 100-meter hurdle heat clocking at 13.04 at the preliminary rounds. Amusan was joined her teammates Florence Uwakwe, Jonah Koech and Mokrasova in last year's NCAA Outdoor Championships.
The preliminary rounds of this year's NCAA West Regional meet will take place in Austin, Texas starting on Thursday, May 25 and will conclude on Saturday, May 27.