Softball seniors prepare for final games in EP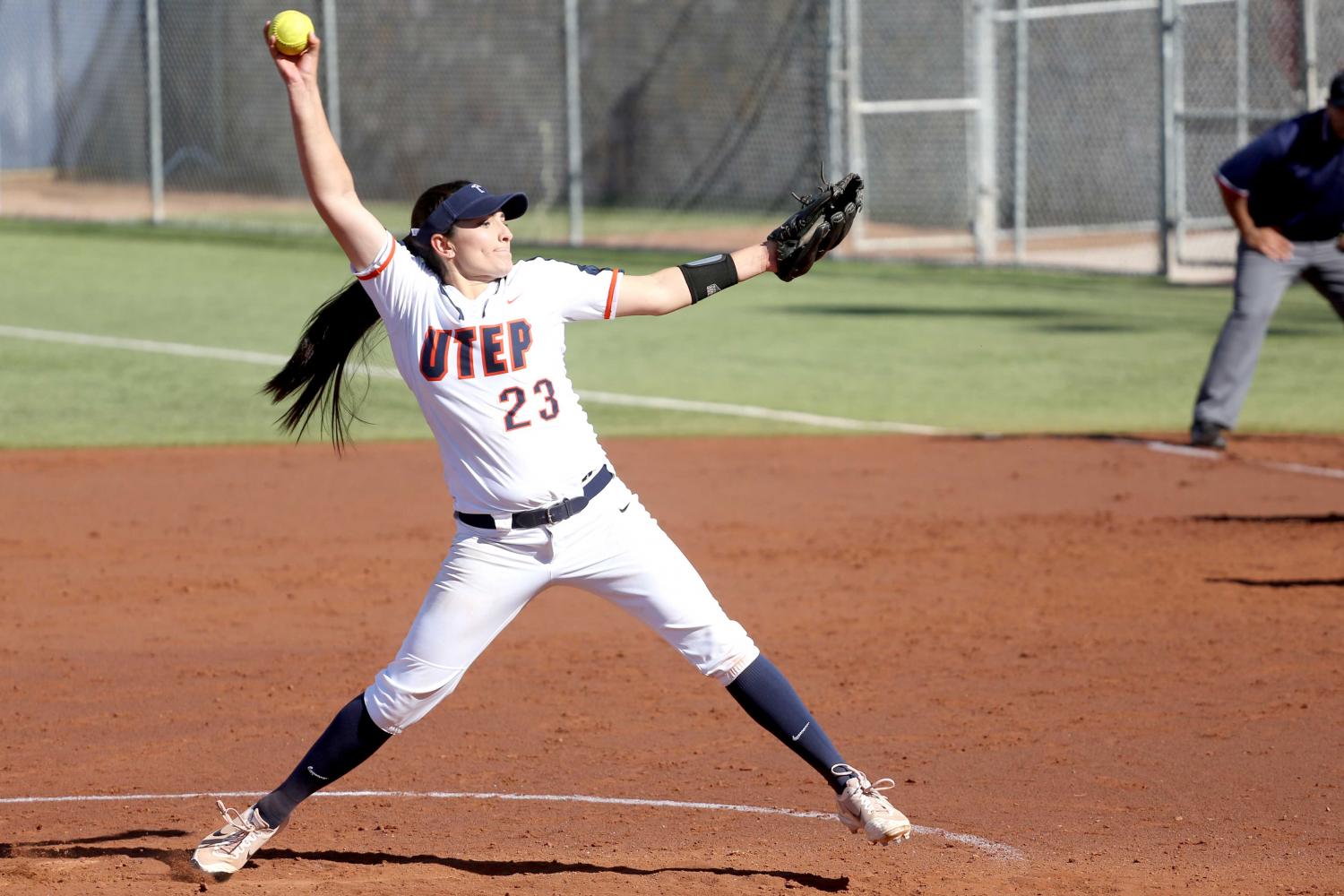 Mike Flores, Staff Reporter
May 2, 2017
The UTEP softball team will be sending out five seniors come Sunday, March 6, when their final series of the season comes to an end against Florida Atlantic in El Paso.
The five seniors are pitchers Erika Harrawood, Kaitlin Fifield and Taylor Grohmann, along with outfielder Miranda Gutierrez and third baseman Kiki Pepi.
UTEP (11-34 overall, 5-16 C-USA), a team that is currently riding an eight-game losing streak, will welcome in Florida Atlantic (33-18 overall, 13-8 C-USA), who holds a firm grip on the third spot in C-USA's east division.
With both teams playing for something different beginning Saturday, UTEP will not only be playing for their seniors, but for something to build on for next season. The conference tournament is out of reach for the Miners.
Florida Atlantic seeks to gain ground on Florida International for a chance at the second seed in their division.
UTEP took a step back from the previous season, the Miners achieved their first-ever winning record in conference play (13-11) and made it to the fourth-ever conference tournament in school history. The 2017 season played as a learning year for both the veterans and young student-athletes, according to Harrawood.
"This season definitely hasn't been the easiest, there's nothing we can do about the past, but learn from it and just get better every day we have left. I want to go into this last series with everything we got and end the season on a positive note," Harrawood said. "It will be my last time stepping on our home field. UTEP softball blessed me with amazing friendships and with amazing coaches that have taught me so much, not just about the game but life too."
During Harrawood's career, her senior season stands out most as she picked up three wins and threw her first complete game victory of her career earlier this season against Southern Mississippi—a game the Miners won 12-2. Harrawood also struck out the most opposing batters this season (46 total).
Being an El Paso native, Harrawood is thankful for her time with her hometown Miners. An opportunity she never took for granted, even with school, as she was honored with C-USA's Commissioner's Honor Roll from 2014-2016.
"I was extremely blessed to be given the opportunity to play and stay at home. I'm very family oriented so it was a perfect fit from the beginning. There really are no words to explain how amazing that feeling is," said Harrawood.
Another El Paso product, Kaitlin Fifield, has been a reliable pitcher since day one. Before this season, Fifield posted 22 winsfourth most in program history, third in school history with complete games (29), had two shutouts in her time with UTEP and has started the fourth most games on the mound (56).
Throughout her senior season, the El Paso-native has pitched the most innings (90 total) and has not allowed many home runs as she has only given up four long balls on the season—a team-best. She's added two wins to her resume by overcoming two conference foes in UTSA and Western Kentucky.
Fifield has also been on the C-USA Commissioner's Honor Roll from 2014-2016.
Grohmann, UTEP redshirt senior pitcher, appeared in at least 15 games from her freshman year to junior season.
Including this season, Grohmann has a combined record of 8-15.
During her junior season, Grohmann posted a winning record of 5-3, after a 5-1 start. She has been a veteran presence for the two freshman pitchers, Allie Johnson and Devyn Cretz.
Now, with three more games in her career, Grohmann will seek to grab another victory, if given the chance.
Outside of the senior pitchers, Kiki Pepi will also hit the field for her final time. Pepi has spent her final three seasons in El Paso after her freshman year at Oregon State.
With the Miners, Pepi ranks in the top 10 in UTEP's history with a batting average of over .315. She came into her senior year with the school's fifth most assists (238) and ninth in double-plays for the defense (15).
After this season, Pepi has made history for the Miners, as she is now top 10 in RBIs, home runs, doubles and hits in total. In her senior showing, Pepi leads the orange and blue in assists with 85, RBI (32) and walks (17). The California-native is tied for second on the team in home runs (4) and runs with 23.
After attending and playing for El Paso Community College,, Gutierrez spent two seasons with the Miners. She started in three contests this year and played in 14 games, nine more games than her junior season. Gutierrez has scored twice this year.
The series between UTEP and Florida Atlantic will start on Saturday with a two-game set, beginning at 3 p.m. followed by 5 p.m. On Sunday, the series wraps up at 1 p.m.