Aaron Jones: mama's boy, father's man, Green Bay Packer
May 2, 2017
Day Two Disappointment
The crowd had shown up on Friday night at the Jones' house in Northeast El Paso, hopeful and exuberant.
The second and third round of the draft would be televised and there was plenty of expectation in the air following a first round that saw surprise after surprise, as well as several running backs drafted.
Flanked by agent Chris Cabott, Aaron sat on the family's large sofa in a spacious living room. The second round began promptly at 6 p.m. and the Packers were on the clock.
"We know the 49ers and Packers have him in the day two range. We want more running backs to get off the board," Cabott said.
Cabott and Jones clapped and high-fived as several notable running backs were drafted such as Tennessee's Alvin Kamara to the Saints and Toledo's Kareem Hunt to the Chiefs.
But, slowly the clapping and excitement began to die down. The friends and family, who had joined in with Aaron and Cabott's clapping because it seemed like the thing to do, began to look around at each other and wonder why nobody was clapping anymore.
Aaron's parents, busied themselves with preparing food for everyone. Vurgess made sure that the numerous television reporters had plenty to drink and eat. Alvin Sr. grilled hot dogs, burgers and ribs.
"Somebody has to do it," he would say. Not yet willing to acknowledge the fact that he was too nervous to sit down and wait with his son.
Once there was nothing left to cook, the entire collection of humanity gathered in a large circle to clutch hands and ask a blessing for the food – and of course, for Aaron. That blessing was not asked that he get drafted in a timely manner, but that he end up with the right team for him.
Cabott constantly checked his computer, marking off who was drafted and keeping Aaron abreast of where the agent believed that teams with a need for running backs were leaning.
Once, the entire room readied itself when Aaron's phone rang. It turned out to be a team checking to make sure that his number was still the same. As much as the air was let out of the room in that instance, it appeared to be even more so for Aaron.
This was perhaps the first time while watching the draft that he let his poker face crack. His posture slipped – slightly. Cabott, sensing his client's frustration, put his arm around Aaron and rubbed his shoulder.
Then the Pittsburgh Steelers made pick number 105 of the draft.
"With the 105th pick, in the 2017 NFL draft, the Pittsburgh Steelers select James Conner, running back, Pittsburgh," said the ESPN announcer.
There was no more noise in the room. With three more picks left on day two of the draft, the last team to appear to be in need of a running back, had taken the hometown kid.
At the end of a long day, Jones Sr. could only shake his head and say quietly, "That chip on his shoulder, just became a mountain."
Vurgess' Little Boy
There is no doubt that Aaron Jones is a mama's boy.
Even while on the phone with Green Bay Packer's head coach Mike McCarthy, moments after being drafted in the fifth round of the 2017 NFL draft, Aaron held his mother Vurgess under his massive right arm as she sobbed on his chest.
Yes, there are two Jones twins. Yes, they do have a mother and a father. Yes, they were both alongside the former UTEP star running back as his name was announced on the ESPN's NFL draft telecast on Saturday afternoon, April 29, to the roars of a house full of friends and family.
But, make no mistake about it, at that moment, Aaron was a mama's boy.
The nights that a soldier/mother spent in Mosul, Iraq, seemed a lifetime away at that second, as Vurgess' little boy held her tight. Everything that a mother watching her child play little league football (even for his first tackle football team, the Packers) could hope for had happened with that one phone call from Green Bay, Wisconsin.
And what about him being in Green Bay?
"It doesn't matter where he lives," said Vurgess, when things finally settled down Saturday afternoon. "I'm going to be there."
The Moment?
Jason Green
As day three of the draft – day two of the Jones' family draft party – began, there was just the twins, Aaron and Alvin on the couch in front of the TV.
Aaron's agent was not there for day three due to previous commitments.
For the fourth through seventh rounds of the draft, all of the members of the immediate Jones family were decked out in black and gold Nike t-shirts emblazoned with a silhouette of Aaron and the phrase "Wake Up Call!"
The Jones twins wore matching hats that read, "Dream Big."
More UTEP teammates trickled in, all stopping by the couch to render greetings to the man of the hour, who hardly took his eyes off the TV. While everyone enjoyed food and drink, Aaron hardly touched anything.
Then it began to happen again.
Samaje Perine to the Redskins. Aaron whispered to his brother.
Tarik Cohen to the Bears. Nicole Lindsay, Aaron's girlfriend, walks by and places a hand on his shoulder.
None of these are the 49ers or Packers. Everything is alright. Aaron still knows that the 49ers and Packers like him a lot.
Pick 121, Joe Williams out of Utah, to the 49ers; Williams is a running back very similar to Aaron. Like Friday night, the house fell silent again. For the first time during either day, Jones got up to use the restroom.
"I saw teams that didn't need a back were up, so I got up to walk around," said a much happier Aaron following his selection by Green Bay. "But, there weren't many places to walk without a TV."
The seat that had been empty opposite Aaron's twin brother Alvin on the couch was now occupied by a family friend for a while after Aaron sat back down.
Shortly after the Packers selected running back Jamaal Williams near the end of the fourth round, a friend and fellow Leah Steinberg Sports client, Aaron was asked for a photo. He smiled and complied, as always, but several bystanders noticed – despite having just clapped for Williams – that Aaron was not really in the mood anymore.
Following the photo, Aaron got up and walked out the front door. The 49ers and Packers had their running backs. Lindsay followed him, while Vurgess and Alvin Sr. continued to pace.
"The longer it went, the more anxiety," said Jones Sr., following the relief of the draft ending for his son. "Initially I wasn't nervous, but I just started to see a lot of these running backs being taken and I was like, 'what are these guys thinking?' But, that's kind of the story of his life. Being overlooked and things like that. But, (Aaron) always takes that personal, putting that chip on his shoulder."
As if having three TV cameras trained on you at all times was not bad enough, Aaron's phone rang several times during in the fifth round. When the phone would ring, cameras would begin clicking, floodlights would come on and all eyes would be trained on his face for any sign of a smile or frown.
Shortly after running back Jeremy McNichols was drafted by the Buccaneers with pick No. 18 of the fifth round, Aaron's phone rang again. His brother Alvin began to video with his phone as Aaron cracked a smile, saying "yes sir" occasionally while nodding, as if the voice on the other end were watching.
The room leaned in behind him. Camera men gathered in front. Then Aaron looked at his brother and shook his head ever so slightly. No, this wasn't it.
The call was from a Baltimore Ravens' coach letting Aaron know that he was hard at work fighting for him in the team's war room. The Ravens had pick number 186, the second pick in the sixth round, and if this coach had his say, Aaron would be added to the team's roster of running backs.
Aaron seemed to take heart following the call. Perhaps it was a friendly voice more than it was the fact that someone was fighting for him. People kept their distance from Aaron that day for the most part and a friendly voice on the line seemed to have broken the tension – briefly.
Alvin Sr.'s Grown Man
Alvin Jones Sr. just wanted to be a dad to the boys. He never knew his father and he just wanted to make sure he was there.
Jones Sr. spent the third day of the draft eating and pacing the bottom floor of the house that he and Vurgess purchased when they both retired as sergeant majors from the U.S. Army.
Now he could sit down and catch his breath.
He spent the moments after his son's journey to becoming a Green Bay Packer had ended, thinking about his journey in raising his sons.
"I never met my father, never even seen a picture of him," said Jones Sr., sitting in the garage filled with the overflow of awards for his two football playing sons. "For me to be a retired command sergeant major, with a master's degree, and for me to be blessed enough to devote everything I have to my kids, to make sure that they're successful in what they want to do—do you know how much of a blessing that is?"
Being around the Jones family, one is able to look past the time and resources dedicated to the football upbringing of Aaron and Alvin Jones and to see the effects of great parenting by Vurgess and Alvin Sr. on all of the Jones' children.
Even as television crews set up television trucks in the front yard, Aaron was taking the trash out on the day he would be securing a half-million dollar pay day.
Aaron was at the door to welcome most people with a "sir," just like he has to anyone older than him for the last eight years of heavy media coverage in El Paso.
Several times during the draft watch party, even as things were not going to his liking, neighborhood kids – who until draft day had no idea that "THE Aaron Jones" lived in their neighborhood, were invited in to meet Aaron, receive autographs and take photos.
Alvin Jones Sr. was there to raise his sons like he promised himself, and he can be proud of Aaron, the man, long after the football playing is done.
The Moment.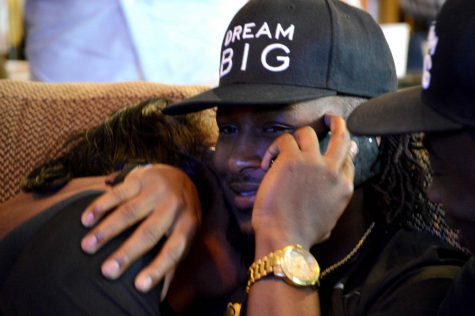 As 18 more picks passed and another running back came off the board, Aaron grew less comfortable on the couch, which had become his home for the last two days. He leaned forward, fingers interlaced, staring at the TV and lost in his thoughts.
Then the phone rang again. It wasn't the Ravens, this was still the fifth round.
Alvin began filming again and Aaron began saying different things than he had on the other phone calls. This time he was rattling off numbers and letters. He said his email address. The crowd that leaned in knew this was the one, but who was it?
Alvin Sr. emerged from hiding and walked toward the TV, where a smattering of NFL hats had rested throughout the draft. As he reached for a hat, Aaron turned to his brother and mouthed the words "Green Bay."
At the same time that Packers general manager Ted Thompson was welcoming Aaron Jones to the team, his agent Chris Cabott had called Alvin Sr. to tell him that the Packers were definitely taking his son with the 182nd pick in the draft.
Alvin Sr. placed the hat on his son's head as a roar went up from the crowd gathered around the couch. Vurgess found her place alongside her son on the couch and could no longer contain her tears as her son talked to Green Bay's head coach Mike McCarthy.
"A sense of relief–it's here," was all that was going through Vurgess' mind while she listened to Aaron on the phone. "Now, he's just got to go do his part – just overwhelmed."
The call seemed to take an eternity as family and friends waited to talk to Aaron.
"I talked to the GM, the head coach, the running backs coach," Aaron said about the phone call he received.
The team also informed him that his traditional no. 29 was unavailable and asked him to choose a new one from a small list. Jones chose no. 33.
"I'll make a name for 33, like I did for 29," said a confident Aaron. "I went and outperformed most of the backs at the combine and just to see my name not get called as early as I wanted to, adds fuel to the fire. I've always been slept on. I'm definitely excited to be playing those teams."
Soon, Aaron's name appeared on screen and the crowd could no longer be contained. Despite him still being on the phone, the crowd let out two days worth of pent up emotion, as Aaron tried to hold in his tears, seeing his dreams fulfilled on a flat screen TV in his parents' living room.
The mama's boy held his mom throughout the phone call, then spent time hugging everyone and shaking hands – making extra time for specific people that his mom pointed out to him.
Alvin Sr. watched as his young man did interview after interview, making eye contact with journalists, saying "yes sir" and "no sir." Not shying away from tough questions about having to wait until the fifth round or being picked by a team that had just picked another running back.
The Jones' family has a son to be proud of – on and off the football field – and has given El Paso a favorite son for the whole city to be proud of.
Now he moves on to Green Bay, Wisconsin, possibly with Vurgess in tow.