Nico & The Silent Films strive for innovation in first year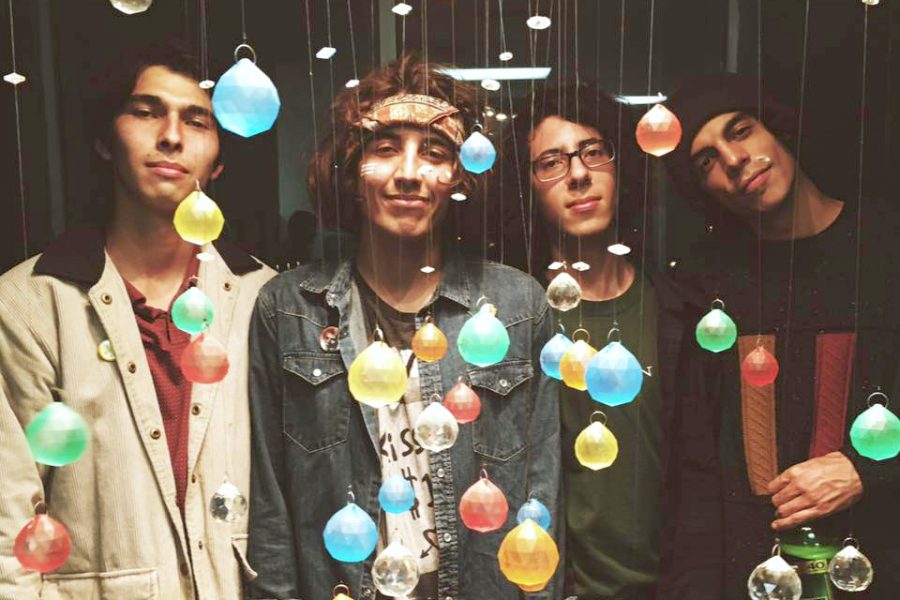 Among all the local talent, one of the newest bands stands out above them all—Nico & The Silent Films. They are this year's winner for the Lowbrow Palace's Battle of the Bands and they've only been together for a little over a year.
The band is comprised of Andrew "AJ" Hernandez (lead vocals and guitar), Derek Lopez (drums), Steven Maldonado (bass) and Fernando Corona (guitar).
Just because they don't all sing on stage doesn't mean they can't. Earlier in the development of the band, Lopez and Maldonado were the lead singers, but the roles have changed over time.
The four all met during high school before deciding to form the band. Earlier names for the band were Nico Wednesday and Silent Films. Their current name is based on the Velvet Underground and Nico and Andy Warhol's films.
"We kind of combined two of the band names we previously went by. First, we called ourselves Nico Wednesday, then we started calling ourselves Silent Films, so we didn't really like either of them. So we just mixed them up," Lopez said. "We like the whole image that the name gives."
Corona, who wrote their newest song "Honey," is the latest addition to the band, having joined seven months ago. Lopez and Hernandez were in a different band before. 
"We still have a couple songs that are still in the works. We're trying to get them perfect for shows," Lopez said.
They've had a successful year, winning Battle of the Bands, opening for The Drums, landing a spot at the Neon Desert Music Festival and going on their first tour. They're barely catching on to the attention they're creating locally, but they hope to remove themselves from vthe "local band" label.
"We're trying to get past the local thing. We're trying to push ourselves further than that. Just getting out there, different cities," Lopez said. "I think if anything, the only thing that's really put us apart is trying not to sound like anything else. We just play and hopefully it sounds good."
They credit their success to having fun and keeping it as natural as possible on stage.
"Yeah we're pretty new, we've been in previous bands and stuff, but this has been the one that's worked out the most," Hernandez said.
Although their sound is mostly surf-psych rock, the band explores with different elements of music. Some of their songs include hints of jazz elements, punk, blues and psychedelic.
They all have very different individual interests and when creating music they all get to contribute different sounds. They cite The Beatles, the Beach Boys and the Flaming Lips as some of their influences.
They never intended on finding a specific sound as a group. They try to avoid sounding repetitive and mixing it up style wise.
"It's kind of hard to point it down to one thing because we're always kind of changing it. We're all influenced by a lot of different things," Lopez said. "Some things are just like heavy crazy, and some things are just like slower, mellow. Whatever we're feeling."
Hernandez comes up with most of the songs and the lyrics.
The band will be embarking on their first tour this coming summer. They hope to record and release new material after their tour.
"We probably won't do it (record) until we come back from tour this summer. We'll probably just focus on the tour and then do it," Hernandez said.
As the winner's of Battle of the Bands, they won studio time at Sonic Ranch. They plan to take advantage of that after touring. They're unsure about whether they'll create an album or a couple EPs, but one thing is for sure, there will be new music from them.
"Expect, once we come back from tour, expect some new recordings," Lopez said.
Nico & The Silent Films will be at Neon Desert on May 27, to close off the local stage that night.