UTEP football spring game: two offensive and one defensive takeaway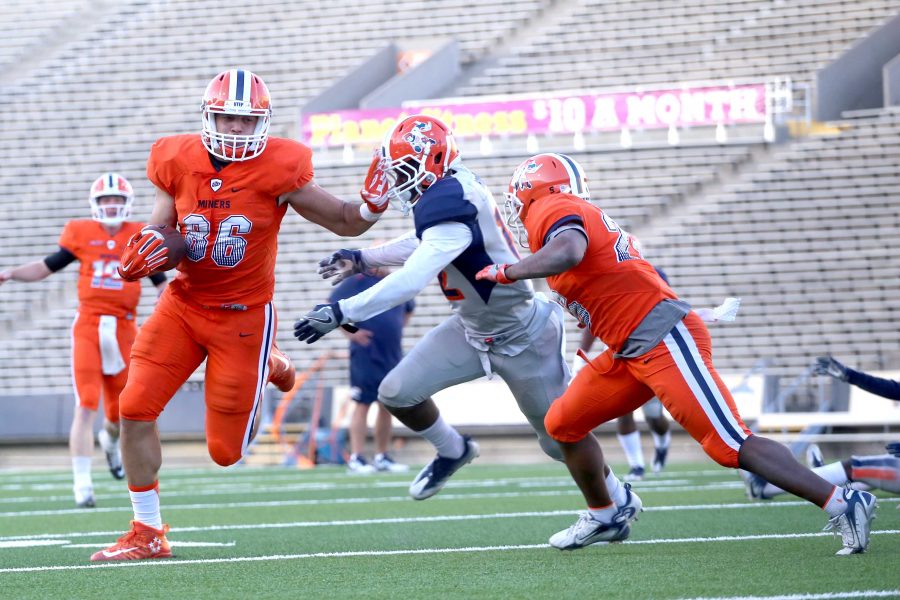 Mike Flores, Staff Reporter
April 18, 2017
To wrap up workouts before the summer begins for the UTEP football team, the Miners ended their spring season by hosting a football scrimmage on April 14 at the Sun Bowl. With 44 athletes returning from last season, and plenty of new talent coming in, UTEP provided a look at what next year's team has in store for their fans.
Coming off of a 4-8 (2-6 C-USA) overall record in the 2016-2017 season, the Miners are seeking improvement under fifth-year head coach Sean Kugler.
It won't be easy, as the orange and blue has lost some key talent, all-time leading rusher Aaron Jones departing, along with tight end Hayden Plinke, fullback Darrin Laufasa, safety Dashone Smith and many others. Kugler has reinforced his troops with 14 starters coming back and 22 newcomers—17 of them coming straight from high school and the other four are transferring to UTEP from other colleges.
Here are three main takeaways from the scrimmage that was held on Friday night:
The running back position for the Miners is a question mark and up for grabs
After Jones hung up his Miners jersey for a shot at wearing an NFL jersey, the running back position is up for grabs.
He was the first modern day UTEP underclassmen player to declare for the NFL draft. Jones left a mark in UTEP's history book by eclipsing the school's all-time leading rushing record with 4,114 total career yards. He rushed for a single-season record during his junior season (1,773 yards) and ran for over 100 yards in 17 career games, also a school record.
Whoever steps up in Jones' place has big shoes to fill since UTEP's bread and butter was their rushing attack for the last three years.
The projected starting running back for the 2017 season, sophomore Quardraiz Wadley, is dealing with an injury, according to Kugler. He was sidelined for the spring game and will need to get his shoulder re-evaluated as the severity of the injury is still unknown.
In order to cope with Wadley's injury and the position of need, Kugler tested a number of halfbacks in the spring scrimmage and even moved Walter Dawn from wide receiver to full time running back. As a result, Dawn received the most carries on Friday with 11 tries for 29 yards and one score.
Freshman tailback Ronald Awatt got nine carries for 22 yards. Kevin Dove rushed six times for 21 yards.
None of the running backs had strong outings during the scrimmage, but some of the backs showed Kugler enough to be confident going into summer.
"We have a lot of talent there. We've got good running backs, and we may add one more to that group," Kugler said. "We've got a young but talented group. My biggest concern would be protection-wise when you have young guys like that, but we will be creative and make sure we get that taken care of."
UTEP will improve their passing attack under Ryan Metz
Quarterback Ryan Metz will be going into his junior year as his first time as a full time starter for the Miners. He will have the keys to the offense and has built chemistry with the returning wide receivers such as junior Warren Redix and newly assigned fulltime wide receiver Kavika Johnson. Metz connected with Johnson early and often in the scrimmage, and allowed Johnson to show off at his new position as he caught four passes for 29 yards.
Metz finished his spring game completing 12-of-17 passes for 94 yards and one touchdown throw. He showed his wheels on a couple of occasions as well. Moving the ball down the field was no problem for Metz.
Last season, Metz started seven games and played in 11. He improved drastically from his freshman season, as he completed 64.7 percent of his passes his sophomore season, which is good enough for the second best mark in single-season history for UTEP. Even though Metz did not start every game, he still threw for 14 touchdowns last year—the most by a Miners' quarterback since 2010.
With new weapons at Metz's disposal, like the duo of new transfer tight ends David Lucero and Josh Weeks, Metz will have options to look for since the bulk of the offensive plans will fall in his laps since he is the veteran and will need to make up for the loss of Jones' and Plinke's play-making.
The offense looks to be more pass heavy than seasons prior, if Friday's scrimmage was any indication.
"Ryan was solid moving the ball. In the red zone, he threw a nice fade ball down there for the score. Ryan has had an outstanding spring, he's a leader and works really hard," Kugler said.
Metz added, "This whole spring is a whole new learning curve for me going forward. I need to be more demanding, that's something I need to be great at. I have to lead by example and be that coach on the field. Going forward, I feel like I have two Plinke's this season with the group of tight ends."
The defense showed up
Even without three stars on the defensive side of the ball on Friday such as linebacker Alvin Jones, Dante Lovilette and Devin Cockrell (all out for various reasons), UTEP's defense came out with something to prove. They bent at times by allowing the offense to move the ball, but stood tall on many occasions when the ball got close to the end zone.
Last season, UTEP had the least amount of sacks in C-USA with only 14. However, even against a well-tuned offensive line, UTEP's defense got to the quarterback a total of five times during the scrimmage. The defensive line looked hungry, and only allowed 72 rushing yards all day on 26 carries.
During the segment of 12 plays to move the ball, the Miners' defense stopped the offense five straight times and did not allow one first down in that part of scrimmage. In the red zone work segment, UTEP's defense clogged up two run plays in a row to force the offense to look at 3rd and 21. The play after, Metz could not find anyone open so he scrambled but could not gain the yardage back.
Sophomore defensive back Jerrell Brown had a strong outing with four tackles (one for loss), a pass break-up and one sack.
This year, UTEP plays offenses that can score in a hurry such as Oklahoma, Arizona, La Tech, WKU, Southern Mississippi and Army. The Miners will need to improve their defense that allowed nearly 35 points per game last season, but they showed steps in the right direction on Friday.
Kugler said this team reminds him of the 2014 squad that went 7-6 and participated in the New Mexico Bowl game. He said they have a chip on their shoulders and are completely focused with zero distractions holding them back.
"Both sides competed well. Both sides of the ball have shown some tremendous flashes," Kugler said. "We accomplished a lot this spring. I really like this team. This is the group of guys we are going to move forward with, and I feel good about that."