Miners will carry important momentum into C-USA championship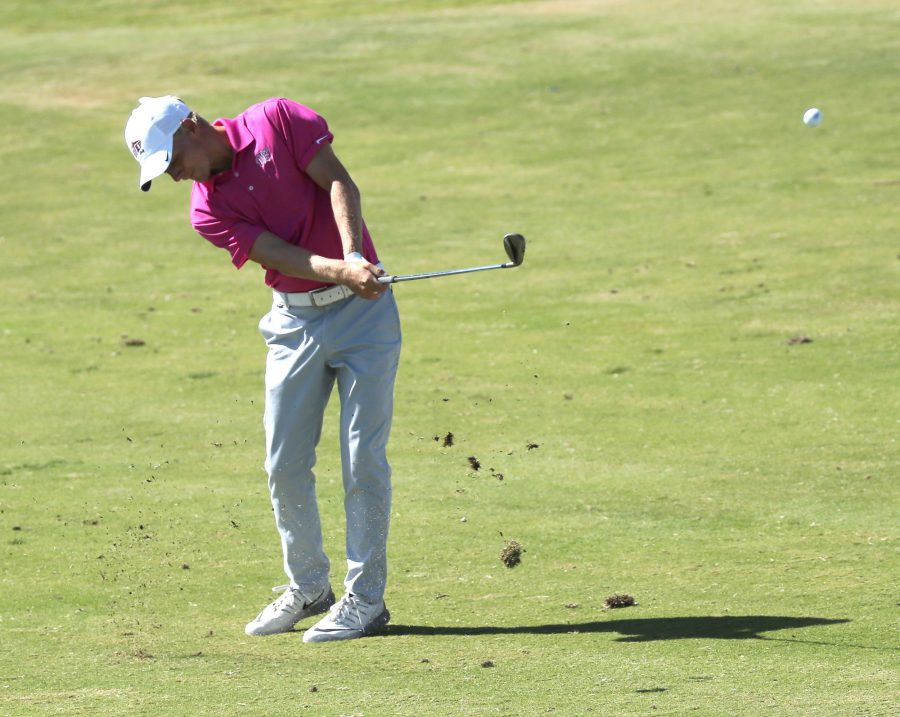 The UTEP men's golf team is coming off a seventh-place finish out of 15 teams at the 71st Annual Western Intercollegiate Tournament in Santa Cruz, California. The Miners, who are no. 55 in the nation, shot 34-over 1,084 (361-356-367) in a tournament that featured five top-25 teams, including no. 1 Southern California, who won the team title. UTEP placed higher than two of those five ranked teams (no. 17 Texas and no. 25 Arizona State) in the final standings.
The seventh-place finish gave the Miners their fifth straight and 10th overall top-10 finish out of 11 tournaments this season with a best 54 of 829. In the previous four tournaments before the Western Intercollegiate, the Miners placed in ninth twice (John Burns Intercollegiate and Border Olympics) and fourth twice (National Invitational and Lone Star Invitational).
Now the Miners will prep for the 2017 Conference-USA tournament in Texarkana, Arkansas, for a chance to claim the league's automatic bid to the NCAA Championship. The four-day championship will feature all 13 Conference-USA squads and will be 18 holes scheduled for the first three days. After 54 holes of stroke play, only the top four teams will be seeded and will conclude the championship on the fourth day with a match play playoff. Playing partners for the first day will be determined by a blind draw and for every succeeding round, team scores will determine pairings.
In the 2015 Conference-USA championship, UTEP finished in third place at 7-over 871 (287-290-294) to place its best since joining the league in 2006. The highest the Miners had ever placed before 2015 was a sixth-place tie with Southern Mississippi in 2014 when the Miners shot 46-over 886 (302-292-292).
Last season (2016), UTEP failed to replicate a strong 2015 effort, when the team was unable to make the final four, placing sixth alone at 23-over 887 (302-292-293). The Miners are hoping with their current momentum, that they can rebound from a disappointing 2016 showing.
"We've had a nice regular season, our fall was outstanding and in the spring our schedule has been much tougher, but it was nice for us because we really turned the corner and have been playing better," head coach Scott Lieberwirth said. "I think we have some nice momentum heading into the conference championship this time around."
One of the Miners' top players is also the team's lone senior, Frederick Dreier. Dreier, a Denmark native, has played all four years at UTEP and has been a vital part of the Miners' recent success. Last season, Dreier finished sixth individually at the Conference USA Championships (2-over, 73-73-72/218) to earn a trip to the NCAA Regionals. Dreier was also named the 2015-16 Conference USA Golfer of the Year and became the fourth Miner to earn the honor. Dreier has also been successful in the classroom, having been named to the Conference-USA Commissioner's Honor Roll in each of his past three seasons (2014, 2015, 2016).
"I have matured a lot on this team over the last four years. It has been a tremendous time and I value everything I have gotten from being here," Dreier said. "I was little Fredrick coming from Denmark when I first arrived, I had a lot to learn and coach Lieberwirth helped me in my process of getting better as a golfer, and also growing as a person both on and off the golf course."
This spring season, Dreier, who owns a current 71.09 stroke average (32 rounds/2,275 strokes) has recorded six top-10 finishes in 11 tournaments played, all of which he was or was tied as UTEP's top finisher. He is hoping to lead UTEP to its first ever Conference-USA golf title.
"Freddy has been great," Lieberwirth said. "As a senior, he has progressively gotten better every year, his game is at a level where he is going to be ready to make a living at this very soon professionally. He's emerged as a great leader for us and someone that we can always depend on to play great golf and give a great effort every time out."
Junior Charles Corner, who was recently named the Conference-USA Golfer of the Week for his outstanding performance in California, is also looking to carry his momentum into the Conference-USA tournament. Corner shot 2-over 212 (72-69-71), with 12 birdies and finished just two strokes behind Dreier in the Western Intercollegiate. Of the 96 players in the tournament, only three shot under par, while Corner's score was better than 19 players ranked in the Golfstat Top 100, including six of the top-10 players.
Andreas Sorensen and Dreier were also named as Conference-USA Golfer of the Week earlier this season. Dreier earned the honor on October 19 and Sorensen was the named the first Golfer of the Week for Conference-USA on September 14.
"I feel our team is stronger than it has ever been while I have been here," said Dreier. "I feel like we have a really good chance to win conference and do a really good job in Texarkana."
The Conference-USA championship tournament will start on Sunday, April 23 with the action concluding on Wednesday, April 26.