Keeping Syrian and Middle Eastern cultures alive at UTEP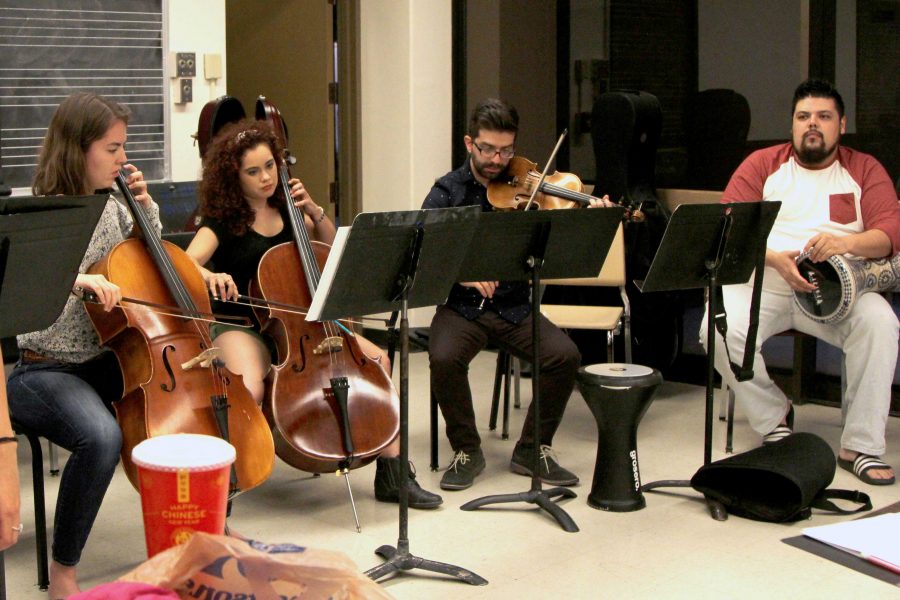 Reem Issa, senior mechanical engineering major, was born in Palestine, but spent most of her life in the United Arab Emirates. Four years ago, Issa decided to start the Arab Student Association (ASA) on campus in hopes of changing the stereotypes about Arabs and Middle Eastern students in general.
Issa would create presentations about Middle Eastern cultures for freshman university classes and get asked why she is not dark or wearing traditional clothing.
"When they hear my accent, they think I'm from Russia or Germany, but they never guess Middle Eastern," Issa said.
Issa reached out to Jad Aboud, a graduate student who is also studying civil engineering, to be her vice president in the ASA.
"The purpose of the organization is to integrate Arabic students with the society here at UTEP and also to give people an idea of how we do stuff in the Arabic world, especially culture-wise, what type of events we have and how we celebrate things," Aboud said.
ASA has been on campus for four years now. They've participated in large campus events, such as Minerpalooza and the International Food Fair, and have hosted Arabic Movie Night, Taste of the Middle East and other culturally themed events.
Issa and Aboud also wanted to help the new Arabic students on campus so they don't feel lost the way they did. Although the two said they did not experience culture shock, they did experience a system shock.
"I didn't have anyone to help me," Issa said. "Our English wasn't that good so we didn't want to talk, but we decided we needed to talk even if it's wrong."
ASA helps new students who speak Arabic adjust to campus life by sometimes picking them up from the airport, helping them with housing, groceries and by helping them feel like they are not alone.
"The nice thing here is that we are in a mixed culture already here, the Hispanic culture, so we adapt to them more because we find a lot of similarities and traditions like being family oriented and we have a lot of cousins,"  Issa said.
Aboud studied mechanical engineering at Al-Baath University in Homs, Syria, where he was born and raised. He transferred because of the war that started in Syria in 2011 and moved here in 2012. Aboud received his master's degree this past December and is now working on his doctorate.
His parents and little sister still live in Syria, but he has his aunt and other relatives here.
"We have a big community from Homs in El Paso. That's one of the main reasons I ended up here besides school. I heard about UTEP and I was looking at the programs and I love mechanical engineering," Aboud said.  "It's one of the best programs in Texas. I applied and I got accepted."
Aboud said most people have the wrong idea about Syria from the media. He says the media will either exaggerate news stories or create propaganda.
"They will hear something and it's not going to be what I experienced there," Aboud said. "At the beginning I would read every day what was going on over there, then I started to get bored with the same news, 'somebody is bombing, then these people get killed' so I don't want to hear about it anymore. If something big happens, you can see it on Facebook."
Aboud said he really wants the war in Syria to come to an end.
"I was very comfortable living in Syria. Everything was cheap and nice," Aboud said. "I grew up there, I had my family and friends since elementary school, my whole life was there."
Andrea Shaheen Espinosa, assistant professor in the department of music, is the advisor for ASA and studied in Syria before teaching at UTEP. She is surprised at how receptive the local community has been to ASA.
"So many students have come to me and said, 'wow, I had no idea this was part of Middle Eastern culture,'" Espinosa said. "I think that getting to know each other through music, food and dance is a great way to not only know about someone who's background is different than your own, but also the commonalities between them."
Espinosa started the ensemble, Layali Al-Sham, in 2010. The ensemble is influenced by classical and contemporary Arabic music. The concerts can have up to 30 to 60 musicians every year. She studied in Syria right before the conflict broke out.
"I do believe it's one of the most beautiful things in the Middle East is the music. It's also been interesting to see what they discover about people in the Middle East," Espinosa said. "Living in Syria was amazing, it was beautiful. I learned so much, not only about music but life in general."
Espinosa said although not all members of Layali Al-Sham come from an Arabic background, they've still remained in the ensemble, some of them for six years.
In their upcoming show, Layali Al-Sham is partnering with Boundless Across Borders, a local activist coalition, to connect with Play for Hope, a non-profit organization that preforms music for refugees. They will be performing via video.
"The music not only keeps us connected to our peers from Syria who perform this music, but are displaced, unable to perform because of the war, we continue to do it and keep in touch with those musicians because music is our life and keeping it alive is absolutely one of our goals," Espinosa said.
Layali Al-Sham's next concert is at 7:30 p.m. Saturday, April 29, at the Fox Fine Arts Center recital hall. Admission is free for UTEP students and faculty and $5 admission for the general public.