Floyd addresses media regarding new basketball signees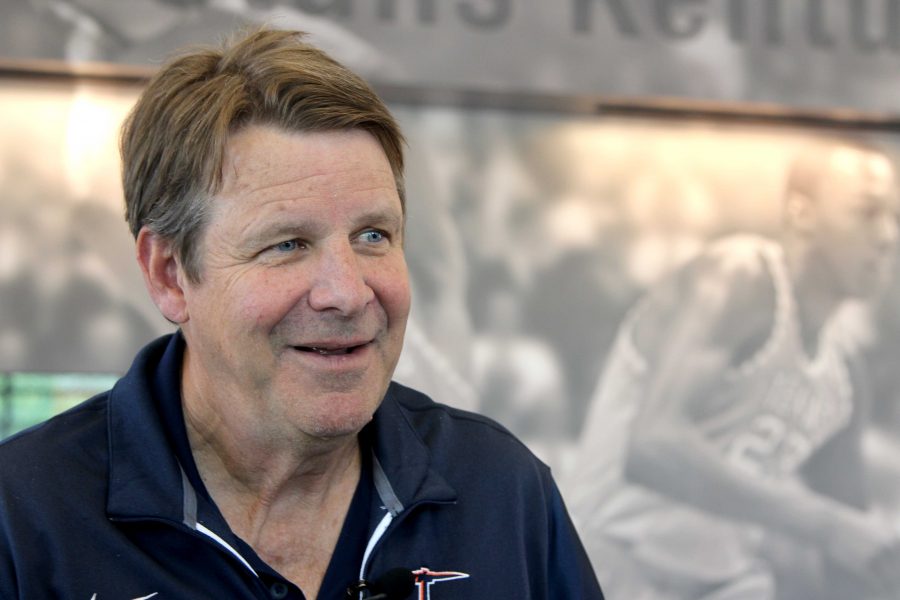 Mike Flores, Reporter
April 12, 2017
UTEP men's basketball head coach Tim Floyd announced the signing of the Joey St. Pierre to finish the seven newly inked players for the 2017 recruiting class. Floyd will have the majority of his team's core back next season mixed in with the talent the new faces will bring.
St. Pierre is from Richmond, Illinois, and chose UTEP over other universities interested in him, such as Wisconsin and Nebraska, New Mexico and UIC, which is located in Chicago.
The 3-star power forward is 6-foot-10, 280 pounds and plays the center position. St. Pierre was ranked the 11th best player in the state of Illinois by ESPN, and ranked 12th by 247Sports.
Floyd is thrilled to bring St. Pierre along board to learn from veteran senior Matt Willms and the soon-to-be sophomore Kelvin Jones.
"He (St. Pierre) is a rebounder, defender, strong, physical guy that can pass it out of the post and will remind our fans a lot about Cedric Lang. We think he (St. Pierre) is a developmental big guy, which gives us three big men, in guys we are excited to pair together," Floyd said. "He will get better and better. Because of his size, athleticism and ability to rebound we can see places where he can help us as a freshman."
St. Pierre will be joined by the likes of other new athletes to the UTEP roster, such as Isiah Osborne, Chicago's very own Evan Gilyard, Georgia guard Trey Wade, San Antonio's product Kobe Magee, Mississippi's Dandy Dozen Tirus Smith and East Los Angeles College transfer Roderick Williams.
"We've added a little bit of everything, we had a different mindset this year on recruiting going into this year. What is going on in college basketball with the transfers, we wanted to be on the front end of that this year. Out of the 350 Division 1 schools, 261 of them have already had a transfer and we knew we might the recipient of that, so we didn't want to be caught off guard like we were last year. We want to be covered in every position by quality," Floyd said.
Hoping to gel the new and old the players for next season's play, Floyd has scheduled the orange and blue for a trip to Costa Rica during the summer, from August 15 to August 20, to participate in the tournament. The newcomers will get a taste of how Floyd runs his program and what he expects from them before the school year even begins.
"The significance of this trip is that we have a terrific group coming in, with the returnees. It gives us a tremendous opportunity to bring along the news players and get them better," Floyd said. "Our fans can get to know the team and see what our new guys are all about. We'll have ten days of practice prior to the trip and then two days of practice in between the games. It will make our guys in mid-December mode and a chance for a better start than last year. There will be teams comprised of professionals in the tournament in Central and South American areas. Costa Rica will throw out the best they have to offer."
UTEP fans and supporters are able to attend the stay in Costa Rica with the team. The UTEP athletic department will have all the details for the summer getaway.
Some of the other highlights of the new basketball season will include a Puerto Rico tournament for the Miners that will take place in November. Prestigious programs, such as reigning Final Four participant South Carolina, Florida State, Boise State and the four other schools, will fill the tournament field.
The home schedule for the new looked Miners will include Washington State, New Mexico and New Mexico State. Floyd said the Sun Bowl tournament will be a strong field of play when the time comes, which starts December 22nd and ends on the 23rd.
"We added Magee from San Antonio, who was rated as high as No. 8 in the state and is an all-region player. He was MVP of his district and he is a true point guard. We've also added Gilyard from Chicago, he just lost in the state finals. He was first team all-state and all-city out of Simeon High School, which is one of the premiere powerhouses in the Chicago. We think both guards are capable of coming in and playing early," Floyd said.
Floyd was aggressive in acquiring the new recruiting class and added some talent to feed off of the late-season success UTEP had last year before it was ended in the C-USA tournament.
"We feel like there is a lot going on with how teams are picked apart at the mid-major level. You look at the transfer list and it is staggering with what's going on with guys leaving and being recruited up a level. The list goes on and on. So we had a different formula in November that will make us best prepared to make strides next year. We were very aggressive," Floyd said.