Adams set to return home to Kansas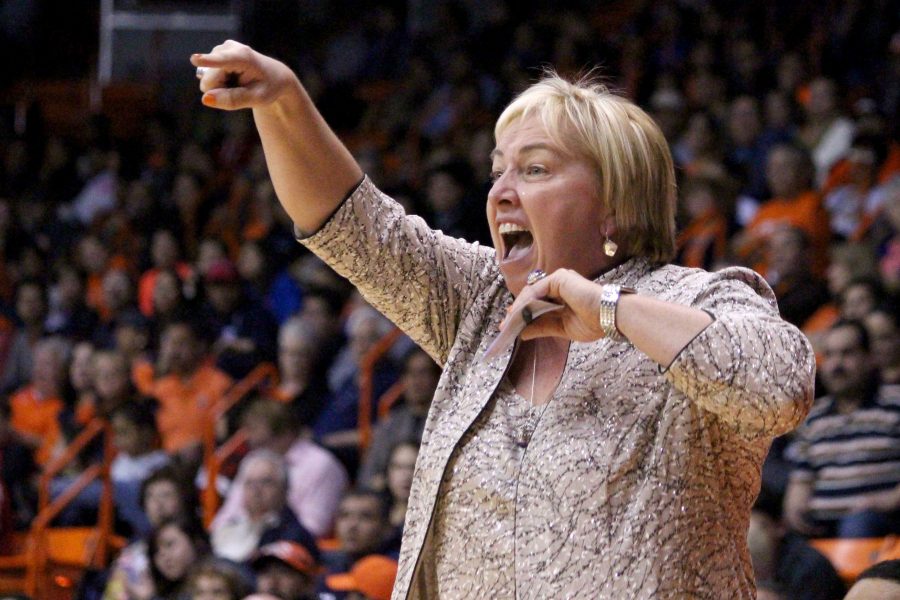 Former UTEP head women's basketball coach Keitha Adams said her final farewell last week after 16 years at UTEP as she accepted the Wichita State head coaching position.
Sixteen years that featured a 284-209 overall record, two NCAA tournament appearances (2008 and 2012), and two WNIT appearances (2014 and 2016). She orchestrated the Miners to six 20-win seasons and three league championships in the past 11 seasons.
The announcement came out of left field for many within the program after her squad went 8-23 during the 2016-17 season. The decision was a difficult one, according to Adams.
"The first day was a hurricane, the second day a windstorm, the third day a dustbowl," said Adams, addressing the El Paso media for the last time. "I think I cried more than when I got divorced; I cried like people do when they drop off their first-born at college. This is how great an experience it's been here at UTEP. It's been emotional in all different kinds of aspects."
Now Adams will travel back to a city close to where she was born and raised. Kansas is her home, so this new experience will be something golden to her personally.
"(Wichita State) is where I grew up; I'm a lucky girl, I have two hometowns. How many people have two homes?" Adams said. "El Paso has been my home, now I'm going back to the home where things started for me."
Her tenure at UTEP started on April 20, 2001, when she was hired as the seventh coach in program history.
Since then, UTEP women's basketball has earned some of the nation's top honors and recognitions.
Adams took the team to all four postseason bids in UTEP women's basketball history. The Miners are one of 10 programs across the nation to have won 29-plus games at least three times in the last five years. She is the only UTEP coach to win 20-plus games and they have won 20-plus in four of the last five seasons. Adams led the Miners to two top-25 poll stances in 2015-16 and 2007-08. In the 2007-08 season, the Miners held their spot in the top-25 for six straight weeks.
She also has a lot of history in Conference-USA women's basketball. She's the only coach in the league to win Coach of the Year three times (2016, 2012 and 2008).
But it was not necessarily the wins or the awards that have marked Adams as successful. She has prided herself in mentoring the women into more than just players.
"I'm very appreciative of everyone here at UTEP—coaches, players, there's so many people," Adams said. "All our players graduated; we didn't have a senior not graduate and I'm really proud of that. Watching these girls be successful on and off the court and I'm really proud of that and I feel great about that."
Reflecting on her illustrious time at the school, Adams will stand with some of the athletic program's best coaches such as legendary men's basketball coach Don Haskins.
"I think coach Haskins would say 'let's sit down and have a shot of tequila over this (decision),'" she said. "He probably would want to have a drink and want me to think about this. Everyone needs to understand I could've left here before, but I didn't. This has been a wonderful place and it's been a great thing."
Her new contract indicates that she will be paid $315,000 annually for five years, according to Wichita State Athletic Director Darron Boatright. She made a yearly salary of about $200,000 in 2015 at UTEP, as reported by the El Paso Times.
However, it was the spark of the new challenge and home-bound attraction that drew Adams back to Kansas.
"It's going to be great and unique to coach at a school, that the university is a basketball school," Adams said. "Somewhere that's 37 to 38 miles from the town you grew up; (it's a) really unique opportunity. For me too, it was time to take on a new challenge. I think that challenges and getting up every day makes you be a little more alive. For me, it's another opportunity to feel alive."
Joining Adams at Wichita State will be former UTEP assistant coach Ewa Laskowska. She planned to interview for the head coaching position, but decided to follow Adams in her new journey.
Athletic director Bob Stull is predicting the coaching vacancy will spark a lot of interest among different coaches.
"I would have liked for her to be a candidate," Stull told the El Paso Times. "This is a good job now: great facilities, it pays really well, great fan support and everybody knows that. We had a sudden influx of (interest) initially, I pared off who is really a candidate, who is not a candidate. Now that people know Ewa is leaving, we'll get a lot more."
Prior to her decision, Adams spoke to the Miner team and encouraged them to stay at UTEP, rather than to transfer as is allowed when a head coach leaves the program.
It is still uncertain whether or not any of the players will transfer out or follow Adams to Wichita State. Adams and the Shockers have five scholarships left to give out during this off-season.
"You have to understand there's a passion and love for (UTEP)," she said. "I met with the team and one of the first things I told them is 'relax, Mr. Stull is going to bring in a great coach. He's done it for a long time and knows what he's doing.' The next thing I said was I hope they stick together and stay here. We went through challenges this year and I would like to see them reap the benefits next year. By the time they're freshman turned seniors, I believe they can be something special. I really hope that they would all stay. I think they've been in a good mind about it. Bob will make a good decision. Everyone's just got to give him some time and he'll do it—he hired me and it worked pretty good."
Stull hopes to hire her replacement in two weeks, but has not yet set a deadline for it.