Sun City Throwback is taking it back to the 80's and 90's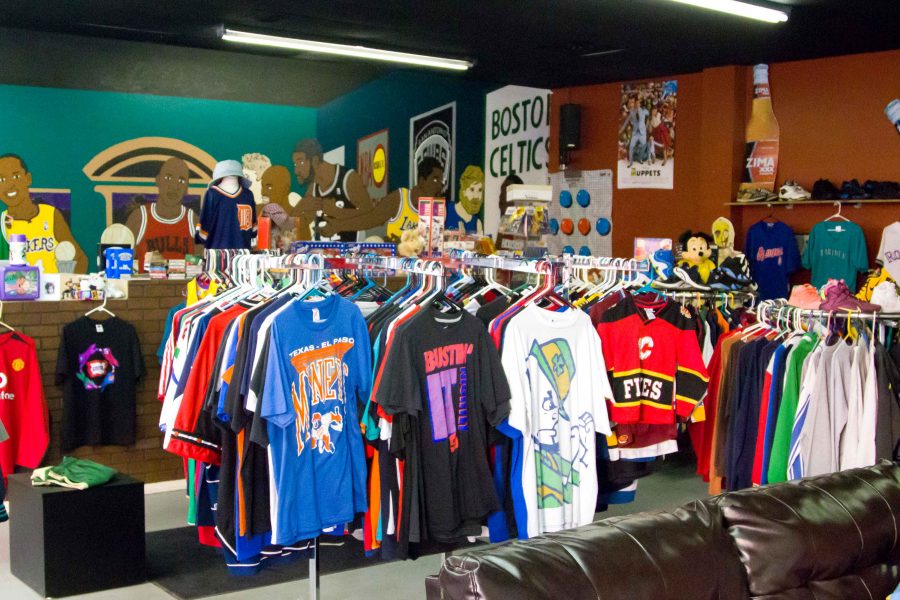 Mike Flores, Staff Reporter
April 4, 2017
Sun City Throwback opened a unique old-school sports store that has it all, from '80s to early '90s jerseys of all sports to local sports gear, to the most unique basketball shoes of all time.
Frank Gonzalez, the owner, opened the store in November of 2015, with the idea to bring back the memories of people who grew up before the 2000s and to open the eyes of kids today to sports stars before their time.
Gonzalez, who was born in California and moved to El Paso when he was 5 years old, was raised on the style his store brings. It all started when his mom introduced him to collecting sports gear, and  what started out as a hobby eventually turned into a lifestyle.
With all the retro jerseys coming back into the spotlight Gonzalez wants the cream of the crop and  the best quality merchandise around. He searches for the gear from stores all around the country from other retro shops in Chicago, Los Angeles, Tucson and even Canada.
"All the old stuff is making a comeback with social media, rappers wearing it and all the events around," Gonzalez said. "The jerseys I get, I try to keep them in the '80s and '90s because you can find newer jerseys anywhere. The quality was 100 times better back in the day, everything is triple stitched and people like the longevity of the jerseys back then. If you wear a jersey that is 30 years old, it still looks like it was made just last week."
The most unique aspect of Sun City Throwback is the pricing, Gonzalez does not put a price tag on any item in his store, instead, if a customer wants to purchase a jersey, Gonzalez will determine at the cash register how much he is willing to sell the item for.
Gonzalez says that he is in the business to keep  up with trends and fashion, not the money.
"I know my El Paso people. I know people are on a budget and that people love to save. I try to hook my people up with prices. I don't like to take advantage of anybody," Gonzalez said. "My hobby pays and I give out stuff out for free sometimes. I love doing what I do, and the fact that I can still keep my business going with the way I price stuff says a lot about my store."
The store, which is hidden in the back of a strip mall, brings an atmosphere that customers from every age group can enjoy. There is a large-screen projector on the wall right near the entrance with game consoles hooked up for a video game setup. Gonzalez has made the most out of his first store.
Outside of El Paso, Gonzalez has a wide reputation and following from his social media pages and his willingness to reach out to people who do not live in the same city. He sells his gear to people outside of the state and even goes to distance to ship to buyers from overseas. His Facebook groups, Instagram and eBay accounts are other outlets that allow him to get his name out there.
"I have a pretty good reputation with all my buyers. They know that they can PayPal me and they know I will ship out their order the next day, with tracking. I've been doing this for a long time now," Gonzalez said. "I had an eBay store for about seven years, and this is the same idea but just in a physical store."
With the success from Sun City Throwback and his following from his social media sites, Gonzalez is in the midst of relocating his store in May. The new store will be located right next to the bar Tipsy Tiger, at a location that can catch the eye of the public with more ease.
However, this would not be possible without Gonzalez's partner Dickey Williams—who owns popular bars in El Paso such as Tipsy Tiger, College Dropout and Whiskey Dicks. The two plan to bring a little more life to Sun City Throwback when their second store opens.
"When we open that store, we (Gonzalez and Williams) are going to have the same hours, but we plan on doing 10 p.m. to 2 a.m. during the club hours. And it's going to be open in the middle of party people walking back and forth. It's going to be a fun experience," Gonzalez said. "We are thinking of making the store with a bistro/bar along with it. We want to incorporate that into the store since it's around the bars."
To keep up with Gonzalez and Sun City Throwback without having to travel to his pop up shop, you can follow him on both of his Instagram accounts, where he sells and shows off his merchandise. His Instagram names are "SunCityThrowback" and "ButImNotASneakerHead."
Sun City Throwback is currently located at 1840 N. Lee Trevino, suite 109, and store hours are from 4:30 p.m. to 8:30 p.m. on Tuesday through Friday. On Saturday and Sunday, the doors open at 1:30 p.m. and close at 7:30 p.m.