Miner tennis trying to overcome injuries to wrap-up season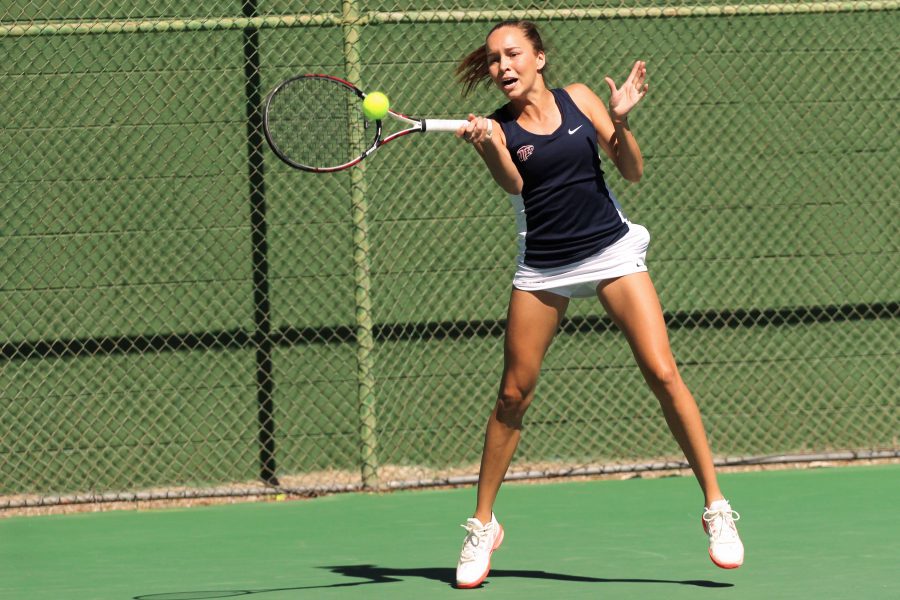 The UTEP women's tennis team (4-11) has lost four straight matches while being shutout in their previous two, to both Iowa State (4-0) and rival New Mexico (4-0). The Miners are seeking to get back in the win column, but more importantly, get healthy before they host UTSA on April 9, and rival New Mexico State on April 14 in their regular season finale.
In their last match against New Mexico, the Miners played with just four of their seven players due to injuries. The Miners were forced to forfeit three matches (two singles and one doubles) against both Iowa State and New Mexico. Luckily, the shorthanded Miners can still claim victory despite having just four active players.
For collegiate team tennis meets during the regular season, if a team wins four points while singles matches remain unfinished, the team with four points is declared the winner and the remaining matches remain incomplete. This is why you might see a 7-0 score in one meet and a 4-1 score in another. By rule, the doubles matches are played before the singles matches.
In doubles, there are three matches that total one team point, that point goes to the team who wins two out of the three matches. In UTEP's case, they have only put together one doubles team in their last two games. While forfeiting one, the Miners can still claim that crucial doubles point, but only if they win that match before the other team can, as only the first winner is granted the doubles point.
In singles, there are six total matches with each match victory equaling one team point. Any forfeited matches are granted to the opposing team before the rest of the competition begins. In UTEP's case, they entered the last two games with a two-game disadvantage, so if UTEP loses their doubles match and loses just one singles match of the four active matches, the opposing team claims the team victory.
Both the Cyclones and Lobos were able to record shutouts because the first singles match to be completed was a win for them.
The four players who are currently healthy and competing for UTEP are sophomore Raven Bennett, junior Milou Pietersz, senior Daphne Visscher, and junior Lois Wagenvoort. Despite being shorthanded, the Miners know that they can still pull out a team victory, but the margin for error is razor thin.
"Right now, we have three girls who are injured, so that's not playing in our favor," said assistant coach Rebeca Cavillo. "We are usually strong, but it's been tough. Our girls don't have a margin for error, you've got to be 100 percent ready to play mentally and physically to pull out the win."
The last time the Miners picked up a team point was the last time they had a full and healthy team. This was in a hard fought, but losing effort to the Utah State Aggies (4-3) on March 4 in a neutral site match at the Aquatic and Tennis Complex in Flagstaff, Arizona.
Winners in singles for UTEP were junior Vivienne Kulicke (6-3, 6-2), senior Duda Santos (5-7, 6-3, 6-1), and Bennett (6-4, 7-5). Kulicke and Pietersz, who are currently ranked no. 60 in the Intercollegiate Tennis Association rankings for doubles, came out on top (6-3), but the Aggies captured the doubles point with victories in the other two doubles matches.
Santos, Wagenvoort and Maria Paula Medina are the three Miners currently battling through injuries. There is no set return for these players, but Medina is confident she will be able to head back on the court with her team against UTSA.
"I am happy because I may be able to play against UTSA," Medina said. "I'm ready to help my team and give ourselves a point, it's been tough with the injuries, but I just need to focus on my game, because at the end of the day, while we are a team, we all play individually or with a partner."
Currently, the Miners sit in the 13th spot of the Conference-USA standings, but have yet to play a Conference-USA squad. With a win against UTSA and New Mexico State in their final regular season games, UTEP could gain some very important momentum as they prepare for the Conference-USA tournament coming up on April 20-23 in Denton, Texas.
UTSA is 9-8 overall, and like the Miners, have yet to play a Conference-USA team. This will change when the two conference foes clash. Seven of the Roadrunners' nine wins have come at home while just one comes on the road. UTSA will face New Mexico State on April 7 in Las Cruces before they travel to face the Miners on April 9.
The Aggies are currently 7-11 overall, but winless on the road at 0-6. New Mexico State will play three-straight home games (including the matchup with UTSA) before they travel to take on UTEP on April 14.
The Miners are playing just their third home game when they welcome the Roadrunners and they are looking to win for the first time at the El Paso Tennis Club this season.