"I cannot think of anyone else who is as deserving of this recognition."
UTEP President Natalicio recognized in Fortune Magazine's list of World's Greatest Leaders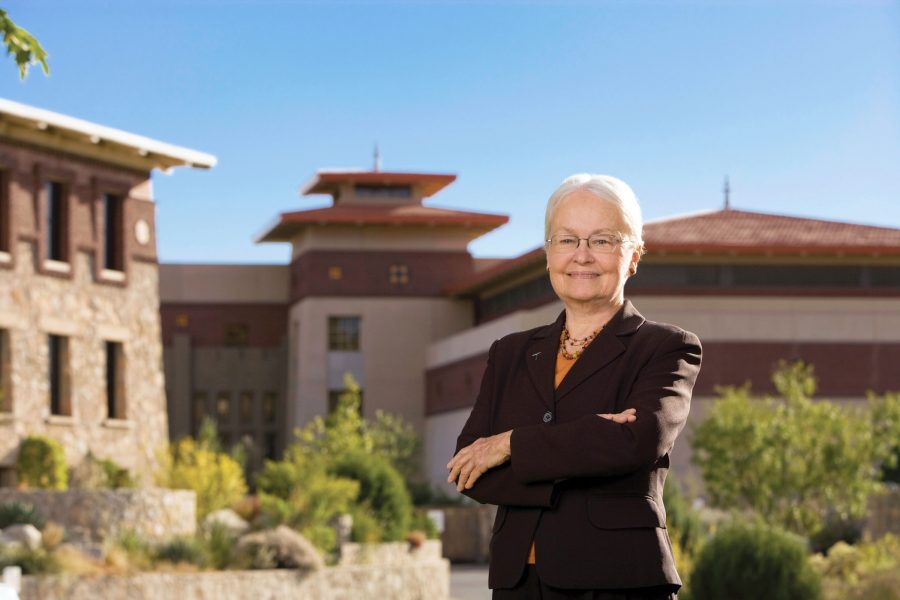 As students go day-by-day in their normal school routine, an unsung hero plans and innovates new ideas to better their school.
UTEP President Diana Natalicio was listed on Fortune Magazine's fourth-annual 2017 list of the World's 50 Greatest Leaders. Fortune Magazine sought leaders who "excel at leading effectively in today's environment and teach three lessons: acknowledge reality and offer hope, bring followers physically together, and build bridges."
Natalicio, however, was surprised by the recognition and believes it reflects the school's hard work.
"I never know how to feel about something like this. To me, it's sort of unreal," Natalicio said. "I feel very happy at the visibility that UTEP gets with these kinds of recognitions. It's not me really, an organization of this size—it's a team effort. No one does anything alone."
She has garnished several prestigious honors and recognitions in the recent years as well. In 2015, the Carnegie Corporation of New York recognized Natalicio with the Academic Leadership Award. During 2016, Natalicio earned a spot in the TIME 100 Leaders category and also was awarded the 2016 Hispanic Heritage Award in Science, Technology, Engineering and Math (STEM) by the Hispanic Heritage Foundation.
All of which have led up to Fortune's recent recognition, which puts Natalicio in a category among some of the world's top leaders. Others in the list include Theo Epstein, president of baseball operations for the Chicago Cubs; Pope Francis, head of the Roman Catholic Church; Melinda Gates, co-chair of the Bill and Melinda Gates Foundation; Justin Trudeau, prime minister of Canada; and John Roberts, chief justice of the United States Supreme Court.
When Diana Natalicio first became UTEP's president in 1988, she had a vision to bring in a higher percentage of Hispanic students to UTEP. Throughout her 29-year tenure, which makes her the longest-serving president of a U.S. public research university, she has not only surpassed the expectations set for herself, but also boosted the school's image on a national scale.
Both Texas Monthly and the Texas Tribune acknowledged her strides in the early growth of the university, such as a substantial growth of Hispanic students from 50 percent in 1988 to 66 percent by 1998, and a research budget that has increased from $65 million in 1998 to over $400 million in 2013.
"It's been very exciting to see the powerful impact that this has had, not only on the students its served, but on the reputation of the university," Natalicio said. "It's really changed our national visibility."
Although Natalicio and the school have been criticized for low graduation rates in the past, she believes there are more positive measurements being brought to the school's spotlight. The graduation rate for a four-year student in 2013 was 13 percent, compared to 2.6 percent in 1999. Also, in 2013 more than 4,300 degrees were awarded, compared to the previous decade where 2,200 were awarded.
"Sometimes somebody gets to be out front and sometimes the news is good, other times it's bad when you're out front, so it evens out," Natalicio said. "The news has been really, really good in the past few years at UTEP because we are doing something in our society, which is to create opportunities for young people with talent who haven't gotten the proper opportunities historically. And, that hasn't just been true in this region, but all over the country and around the world, where talent is squandered because people don't have the opportunities to get an education. We're doing something about that and it's gotten a lot of recognition because not many universities are doing a lot about it."
It was the same opportunity that helped former dean of the College of Education, Josefina Tinajero, who is now special advisor to the vice president of research in education. Tinajero was in the pool of minorities as an undergraduate student at UTEP.
"I cannot think of anyone else who is as deserving of this recognition as Dr. Diana Natalicio," Tinajero said. "She has been an outstanding leader and advocate for this community in general, and for Hispanic students, in particular. Having been associated with the university since I was an undergraduate student myself, I have seen the tremendous progress that UTEP has made under her leadership."
Gary Edens, vice president for student affairs, has had a professional relationship with Natalicio since he was an undergrad himself and is impressed with how far she has brought the school.
"For three decades, she has led UTEP with authenticity, passion and a commitment to student access and success," Edens said. "She is a bold, visionary leader who sets high expectations for all those who work with her. It amazes me to see the dramatic changes that have happened at UTEP since I was an undergraduate student. Dr. Natalicio's leadership is transformative and UTEP is a better institution because of her efforts."
Now, for Natalicio, her task is set on sustainability and growth. She believes the school has built an identity since her arrival that needs to be protected.
"When you try to be something that you're not–you try to imitate a model that is not a good model for your setting–you probably won't do that great. But if you are authentic and understand what your role is, it's just a question of stepping up and doing it and being proud of it," Natalcio said. "For far too long, UTEP was imitating other universities and when we began to hit our stride and accomplished something is when we took a look in the mirror and said, 'Who are we? Whom do we serve? And how do we do that well?' When we got a good idea about that, we just put one foot in front of the other and did it."
Regarding making the annual list of Fortune Magazine next year, Natalicio said she simply has to "keep working."