Cretz relishes role as starter after redshirt season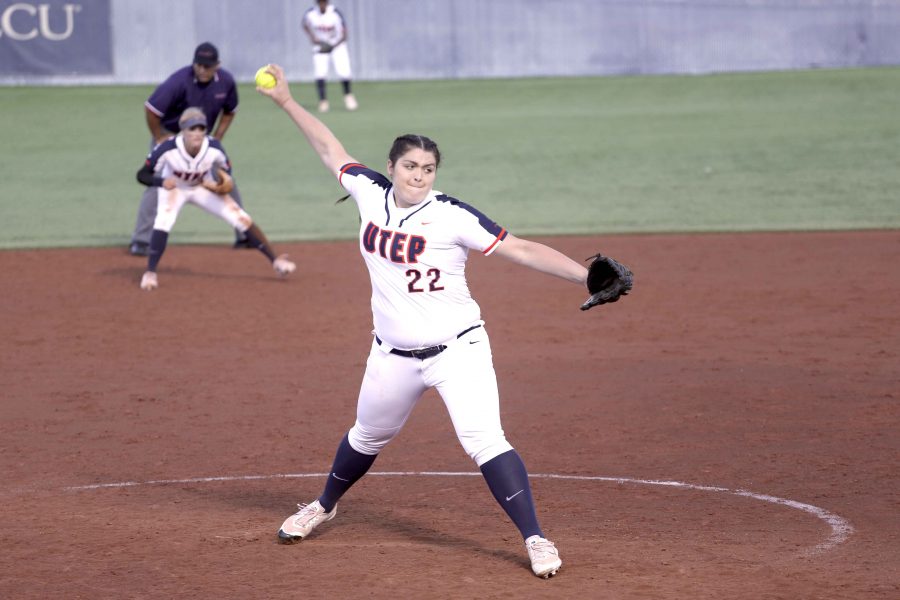 Mike Flores, Staff Reporter
March 28, 2017
From the veteran group of pitchers on the roster of the UTEP softball team—three seniors included—it's the redshirt freshman Devyn Cretz who has stood out in the 2017 season so far. Out of UTEP's eight wins in the year, Cretz is credited for five of the victories.
Before deciding to continue her playing career at UTEP, Cretz was born and raised in Corona, California, where she first picked up a softball at the age of 5 years old. However, it wasn't until the age of 11 that Cretz started gaining experience as a pitcher.
From there, the California-native went on to pitch three seasons at the varsity level for Santiago High School, where she posted a 6-2 record (2.74 era) while striking out 40 batters during her senior outing. She also suited up for the Corona Angels, her club team.
"Her size stood out. As a pitcher, you love size on the mound and she has a great presence about her. She throws the ball extremely hard, which is something different from our pitchers in the past," said head coach Tobin Echo-Hawk. "She (Cretz) played on a good travel team that faced some of the best teams in the nation—kids that are going to Oklahoma, Florida, Michigan—so I don't think anyone that she faces is going to be that different. We knew she had talent coming in."
Cretz's decision to sport the orange and blue for her collegiate career had a lot to do with Echo-Hawk and the atmosphere in El Paso.
"The coaches were a big factor in my decision and I just really liked the school when I saw it. But coach (Echo-Hawk) was the main reason I wanted to play here," Cretz said. "Everyone was so nice and I felt a really homely feeling out here (El Paso)."
In 2016, Cretz redshirted for the full year—a successful season, where UTEP softball made the conference tournament for just the fourth time in school history after securing their most wins since 2010 (23-32) and their first winning record in C-USA (13-11).
For Cretz, it was a season full of learning and expanding her game from watching and gaining knowledge from the dugout.
"I feel like being able to watch the other pitchers, especially Kaitlin (Fifield), I feel like I was able to learn a lot from her both mentally and psychically. She got me mentally tough. I'm glad I redshirted, so I could have that year to learn," Cretz said. "They (the veteran pitchers) told me that not every game is going to be perfect, and that I need to just do my best every time."
Cretz finds herself with a record of 5-6 while throwing the most strikeouts for UTEP, with 34 on the season, which ranks her in the top 15 in C-USA. From the pitchers on the UTEP roster that have appeared in double-digit games, Cretz has the lowest ERA (4.52). Her wins this season have come against Middle Tennessee State, New Mexico, Wichita State, NMSU and Siena.
Cretz's favorite win so far in her short career was on March 1, when UTEP traveled up I-10 to Las Cruces to face the NMSU Aggies, where the Miners edged out the victory, 5-3. The Miners ended a seven-game losing streak against the Aggies that day.
"The win against NMSU was such a good win. It was our first game against a rival this semester, so that was really rewarding," Cretz said. "I feel like no one was expecting us to win because we haven't in the past, so it was so exciting to beat them. There was so much energy and it was so fun."
Sitting at 8-20 overall as a team, Cretz has no doubt that her squad can make a push in the standings since conference play just got under way, and since the Miners finally got a chance to play in front of their home fans after 25 road games to start off the season.
"I feel like we'll start to get more wins and we will make the conference tournament. We just have to continue practicing hard with both pitching and hitting," Cretz said.
With the cavalry of the pitching unit in their last year of eligibility for the Miners, it's up to Cretz and the other freshman pitcher Allie Johnson to soak up as much as they can from the seniors and be ready to take the helm.
"Cretz has done a great job of coming into our team and having that mentality that she wants to be best, regardless of her age. She's also done a great job with adjusting to the mentality and how much stronger, bigger and faster the college level is at," Echo-Hawk said. "She (Cretz) has had her moments, which every freshman does, but she's definitely overcome those moments. It's one of those where freshman make mistakes and have breakdowns, but she's good at noticing her weaknesses and correcting them."
Cretz takes after her role model, Los Angeles Clippers starting forward Blake Griffin, in the idea that both like to have fun off the field, but are all business when the lights come on. Cretz has an older brother that she looks up to, just like Griffin looked up to his older sibling Taylor, who both played Division 1 sports.
"I love Blake Griffin, he's my role model. I feel like he was kind of an underdog in college and then he just kept on getting better and better," Cretz said. "I can relate to him because he has an older brother and he (Taylor Griffin) was always better than Blake at Oklahoma."
Echo-Hawk said that the main thing she has seen in Cretz is that she is a goofball and a funny and likable kid.
"The funny thing is when she gets on the mound, she's a totally different person, she turns into the biggest competitor and is very focused on just the game," Echo-Hawk said.
Echo-Hawk will be depending on Cretz's mix of personality and pitches to carry the Miners forward in the coming years as the team continues to build on last season's fourth-ever C-USA tournament appearance.
One that Cretz no doubt has plans to appear in with her team this time.