Miners fall in deciding third game with Golden Eagles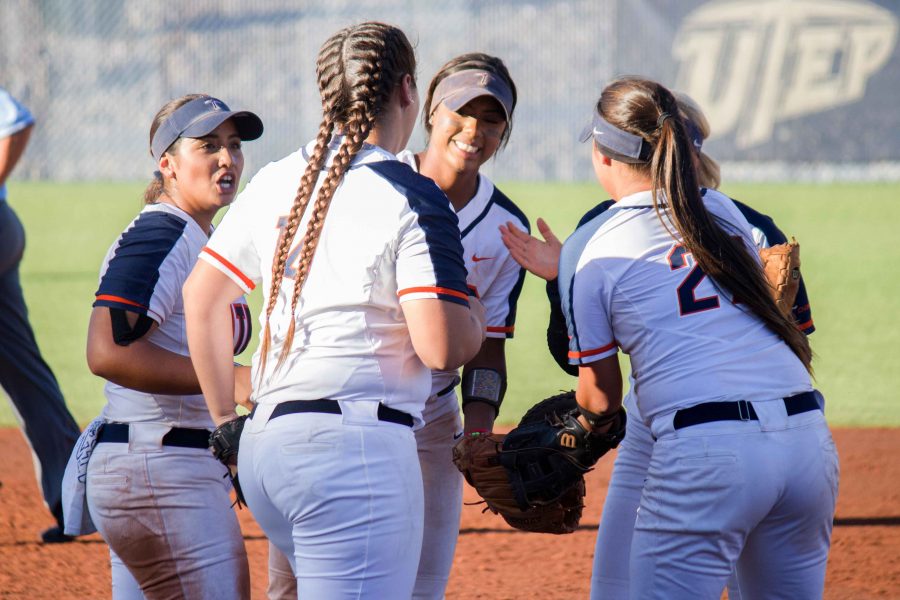 Mike Flores, Sports Reporter
March 26, 2017
In the deciding third game of the series, UTEP softball fell victim to Southern Mississippi's junior pitcher Samantha Robles once again, as the Miners lost 6-1, on Sunday at Helen of Troy Field. In the last five games, Robles is a perfect 5-0 when she's on the mound against the orange and blue.
UTEP softball head coach Tobin Echo-Hawk said that the team's bat hitting against Robles could be entirely mental.
"Hitting is a hard thing. Starting in the second game, we let one bad at bat dictate our next times at the plate and we just struggled. That kid (Robles) has had our number number for the last couple of games. I think our kids overthought it and tried a little too hard," said Echo-Hawk.
UTEP only tallied four hits while facing Robles (3-5) for all seven innings of the ball game. It was Robles' second complete game victory of the three game series. Kaitlin Ryder, UTEP's junior right fielder, was the only athlete to find herself on base following each at-bat. Ryder totaled two hits, with one double to kick off her day in the opening inning, one base on balls and she also reached on an error.
"I felt great at the plate, probably one of the best times I've felt up there. It just comes with the extra time with my teammates and the coaches. I just want to do my best for my team," said Ryder. "We're upset, but we are going to come out and keep working, we are not going to let this loss hold us back. We are going to come out and fight, we are scrappy, and that's just the team we are. We need to forget about this loss and come out next week and show who we are."
It wasn't until the fourth inning that the Miners received their second hit of the game, from sophomore Lindsey Sokoloski. She was later batted in by catcher Mallorie Cross. This turned out to be UTEP's lone score.
"I know we are a lot better of a hitting team than we showed today and I think we saw it in the first game. I just keep reminding our team that they have to stay true to themselves and stick to the little things, we got away from them today," said Echo-Hawk.
The biggest blown opportunity for Echo-Hawk's squad took place in the fifth inning, where Robles seemed to slow down from her hot pitching slightly.
Ryder and senior Kiki Pepi got to first and second base on two errors in a row from the Southern Miss shortstop, with only one out. Two batters later for the Miners, starting first baseman Hope Moreno was hit by a Robles pitch to load the bases with two outs.
Sokoloski stepped up to the plate with all of the pressure on her back, as her team was down three runs with runners on every bag. That is when Robles came through yet again, and got Sokoloski to bite at the first pitch to leave all three runners stranded.
In game one of the series, UTEP's senior pitcher earned her first complete game victory while only giving up two runs, but in game three against the Golden Eagles, Erika Harrawood (3-8) was figured out by the bats of Southern Miss. In 5.1 innings pitched, Harrawood allowed six hits and three game-changing home runs to bury the Miners, while allowing five runs to cross the plate.
From the get to, UTEP allowed the visiting team to snatch the lead and never look back. In the opening inning, the Golden Eagles got on the scoreboard first from an RBI single from first baseman Tori Dew. Later in the inning, due in large part to questionable fielding choices from UTEP's players and an error on Pepi—the score was quickly in favor of Southern Miss, 2-0.
On a windy day, senior shortstop for Southern Miss, Lauren Holifield showed her power against the Miners, as she sent two of Harrawood's pitches over the fence to bring her total to seven home runs on the year. Her two long balls came in innings three and five. Both were solo shots.
"Southern Miss is a good hitting team. We missed our spots today (in pitching), especially against Holifield who is their power hitter. We call it two balls off and the balls were too much on the plate and she would hit it out," said Echo-Hawk. "If you hit it well here with the wind how it was today, and you hit it from the right-center to the right field the ball is going to go out, and that's what they did better than us. Our timing was off."
Coming in to pinch hit, freshman Jade Lewis knocked one out of the park in the sixth inning to extend Southern Miss' lead to 5-1, while making UTEP's comeback attempt look bleak with only two innings remaining for the Miners.
UTEP will have to quickly regroup from their two game skid to be ready for their second go around with New Mexico State University, on Tuesday, Mar. 28 for a double-header. Earlier in the year, the Miners overcame the Aggies 5-3.
"It's nice to know it's a rivalry game, knowing that the girls will be fired up to play this one. Going into this game, they will try to prove something like they always do," said Echo-Hawk.