Miner softball splits Saturday series with Southern Miss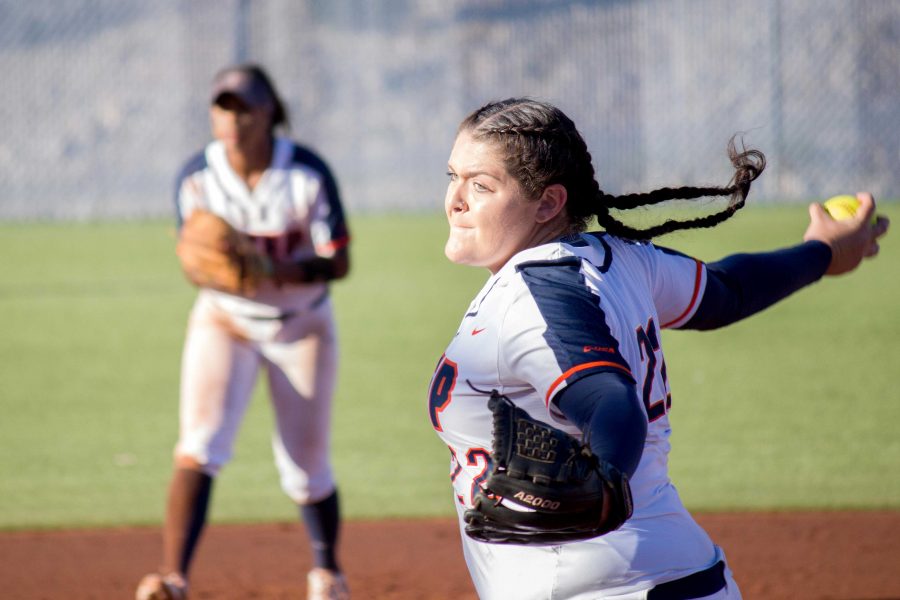 Mike Flores, Sports Reporter
March 25, 2017
UTEP and Southern Miss began their three-game weekend series on Mar. 25 with a double-header. Both teams earned one win each, in completely different outcomes. The bats couldn't be stopped for the Miners in the first game, but cooled down with a foe on the mound that UTEP has had trouble with in the past.
UTEP won the first contest 12-2 in five innings and lost to the Golden Eagles in the second try 6-2.
Now, UTEP sits at 9-19 overall and 3-5 in conference play, while Southern Miss moved to 15-15 and 2-6 in C-USA.
In the first game of the double-header between UTEP and Southern Mississippi, the Miners came out on fire, recording their season-high of hits this season, with 15 total as a team. UTEP's designated hitter Kaitlin Ryder lent a huge helping hand by totaling her career-high in RBI's with five against the Golden Eagles.
"I was feeling it, and my teammates got on base for me and that's what I do. I try to get my teammates in and it felt good in the first game," Ryder said. "We saw the ball really well in the first game and not so well later on. We have a new day tomorrow and if we do what we did earlier, we will come out with the win."
The starting pitcher for the Miners in game one, Erika Harrawood, earned her first complete game victory of her career, while she struck out three opposing batters and only allowing two runs all game on five hits. Harrawood improved to 3-7 for her senior season with the triumph at home.
"It was nice to have a complete win. Everything was working well today, I was able to throw them (Southern Miss) off with most of my pitches," Harrawood said. "All that matters is that we won. I don't care if someone comes in for me or not. But it was nice to do it at home."
On the other hand, the Golden Eagles went through three different pitchers to try and figure out the Miners' hot hitting lineup. Kim Crowson (6-5) was dealt the loss for Southern Miss as she pitched 2.1 innings. The other pitchers that were thrown in the first matchup were Jillian Johnson, who had the highest ERA from all three with 3.19. Danielle Block only came in for the last two outs of the shortened game, by then it was too late, the damage was already done.
It was the second inning and third inning that were the deciding factor in the win. In those two innings, the Miners got up 9-2, with four runs crossing the plate in the second and five runners scoring in the following bottom half. UTEP totaled nine hits combined in both innings.
UTEP had three athletes record three hits each, Ryder, third baseman Kiki Pepi and Cortney Smith. Smith scored every time she got on base.
As the second game came around, the Miners faced a pitcher that continued to have the edge on the orange and blue, according to head coach Tobin Echo-Hawk. Last season, Southern Miss' pitcher Samantha Robles knocked UTEP out of the tournament and performed in the same fashion this season, coming out with a victory.
"In the second game, we took a step back as a team. That kid (Robles) has had our number for quite some time. We hit the ball hard, but unfortunately we hit it right at them. Sometimes it just goes like that," said Echo-Hawk. "I just hope we carry the momentum in from the first game to tomorrow. It was a different feel. I think our team kind of had it in their minds that she (Robles) has had our number for years. They kind of let them get the best of them. That's what happened to our hitters."
UTEP, as a team, only got six base hits all second game and struck out four times.
Southern Miss totaled nine hits, four RBI and forced UTEP to have some costly errors with three in the contest. The Miners started the game off with freshman Devyn Cretz, who has the most wins this season for UTEP, but Echo-Hawk decided to switch to a veteran pitcher in Kaitlin Fifield at the beginning of the fourth inning, with a deficit of 3-2 to begin her outing. Fifield would allow three more runs in the game.
Southern Miss' Tori Dew recorded three base hits and Eva Scott added in two hits, as well.
The series deciding game will be played tomorrow at 11 a.m. at Helen of Troy Field.