Miner football completes first scrimmage of spring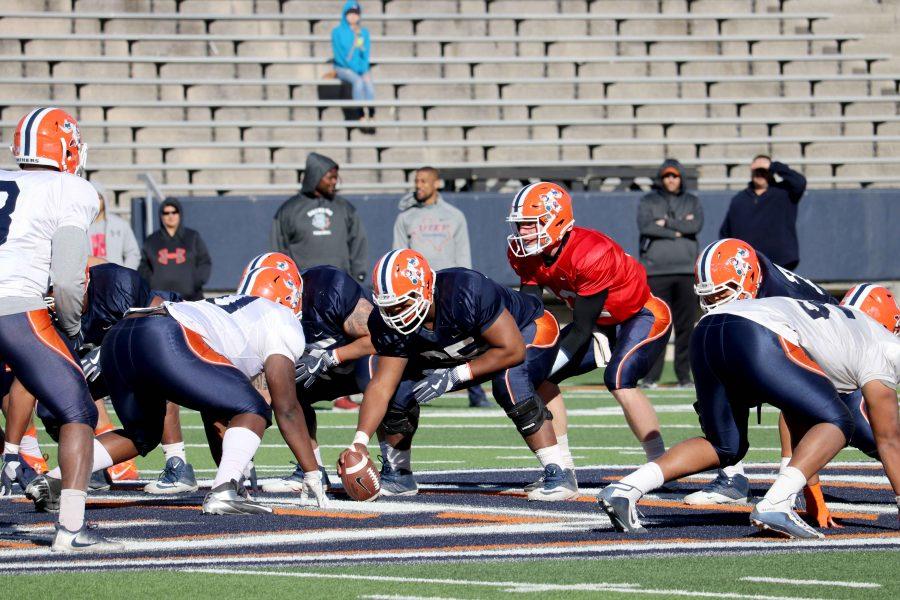 The UTEP football team held their first scrimmage of the 2017 spring football season on a cold and windy Friday morning, March 24, at the Sun Bowl. The team played three full-length drives to start, followed by some offensive and defensive pod drills in between working on red zone and fourth down situations.
The bright spot for the Miners this day was sophomore running back Quadraiz Wadley, who carried the ball for 72 yards on nine attempts and scored two touchdowns.
"I felt pretty good, I was running physical and the defense had a hard time getting me down," Wadley said.
Wadley has some big shoes to fill since Aaron Jones, UTEP's all-time leading rusher with 4,114 yards, announced he was leaving UTEP for the NFL.
"It's a lot of pressure to be in this position now," Wadley said. "You really just want to make sure you get everything right, but that shouldn't be the main focus, you got to go out there and compete and play hard."
Junior quarterback Ryan Metz, who is expected to be the starter for UTEP this season, finished 4-for-10 with 36 yards and an interception. That interception came off a tip and it was senior linebacker Lawrence Montegut who came up with the football.
"Accuracy wise, there's still a lot of growth, my second or third pass came out a little wobbly, it wasn't a great one," Metz said. "I can't let the climate or conditions affect me, I don't think that was in my head, but I tried to change my delivery, other than that I felt good out there."
The defense struggled in the red zone as the offense scored six out of six attempts. Kavika Johnson, who scored on his first snap with a 12-yard touchdown rush during the Miners' second full-length drive, scored again during the Miners fifth red zone attempt, finding the end zone with a five yard rush. Johnson finished with 29 yards and three rushing touchdowns.
The Miner passing offense finished 7-for-21 for 89 yards with a touchdown and an interception. That lone passing touchdown came from freshman quarterback Mark Torrez, who connected with freshman wide receiver Richie Rodriguez for a 20-yard touchdown during the Miners' fifth red zone attempt. Both Torrez and Rodriguez are from El Paso and played together at Eastwood High School.
The running back corps finished with 23 rushing attempts for 141 yards and six touchdowns.
"We need to pick up the tempo a little bit better going forward," Metz said. "I don't think we ran into any issues with the play clock, but we need to make sure we are getting in and out of the huddle quick and that we get our calls in quick."
Defensively, the Miners tallied two sacks on the day. One by sophomore linebacker Dylan Parsee and the other by freshman linebacker Dedrick Simpson.
"I thought it was a good scrimmage into the wind, it's good for the quarterbacks to work in these types of situations, they handled it well," said head coach Sean Kugler. "I thought Wadley did an outstanding job, he was running the ball extremely well, our defense stepped up on short yardage and goal line, it was a lot of good give and take and physicality out there."
The team will return for their third week of spring practice next week. The Miners' annual spring game is slated for a 7 p.m. kickoff on April 14 in the Sun Bowl.