UTEP softball ready to take on Southern Mississippi this weekend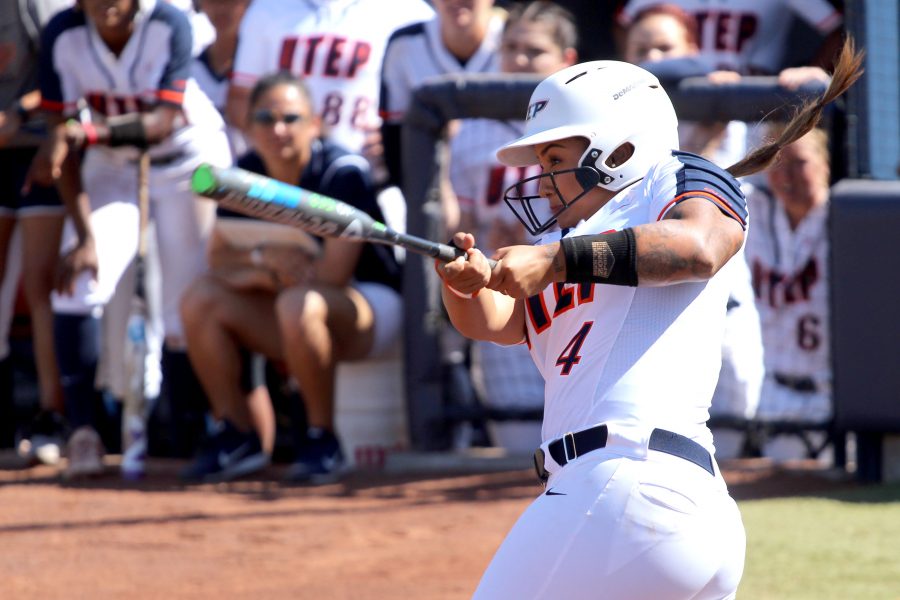 The UTEP softball team will face off against Southern Mississippi on Saturday, March 25, and Sunday, March 26.
The Miners are starting to turn their season in a better direction after a rough start that included losses to top programs Stanford, Arizona State and Utah.
Currently sitting at 7-19, the team just finished a weekend where they went 2-1 versus C-USA foe Middle Tennessee, with a quality 10-7 victory against the Blue Raiders to complete the weekend.
In the first of the three-game set with MTSU, the Miners jumped out to a 7-0 lead on the back of a lot of timely hits. Senior Kiki Pepi was 2-for-3 with two RBIs and junior Taylor Sargent also went 2-for-3. The power in the game was supplied by catcher Kaitlin Ryder, who had a home run and three runs batted in.
Although MTSU would make the game interesting by scoring six runs, starter Erika Harrawood (2-7) still received credit for the win–her first as a Miner in front of her hometown El Paso fans.
The Miners lost the second game on Saturday by a final of 5-2, despite a very good pitching performance by starter Devyn Cretz (5-5). Following the game, head coach Tobin Echo-Hawk said that her fielders needed to do more to help her team's starting pitchers.
"(The pitching staff) is getting much better and much improved," Echo-Hawk said. "We just need to play better defense behind the pitchers. Sometimes we get on our heels on defense and should have more of an attack kind of mentality."
Fielding was not as much of an issue on Sunday as UTEP took the series on the back of their best hitting performance of the season. The Miners tallied 10 runs on 13 hits with four Miners tallying multi-hit games, Pepi (2-4), Pamala Baber (2-4), Cortney Smith (2-4) and Mallorie Cross (2-2). UTEP won 10-7, with Cretz winning the game as a relief pitcher.
The three-game stint against USM will take place at the Helen of Troy field, where the Miners will enjoy a home field advantage (2-1 after this weekend's opening series).
The Golden Eagles come into the game sitting at 13-14 overall, having lost their most recent game to Louisiana Tech, 8-1, and getting swept in the weekend series.
At bat, the Miners will look to Smith, as she leads the team in batting average as well as home runs. Infielder Courtney Clayton will also be a big part of the effort, as she leads the team in hits and runs scored, in addition to holding places near the top of other leaderboards.
On the mound, Cretz leads the team in wins and strikeouts. Kaitlyn Fifield is the save leader for the Miners.
Head to head, the Miners appear to have an advantage in this game. Despite trailing the Golden Eagles in wins, UTEP has faced a tougher schedule than Southern Miss statistically speaking.
Two of the early opponents against the Miners, Arizona State and Utah, are in the top 25 nationally.
Southern Miss has not faced a ranked opponent this season. The experience of playing against elite competition puts the Miners in a good place for this matchup. Home field advantage is also important and fresh off a win, UTEP should have some confidence for this three-game contest.
Although the Golden Eagles are reeling from their 8-1 thrashing, they have one more game versus South Alabama to rebound with before traveling to El Paso.
The Miners have shown flashes of success this season, even exhibiting this in early losses, and Echo-Hawk thinks that her team is ready to turn the corner following their big 2-1 weekend series win over MTSU.
"It's not how you start the season, it's how you finish the season, and as long as we progress throughout the course of the season, we're going to be okay," Echo-Hawk said. "I think everyone on the outside looking in thinks things are going bad, but we're hitting our stride and getting better every single day."
These teams are both eager to win and turn their seasons around, and with the clock ticking, expect an intense, hard-fought three games between the Conference-USA rivals.