Middle Tennessee captures second straight C-USA tournament title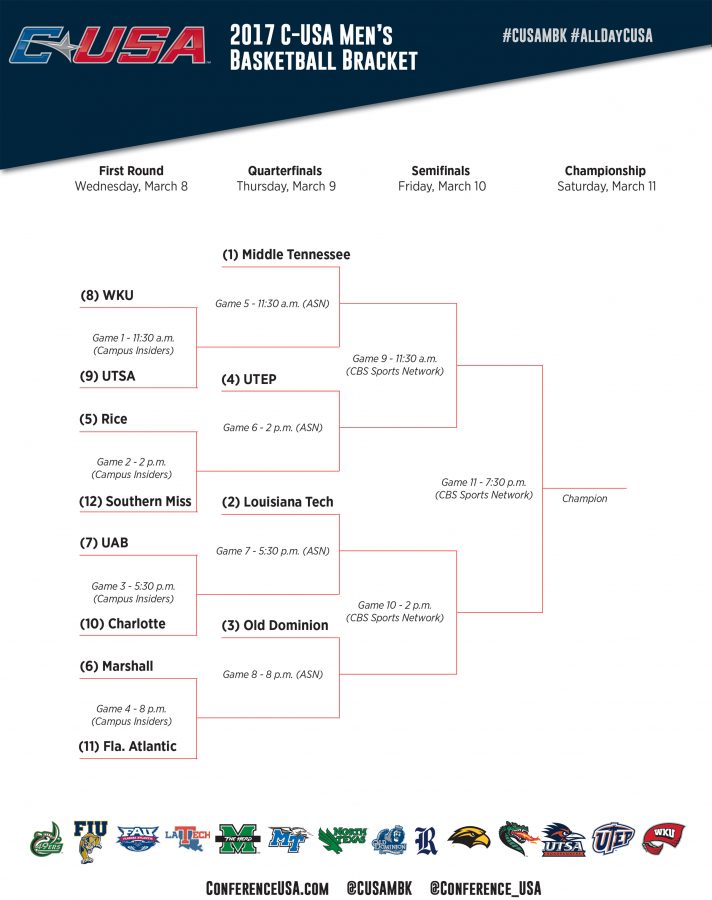 (6) Marshall 72 (1) Middle Tennessee 83
Giddy Potts tied a career-high with 30 points to go along with eight rebounds and two assists to help Middle Tennessee defeat Marshall 83-72 in the Conference-USA tournament championship. The Blue Raiders have now won back-to-back C-USA tournament championships and are headed back to the NCAA Tournament for a second straight season. The Blue Raiders held Marshall to just 31 percent (10-for-32) from behind-the-arc after the Thundering Herd set a C-USA tournament record with 19 three pointers made in their semifinal win against Louisiana Tech. Middle Tennessee led in rebounding (41-35), points in the paint (38-30) and never trailed the entire game. C-USA player of the year, JaCorey Willimas, finished with 17 points and six rebounds and Reggie Upshaw added 15 points to go along with eight rebound and two assists for the Blue Raiders. Five Marshall players finished in double-figures with C.J. Burks leading the way with 16 points. Stevie Browning was held to his lowest point total of the four tournament games played with just 14 in the loss. Browning had scored 22, 24 and 18 points in the previous three games. Each team got 20-plus points from their respective benches, Marshall had 26 while Middle Tennessee had 20. The Blue Raiders will find out their seed and opponent tomorrow afternoon when the 2017 NCAA Tournament bracket is announced live during the CBS Selection Show at 3:30 p.m. MST on CBS. Last season, Middle Tennessee shocked the nation by knocking of the no. 2 seed Michigan State 90-81, in the first round of the NCAA Tournament as a no. 15 seed.