Spring football wraps up first week of practice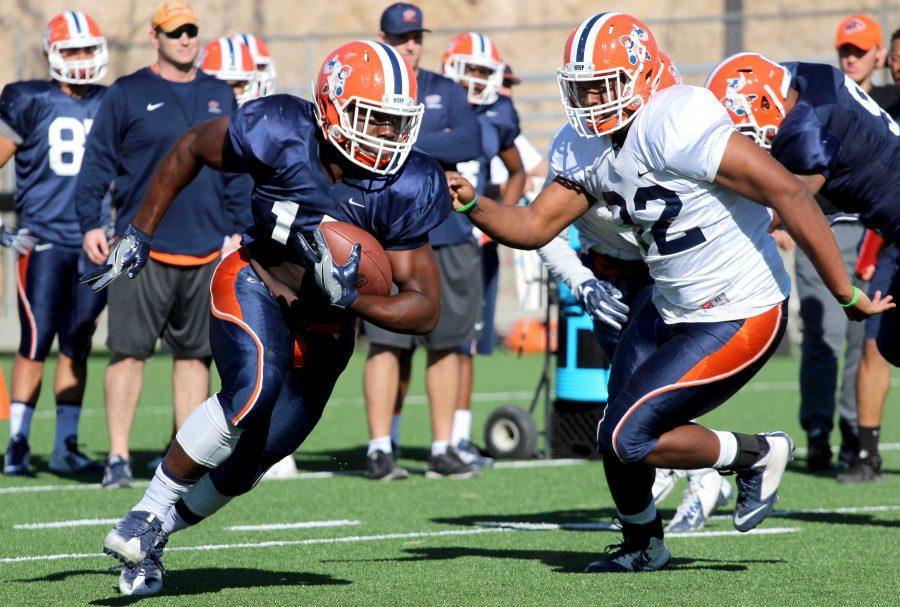 Mike Flores, Reporter
March 10, 2017
UTEP football wrapped up their first week of spring practice Friday morning as they participated in full pads for the first time since the regular season ended. Head coach Sean Kugler is looking at who he has to work with and who is going to step up from the departing spots from last year's players.
Kugler officially announced the hiring of the new wide receivers' coach for UTEP, former Montwood High School head coach and athletic coordinator Chuck Veliz. During his time with the Rams, Veliz recorded 11 winning seasons out of his 13 years with the program. Prior to Montwood, the new receiver coach was under the helm at Del Valle High School where he won El Paso Times Coach of the Year in 2000 after his team won district with an 11-2 record. Veliz finished 35-10 with the Crusaders.
"It was always a dream of mine to coach at a the D1 level, and to do it here in my home town is a dream come true. It was time to make the move and take on the challenge," Veliz said. "I hope to bring a lot of intensity and passion to this team. We're a veteran group and they know what we want, we're getting better each day. And the younger guys are catching on. I want to bring accountability to this team, in the film room, out here on the field and to take responsibility for everything. I think I can help Kugler get the better kids here and all over west Texas, and keep the program going in the right direction."
Veliz spent time around the UTEP football team last season where he built relations with the team and the players. He called the game-winning play that the Miners ran to overcome UTSA in the fifth overtime this past season. Coming from Montwood, Veliz will be reunited with one of UTEP's receivers Warren Redix, who earned back-to-back All-District 1-5A Overall MVP honors under his coaching.
"I already know what to expect from him (Veliz) so it will be easier to adjust and get the other guys transition down with his coaching. He's been around football for many years, so it's a great for our team," Redix said. "He was around us last year and he knows our strengths and weaknesses. He's helping us by getting off the line quicker and finding easier ways to get open. We look more comfortable in the system and a lot crisper, compared to when we were lost last year."
Outside of the new acquisition of Veliz, the Miners looked to improve before spring break let out with drills for each position and a scrimmage between the offense and defense to end the day. Many different players are fighting for starting positions and backup positions on the team.
"This is a competitive team and you really never know what you're going to get until you put the pads on, and I liked what I saw today," Kugler said. "Of course we have a great tailback to replace and I saw very capable guys with Awatt doing great things out there and other guys showing what they got. It's great to have our quarterback situation solidified with (Ryan) Metz, not only with the starter but we have good guys backing him up."
The offensive line has their main threat in Will Hernandez returning for his senior year of school. Last season, Hernandez was honored Conference USA first team and played all 12 games. On the other side of the ball, the defensive line has some holes to fill, according to Kugler.
"There's some competition among the offensive lineman, a lot of guys are trying to battle for backup spots. And there's a lot of competition for starting roles on the defensive line," Kugler said. "However, our secondary is set and we've added some guys out there, also."
On the last day of practice, Metz got the majority of the starting reps with his backups, Zach Greenlee and Mark Torrez, stepping in when he went to the sideline. Metz was a victim of throwing an interception today in practice, but he said the spring is the time for learning and recognizing mistakes. Torrez, on the other hand, has raised many eyebrows during his first three practices of the year—Kugler claimed he has the "it" factor and the swagger.
Hernandez looked very physical on the line and he opened up many holes for running backs Ronald Awatt and Kevin Dove, who are seeking bigger roles. UTEP's defense looked sharp and ready to take the next step to bettering their reputation in the conference.
"Our depth is better than it has been and these kids are out here competing and getting better every day. It was a really good practice. There was a lot of physicality, and our team is eager to keep going," Kugler said.