Local thrift shop sets new trends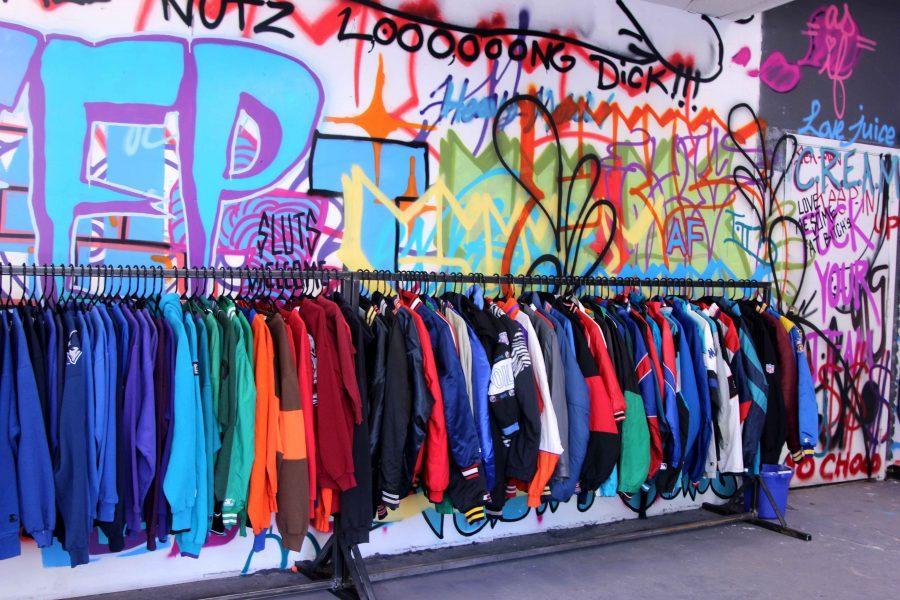 A new trend has hit El Pasopop-up shops. In trendy fashion, a pop-up vintage shop, Vintage Classis (stylized VNTGCLSSX) has opened up downtown at 115 N. Mesa St.
VNTGCLSSX is owned by Ron Scott, Marisol McNeil and Patrick McNeil. Scott is a UTEP graduate with a master's degree  in clinical psychology. He is a third-generation "thrifter," which is inspired him to open up a vintage thrift shop. Patrick McNeil focuses on late-night social events and has even started his own production company. He is also heavily involved in the local music scene and is the owner of several businesses, including International, a bar downtown on Mills Street.
"We've been dealing with that for years now (coming up with the idea for the store), and it just felt like a right time to start a pop-up concept, which right now is pretty trendy," said Scott.
The conceptual focus of the shop goes beyond just clothes. VNTGCLSSX offers a unique place to shop, but It's more than just a store. The concept behind VNTGCLSSX is creating an atmosphere where people can enjoy live music and drinks.
"We wanted to incorporate a lot of that urban kind of conceptual art with what it is to go and shop around. But at the same time creating a social night scene and having a soiree kind of things, where they're gathered and having fun, and still at the same time shopping," Scott said.
When you enter the shop, there are over 700 items out on display, but it's the art on the walls that catches your attention. The graffiti on the walls inside the shopping center distinguishes VNTGCLSSX from all the other shops around it. The shop is located a block away from San Jacinto Plaza.
Scott is working hard to reinvent the regular thrift shop and create something with a different environment.
"Me and my partner have been dealing with thrift clothing and vintage shopping and commemorate of a bunch of different things," Scott said. "We're planning on hosting events, having bands play and DJs, and things like that. We want people to come out and have fun and look at some clothes while they're at it."
Scott has been picking clothes for 14 years. His grandparents used to own a clothing store doing thrift sales in Mexico, and came to El Paso to collect vintage clothing.
"People don't realize that El Paso is a really big honey pot of vintage clothing. For some reason, there's a lot of clothes traveling through here within Goodwills, Savers and a lot of things that are happening downtown," Scott said.   
"Handpicking, curating and collecting and really curating stuff that's individualized to a person's aesthetic is really the focus. It's not about what you have but how you wear it."
Being a pop-up shop that constantly changes locations helps them stay relevant and alluring. It's all about incorporating art and vintage clothes at VNTGCLSSX.
"The whole thing is about concepts and what we're trying to conceptualize to people, and I think we're doing a good job in terms of visualization," Scott said. "We want to bring people in that wouldn't necessarily think of this as their spot."
This is the first location of many for VNTGCLSSX. They had their grand-opening Friday, March 3. VNTGCLSSX will remain at the current location for a couple of months. You can check their Instagram for location updates @VNTGCLSSX.