Miner men seek first round bye in C-USA tournament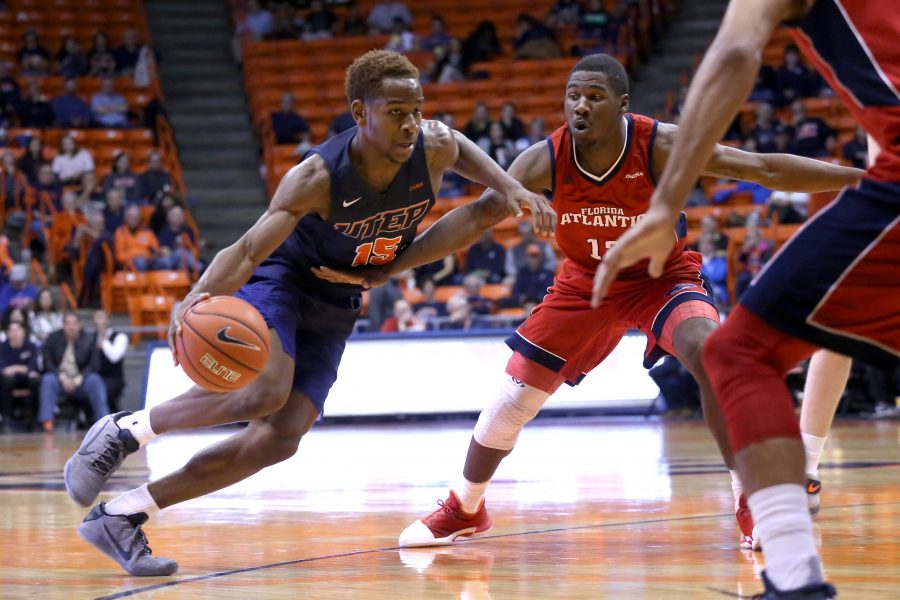 After the Jan. 7 loss to Southern Mississippi, any Miner fan could have wondered the same thing. Would this UTEP team ever secure another victory during the season? That day, the tail end of a 12-game losing streak, is all but a faint memory for the Miners now. UTEP has turned over a new leaf, having won five straight and 11 of their last 13 games overall.
The turnaround has UTEP (13-15, 11-5 C-USA) currently sitting in a third-place tie with the Old Dominion Monarchs in the Conference-USA standings.
The turnaround started with a buzzer-beating victory on a fall away jumper by senior guard Dominic Artis over Florida International on Jan. 12 in double-overtime. While this could have been the spark UTEP needed, it has been an improved defense that has been the most notable change.
Two of the Miners' 11 wins during this stretch have come against the top two scoring teams in Conference-USA, Marshall and Rice.
Marshall was averaging 85.4 points per game, while Rice was averaging 81 points per game. The Miners held the Thundering Herd to 68 points on Jan. 28 and held the Owls to 71 on Feb. 18. Both wins were notably on the road, as the Miners held  both teams to 34 percent shooting, while each usually average around 45 percent. UTEP's scoring defense is fourth-best in Conference-USA, allowing 68.4 points per game.
Winning on the road.
At one point, UTEP was winless on the road, sitting at 0-6 overall (1-2 on a neutral court). Since then, UTEP has recently earned a four-game sweep the last two weeks over North Texas (77-71 OT), Rice (79-71), Florida Atlantic (60-55), and Florida International (90-76) to put their final road conference record above .500 at 5-4.
UTEP has fared even better at home. The Miners have won six of their seven total conference games thus far on the Don Haskins Center court with two more to go. One of those wins coming against Conference-USA regular-season champion Middle Tennessee, 57-54 on Feb. 4. The loss for the Blue Raiders is the only one in their last 15, making it their lone blemish in C-USA. This win for the Miners could be considered their biggest of the season.
UTEP can clinch a first-round bye in the Conference-USA tournament this Thursday with either a win against Old Dominion or a Rice loss against Marshall, which would  earn them either the third or fourth seed. UTEP can claim the third seed outright with a victory against Old Dominion, as the two teams are currently tied for that third slot (11-5 C-USA) heading into their matchup.
The Miners are coming off their most impressive shooting performance of the season, shooting an outstanding 67 percent (35-52) from the floor, while nailing their last eight shots in the contest. Five Miners scored in double-figures, with junior center Matt Willms and Artis leading the way with 20-plus points each. Willms acquired 23 points on 10-of-13 shooting, and Artis tacked on 21 points in 7-of-11 shooting in the win. The Miners also outrebounded the Panthers 30-18 while having a 48-30 point advantage in the paint.
This season, three Miners average 10-plus points per game. Willms averages 11.5 and Artis averages 15 points per game. Junior guard Omega Harris is the third Miner in that category, but leads both Willms (11.5) and Artis (15) in points per game with 16.5.
Artis is tied for 20th in the nation in assists per game, with Saint Mary's Joe Rahon at 5.8 per game. Artis picked up a total of 20 assists during the Miners most recent four-game road sweep.
Heating up from beyond-the-arc.
UTEP has made 39 three-pointers during their current five-game winning streak, making just 15 in their previous five games before that.
UTEP will hope to carry their strong defense, efficient scoring and, more importantly, their current momentum into both the final weekend of regular season competition and the Conference-USA Tournament.
The Miners are back at home and will host Old Dominion (18-10, 11-5 C-USA) at 6 p.m. this Thursday, March 2, and Charlotte (12-15, 6-10 C-USA) on Saturday, March 3, at 1 p.m. The Monarchs are first in Conference-USA in scoring defense, averaging 60.6 points per game. Meanwhile, the 49ers are fourth in C-USA in scoring offense, averaging 77 points per game.
The different attacks ahead for the Miners will again test their previous success against both a defensive-led team like they saw in Middle Tennessee (second in C-USA scoring defense) with Old Dominion. The Miners will also be looking to repeat previous success like they found when they shutdown Marshall (first in C-USA scoring offense), against Charlotte.
The Conference-USA tournament field will be announced this Saturday evening following all of the day's action. The tournament will be held from March 8-11 in Birmingham, Alabama, for a third-consecutive season.