Miners roll over Southern Miss 80-50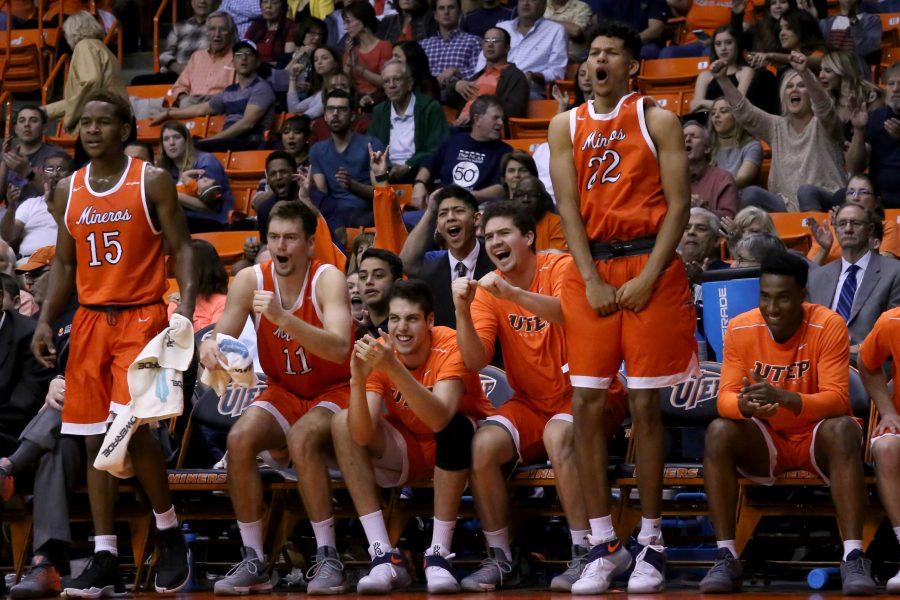 Mike Flores, Reporter
February 12, 2017
It was raining three's in UTEP's victory over Southern Mississippi, on Feb. 11 at the Don Haskins Center. The Miners earned their biggest win over a division one school this season, overcoming the Golden Eagles, 80-50.
UTEP (9-15, 7-5 C-USA) is now winners of seven out of their last nine contests. The orange and blue is in three-way tie for fifth place in Conference USA, along with Rice and Marshall.
The Miners connected on 12 3-pointers to bury their opponents. Starting guard Dominic Artis shattered his season-best three-point makes in the season with six makes.
"We haven't been a great shooting team, but tonight our ball movement and player movement was the difference. It was great to get those shots to fall," head coach of UTEP Tim Floyd said.
Artis led UTEP in all major categories to end his night. He totaled 20 points, ten assists, six rebounds and only had two turnovers.
"It's a beautiful thing to see where we are right now, compared to earlier," Artis said. "When one of us are feeling our shot, it keeps the defense honest and it gets our teammates easier shots. It gets them going, too."
The Miners' leading scorer on the year Omega Harris scored 15 out his 17 total points in the opening period. UTEP's backcourt combined for 37 points. Harris also had his best night passing, with five assists to show for.
Floyd saw his team shoot lights out as they connected on 52.9 percent from the field and 52.2 percent from down town.
The Golden Eagles' game plan of clogging the paint to cause the Miners' bigs of Matt Willms and Paul Thomas problems was the downfall that led to UTEP's huge night from beyond the arc. Willms, Thomas and reserve center Kelvin Jones were receiving double and triple teams every time they touched the ball in the paint.
"Even though Matt was double and triple teamed all night, he has the poise and control to pass it out. They (USM) literally never left the paint, someone was always in there," Floyd said. "But we got Matt the ball in the second half where they couldn't help on him and he had a great second half. And because of Matt's improvements with his game and his health, it has really helped out DA (Artis) and Omega."
However, UTEP still willed their way to a 22-12 advantage from points down low. The Miners ran away with the rebounding margin, grabbing 37 boards, compared to USM's 22.
But what really broke the game open was the defense Floyd and his unit performed throughout the second half. UTEP outscored the Golden Eagles 39-19 in the second half, one point away from the Miners' best defensive period.
After giving up seven long range shots in the first half, UTEP adjusted to the trigger-happy Golden Eagles and held them to only one three the rest of the game.
USM's leading scorer Quinton Campbell (12.5 points per game) was nearly nonexistent in his second go-around with the Miners. Campbell shot 2-8 and threw in eight points for his team. Earlier in the season, Campbell destroyed UTEP's defense with 24 points, but tonight he was one of the many reasons USM shot a cold 29.2 percent in the closing period.
"We held their leading scorer to eight points and we as a team made a great leap from when we first met this team," Floyd said.
UTEP's four game homestand resulted in a 3-1 record, with the Miners overcoming the top half of the conference with wins over Middle Tennessee and UAB, and now the icing on the cake with revenege against USM. Now the Miners will hit the road for four straight games, starting with North Texas, on Feb. 16.
"We have to carry this momentum we have for the road now. We have to guard like we have been and we will be fine," Floyd said. "I'm very pleased with our guys. We played as if we were mad that we lost to La Tech. Our guys love playing right now."