UTEP Gospel Explosion celebrates African American culture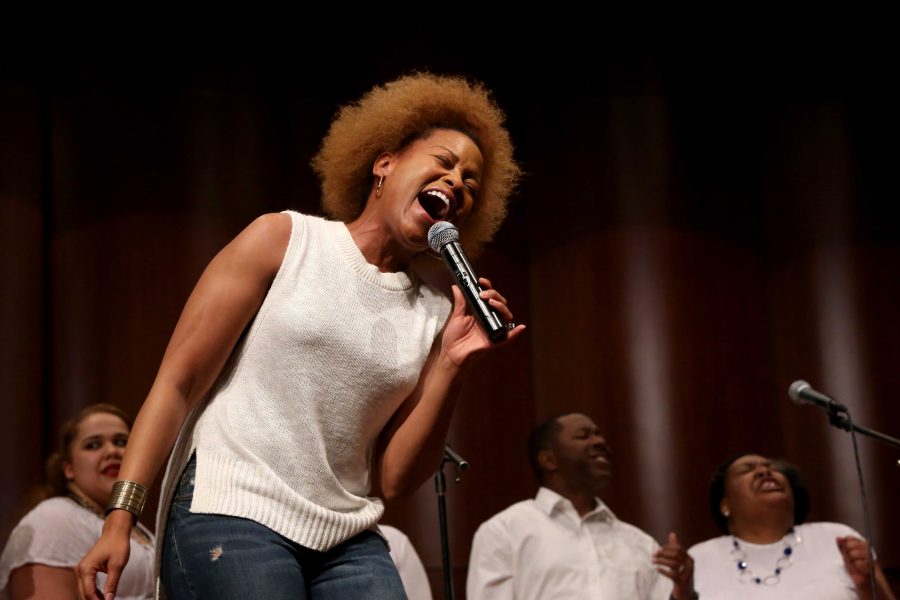 Gloria Heredia, Contributor
February 12, 2017
Dozens rose from their seats to clap, sing and dance in celebration of Black History Month for the annual UTEP Gospel Explosion event.
The event took place in the Fox Fine Arts Recital Hall and featured live music and performances by the El Paso Community Choir and the Destiny Family Christian center choir.
Corey Bailey, director of leadership and inclusion programs, said that planning for this event began last November and that it has become an annual tradition since 2006. This event is aimed for students and the community to learn more about the importance of gospel music in history.
"If you want to know anything about the black community this is the place to start because gospel music is really at the foundation of what the black community has been through the years and what it draws upon time goes on," Bailey said.
Director of UTEP's African-American Studies Program and professor of history Michael Vinson Williams, Ph.D., began the event by explaining how gospel music inspired and empowered cultural expression for civil and human rights movements.
Williams talked about former professor Maceo C. Dailey, Ph.D., who passed away in 2015 and how his work was still alive today. Dailey founded the African-American Studies Program at UTEP and encouraged the creation of a gospel choir on campus to affirm the historical contributions of the African-American community. A tribute was dedicated in his honor.
One of the performers at the event, La Vaughan Carr Farmer, danced beside her daughter and said that African culture should not only be celebrated in February but every other month of the year as well.
"My opinion is that is important to make El Paso aware that we are a part of America's history, is not just black history, but we are part of America's history," Carr said.
Matthew Martinez, a senior biological sciences, said this year was his first year attending and that he plans on coming back in the future.
"I come from a Christian background mainly. I came to this event because I have a religious study course. I really enjoyed it, it shares my belief system and it opened me to a different part of that believing system which is Gospel, dance and spoken word and I was really impacted by it," Martinez said.