UTEP hockey enters playoffs as top overall seed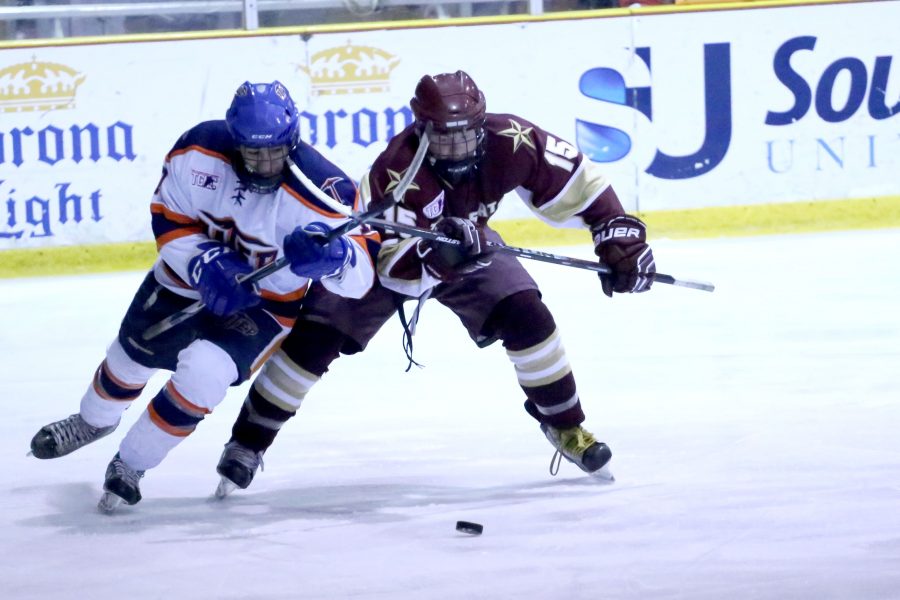 The UTEP men's hockey club had a superb regular season and will look to continue that success into the Texas Collegiate Hockey Conference (TCHC) playoffs, which will be played in El Paso from Feb. 9-11. The Miners finished the regular season with a remarkable 28-3 record, outscoring their opponents 203 to 77 while claiming the conference's top seed.
The TCHC formed in 2016 and began play last fall. The conference is separated between the North and South divisions. UTEP competes in the Southern division with Texas, Texas A&M and Texas State. The Northern division is composed of Texas Tech, Texas Christian, North Texas and Dallas Baptist.
The Miner's first game in the playoffs will be Friday, Feb. 10, at 3 p.m. versus either Texas Tech or North Texas. The Miners went 3-0 against both Texas Tech and North Texas during the regular season.
UTEP hammered Texas Tech in a two-game set on Jan. 14 and 15, outscoring the Red Raiders by a combined score of 27-3 in both games combined. Nicolas Howell, Brett Bloor and Jeramy Razaeepour combined for 11 of the 27 Miner goals in the two-game series, stacking 11 assists to combine for 22 points.
The Miners also swept North Texas with scores of 8-4 on Sept. 25 and 10-1 on Oct. 2. Six different Miners scored in each of the two contests with brothers Matt and Jon Sanca leading the way, exchanging goals both days, combining for five goals and six assists for a total of 11 points in the series.
"We're excited, once we got the word of the bid to host the playoffs, our goal was to finish at the top of the pack and have strong showings," said head coach Tom Herman. "Goal number one is complete, and now we're waiting for the playoffs to start to see what we can get done there."
UTEP dominated their division, compiling a 9-2 record to claim the first-round bye in the playoff. The Miners won 15 straight games in between the two losses, which came at the hands of Texas A&M on Oct. 1 and recently on Jan. 9. The Miners split with the Aggies 2-2 this season, with an even 17-17 goal count total for both teams. However, the Miners went 7-0 against Texas and Texas State, most notably completing a four-game sweep of the Longhorns from Nov. 11 to Nov. 19, outscoring them 23-4 during that stretch.
Against the rest of the conference, UTEP went undefeated at 8-0 with two signature wins against the Northern division champion and second-seeded Dallas Baptist. The Miners defeated the Patriots 7-3 on Dec. 2 and snuck by them 6-5 in a close one on Dec. 3, thanks to an early tiebreaking third period goal by Lucas Znosko.
UTEP lost just one game out of conference finishing at 11-1 overall. That loss was against Northern Arizona by a score of 2-0 on Jan. 26, this was the only time UTEP was shutout this season. The Miners only got 24 shots off in the loss, far from their average of around 32 shots per game.
UTEP's success could be marked by the fact they score 6.52 goals per game. However, the Miners are also holding their opponents to 2.48 goals per game. A statistic that would make any coach and team happy.
"Our biggest strength right now is our depth," said Herman. "We have three lines that can score and we can roll four lines almost all game long, it's a next guy up kind of mentality, if we have guys in the penalty box or hurt, we're able to just keep rolling and that's helped us find our success this year."
UTEP is led by stars Razaeepour and Znosko. Rezaeepour leads the team with 75 points, thanks to a well-balanced 38 goals and 37 assists. Znosko leads the team in goals with 42, tacking on 31 assists for a total of 73 points.
Three other Miners have scored double-digit goals, while nine others have added double-digit assists. The rest of the team has  combined for a total of 363 points on the season.
Goalie Aleksander Lazarski has been just as stellar as his teammates. Playing in every game this season, Lazarski has tallied a total of 739 saves with a .906 save percentage.
"Lazarski is our last line of defense, he's our rock back there," said Herman. "We kind of leave him out to dry and rely on him a little bit too much, but he's always there. He's has been solid for us all season long. You can't really say enough about the guy."
UTEP has also been outstanding on the power play both offensively and defensively this season. The Miners have scored on 24.3 percent of their power plays, while they are holding their opponents to 12.8 percent, with only 25 power play goals allowed, owning an 87.2 percent penalty kill percentage.
The Miners could meet the only team that seems to give them problems in the championship game on Saturday, Feb.11, with Texas A&M. The Aggies would have to get past both Texas and Dallas Baptist before getting another shot at UTEP. The Aggies went a combined 3-1 against both the Longhorns and Patriots during the regular season.
All games will be played at the El Paso County Events Center. On Thursday, Feb. 9, there will be two qualifying games. The North qualifier between Texas Tech and North Texas will begin at 2 p.m and the South qualifier between Texas A&M and Texas will start at 7 p.m.
Friday, Feb. 10, will be the semifinals, where UTEP awaits their opponent, along with Dallas Baptist. Dallas Baptist and the South qualifier winner will play at 11 a.m. prior to UTEP's first game at 3 p.m.
The championship game will be Saturday at noon.
"I hope our fans come out and continue to show their support for our club and UTEP," said Herman. "We're really excited about it because our fans have been great all year, we hope they can come out for this last stretch because they have been a big part of our success all season long."
Ticket packages start at $20 for section H and N. For other ticket prices  or for  more information, visit minershockey.com/tchcplayoffs.