Softball welcomes the 2017 season with trip to Arizona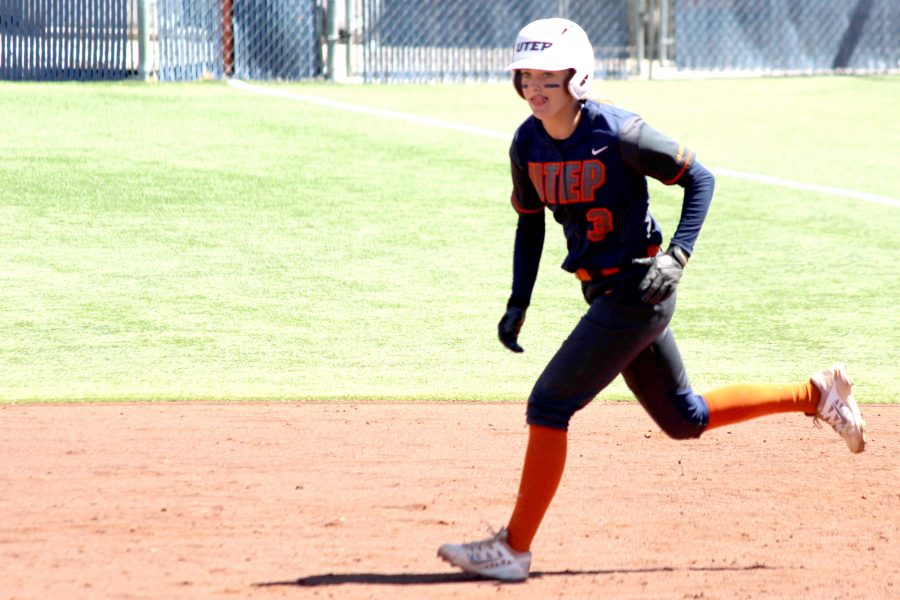 Mike Flores, Staff Reporter
February 7, 2017
In 2016, UTEP softball completed one of their most successful seasons to date, which saw the Miners clinch their fourth-ever conference tournament berth, a first since 2010. This year, UTEP is predicted to finish seventh in C-USA.
Last season, the Miners went 23-32 and 13-11 in C-USA, which was their first winning record during conference play in program history. This was, in large part, possible thanks to the C-USA Player of the Year, infielder Courtney Clayton. Clayton consistently rewrote the record books for UTEP all year long as she totaled the most hits in one season for the Miners with 79, along with the most doubles ever for UTEP (21).
"Every day I come in trying to be the best version of myself for the team. My goal is to do whatever it takes to help the team with whatever they need, so we can get better each and every game," Clayton said. "Everyone on this team is about the team, we play as individuals. We try and get better each day on the field and off the field."
The reigning player of the year is coming off an injury that forced her to be sidelined for fall workouts, but she is back and ready to work following her break-out campaign.
"I feel good. It's always hard to deal with an injury, but it also teaches you a lot. I'm thankful that it's feeling better and I'm more than ready to start the season," Clayton said.
Clayton is one of two UTEP players in the 2017 Preseason All-Conference Team. The other Miner mentioned is the junior Kaitlyn Ryder, who led the team in walks (23) and had 17 multiple-hit contests. She also recorded UTEP's second-highest batting average (.350), just behind Clayton's .416 average.
"It's exciting that I'm mentioned on the Preseason All-Conference team, but it's my teammates that got me there. We, as a team, look at the bigger picture of things and we hope to have another incredible season," Ryder said. "Our team is coming together and it's about that time where we show everyone what we can do. If we play how we know we can, it'll be no problem getting back to conference tournament. I think we can go all the way this year."
The Miners will be under head coach Tobin Echo-Hawk for the fourth year. She won her 200th career game when UTEP overcame Florida International at the beginning of the league tournament before her third season was abruptly put to an end by Southern Mississippi.
However, she did will her unit to overcome the odds since the orange and blue was forecasted to finish ninth in the conference.
Her team will have much to live up to with Echo-Hawk's rewarding season in the review mirror.
Picked to finish in the bottom half of C-USA, UTEP will have to quiet their critics once again. It will be no easy task with no. 23 Florida Atlantic as the favorite to run away with the conference.
"At UTEP, we don't get the respect that we deserve and that's the motivation that we use. You look at the teams that are predicted above us and we were right there with a lot of them. I think we are a lot better than people think we are," Echo-Hawk said.
UTEP is also set to square off against four NCAA Softball Tournament teams from 2016 in Arizona State, Utah, Wichita State and Florida Atlantic.
"I think we are going to compete in every game this year. Two years ago, we played a great team in ASU and we almost beat them. So having that experience and knowing that we were close; I think our kids will go into the bigger games saying 'Let's go out and play them,' instead of them coming into the game with their eyes wide open. And hopefully we can take one from them," said Echo-Hawk.
The orange and blue also have only 14 games scheduled on their home field, compared to over 20 matchups the season before. El Paso will not get a chance for a home game until March 18. A year ago, UTEP was seven games under .500 on the road at 6-13. Improvement during away games is a must if the Miners hope to compete in back-to-back tournament berths.
"In the past, we weren't very good on the road, but last year we started building. Now, our team has the mentality that they don't care where we're at, a field is a field and we are going to continue to play our game," said Echo-Hawk.
Opening the new year, UTEP will challenge themselves in four tournaments before engaging in conference games. The Miners are scheduled for the Kajikawa Classic, the DaMarini Desert Classic, the Riverside Invitational and the Jeannine McHaney Memorial Classic before the team kicks-off conference play against North Texas, on March 11.
The goal for the Miners is set in stone—make it to Hattiesburg, Mississippi on May 15 where the Conference-USA tournament will take place this season. With the combination of veterans and youth, with seven freshmen, Echo-Hawk and her unit are seizing the opportunity to compete with any school at any given time.
"I think we have the most potential and the most talent we've ever had. I think it's just about putting the pieces together and making sure that we play to our potential," said Echo-Hawk. "I told the girls yesterday, we could win conference; that's how good we are and how good we could be. But we have to stay the course and respond to failure along the road in a positive way."
UTEP will travel to Tempe, Arizona, to start their 2017 journey. A doubleheader with Stanford and Arizona State awaits the Miners on Feb. 8.