Men's basketball looks to continue winning ways against Bulldogs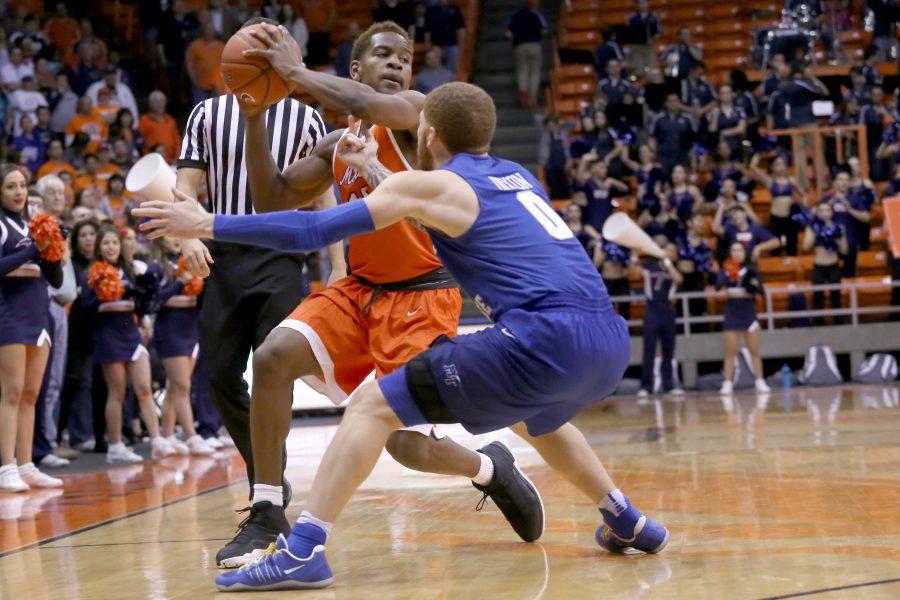 At the start of January, the men's basketball team was clawing for a win after losing 12 games in a row. "Fire Floyd" signs were seen in abundance at the Don Haskins Center, former starting forward Terry Winn left the team, and less and less fans showed up in support.
The Miners were tired of being bullied on the court.
It all started with a double-overtime victory against Florida International, a team most believe they should have beaten. After another nail-biting overtime win against Florida Atlantic, the Miners took their most quality win of the season, beating UTSA 59-39.
The quality wins did not stop there. Despite a close loss to top Conference-USA squad Western Kentucky, the Miners won back-to-back key wins from Marshall (91-68) and UAB (63-59).
Remember, this was the same team that started the month of January with an embarrassing record of 2-13.
Now the Miners have won six of their last seven games and scraped together an 8-14 overall record. They are undefeated in conference home games (5-0) and are stretching for one of the more noteworthy season turnarounds since 2014.
The Miners (8-14, 6-4 C-USA) will play host to second-place LA Tech (16-8, 8-3 C-USA) on Thursday, Feb. 9, at the Don Haskins Center.
This will be a test of both team's strengths and capabilities.
On LA Tech's end, the Bulldogs have won six of their last eight games and are coming into Thursday's game as one of the hottest teams in the conference. Last time the two squads faced off on Jan. 5, LA Tech rolled all over the Miners, 64-44.
The Bulldogs get it done offensively and defensively with players on their squad who rank among the best in the conference. Senior forward Erik McCree leads the troop with a strong 17.5 points per game, followed by guard Jacobi Boykins, who is second on the team in scoring with 15.1 per contest. While McCree is second in the league in rebounds per game (8.9), Boykins is a defensive fiend and ranks first in the league in steals per game (2.2).
The team has six players who average 9.0 points per game or better, so they are expected to try to score significant buckets.
The Bulldogs are not the only group who holds some notable stat lines through conference play, however. Currently, center Matt Willms holds the league's best shooting percentage from the floor with a 59.9 percent rate. Right behind Boykins on the steal stat leaders is Dominic Artis, who averages 2.1 steals per game. Artis is also second in C-USA in assists with 6.0 per game.
After their 57-54 victory over Middle Tennessee, who had previously won 10 games in a row, Floyd believes that the Miners took a big step forward in rising together as a team.
"This was just another step in our growth," Floyd said after their win. "We got good guys, our players are getting better and we are going to be a very legitimate group here the rest of the season. We go back and work, we have spirited practices and our guys are in a new place. It's obviously easier because of our great crowds, our fans get it here."
Defensively, the Miners are becoming better as they have started to create more turnovers per game and decrease team's shooting percentage in second halves.
"Defensively (against Middle Tennessee) we created some turnovers, which led to some easy baskets for us," Floyd said. "It's those stops that gave us a chance."
With hopes to stun the Bulldogs, the Miners will need to key in on both Boykins and McCree, but they also need to be aware of a third emerging scorer from La Tech, most likely forward Omar Sherman.
Tip off between teams is slated at 7:05 p.m.
About the Contributors
Adrian Broaddus, Sports Editor
Adrian Broaddus is the sports editor for The Prospector. He is a junior multimedia journalism major with a minor in political science.



Adrian...