Miners continue perfect streak in home conference games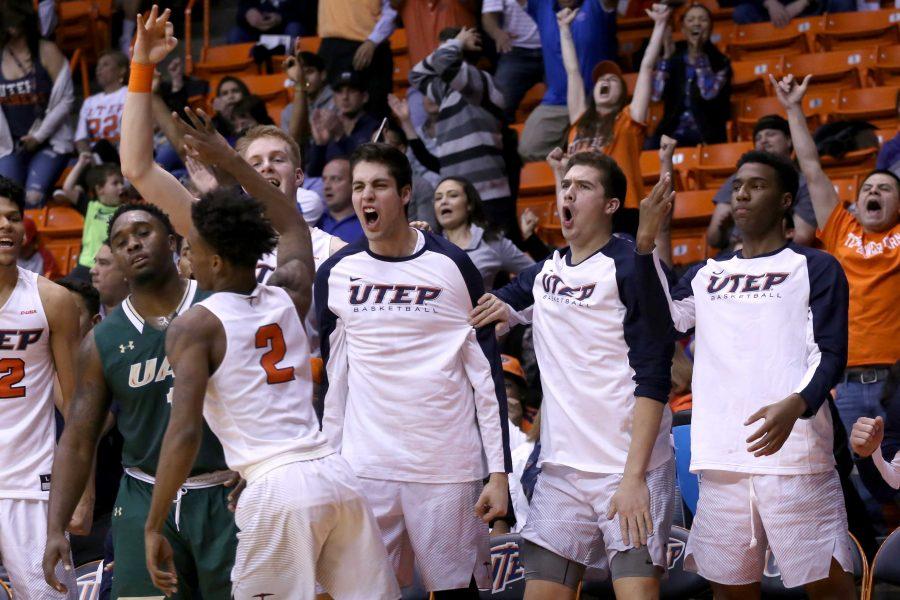 Mike Flores, Reporter
February 3, 2017
It took a special honoring of UTEP great Jeep Jackson at halftime to wake up the men's basketball team to come out on top against UAB 63-59 at the Don Haskins Center, on Feb. 2.
As the Miners (7-14) stay perfect in home Conference USA games at 4-0, they did it against the second best team in the league, UAB (14-9, 7-3 C-USA). And for the first time this season, head coach of UTEP Tim Floyd can say his team is finally over the .500 mark in the conference as they stand at 5-4.
In the first half of play, the Miners looked dead in the water as they shot 31.8 percent from the field and only scored 19 points to show for. UTEP was down for the majority of the first period due to their top scorers on the year, Dominic Artis and Omega Harris only combing for four points.
The halftime score read 28-19 in favor of the Blazers.
"We were down nine and we couldn't make a shot. We needed someone to step up, at one point we were shooting nine percent in the first half," Floyd said.
But when both teams came back for the last 20 minutes of the ball game, the Miners looked like a different team. UTEP used a 44-31 second half effort to overcome UAB.
UTEP went soaring when they nailed seven shots in a row with under four minutes remaining in regulation, and had the crowd jumping out of their seats from the comeback that was being witnessed on the hardwood. At that point, the home team grabbed their largest lead of the contest 56-46 and never looked back.
"It was real important for us to nail seven shots in a row. It got us going and we played off of the great crowd tonight."
Harris went off and scored 19 of his 23 total points in the second half. He hit big shot after big shot and granted the Miners their first lead since the score was set at 4-3 in the early going. From there on, Floyd and his unit did not look back.
"Coach told me to keep staying aggressive in the game," Harris said. "Once I saw my first shot go down in the second half, I told myself "I got this." I wanted to go out on a win in Jeep Jackson night."
The lone senior on the UTEP roster Artis caught fire in the run and added in 10 points and eight assists for his usual ways. He produced for Floyd on both ends of the court. In the game, Artis racked up five steals and gave the UAB guards nightmares all second half.
"It was fun out there tonight. The meaning behind Jeep Jackson night made it that much more special. No one panicked when we were down in the first half," Artis said. "Having the energy of being at home and not wanting to let my team down really got me going in the second half. It means a lot to be over .500 in conference, but we have to keep working."
Also joining in, UTEP's recent league player of the week Matt Willms continued his hot play against the Blazers. The seven-footer scored over double-digits once again with his 14 points on 6-of-12 shooting (50 percent).
"Matt has finally gotten healthy and people are seeing what I've been saying about him since he got here," Floyd said. "What we are seeing is a real talented big guy. The kid did not practice for two years or had an offseason yet. He comes in and just plays in games and he's getting a feel for his game. I like the fact that he's not dropping his head, he's just competing. I'm glald we have him for another year."
However, the most impressive defensive efforts all game, according to Floyd.
"We played great defense in both halves. It was just our offense that was not clicking in the first half. I told our team, let's turn our defense into offense and we did in the second half," Floyd said.
When Floyd brought out his full court pressure on the opposing team, the Miners forced UAB to cough up the rock eight times in the second half and as a result UTEP scored eight easy fast break points.
"We got a couple of traps and steals when our coaches decided to come out with a full court press. It really, really helped us," Floyd said.
Due to UTEP's sound defense, the Blazers only got to the free throw line 18 times and connected on half of their attempts from the strike. And only two athletes in green scored in double-digits, compared to 48 combined points from UTEP's top three scorers with Harris, Willms and Artis.
With UTEP's longest home stand starting off picture-perfect with a victory over the Blazers, the Miners will await Middle Tennessee, on Feb. 4. The Blue Raiders have yet to lose a game in the conference (10-0), but UTEP is playing their best basketball of the season and they have now won five out of their last six contests.
"We are a team in progress still, and, in my opinion, we play a top 15 team next game, in Middle Tennessee State. They are undefeated in our league and it will be a great test for us. I think our guys will come out fired up after this win," Floyd said.