Signing Day features new faces and high hopes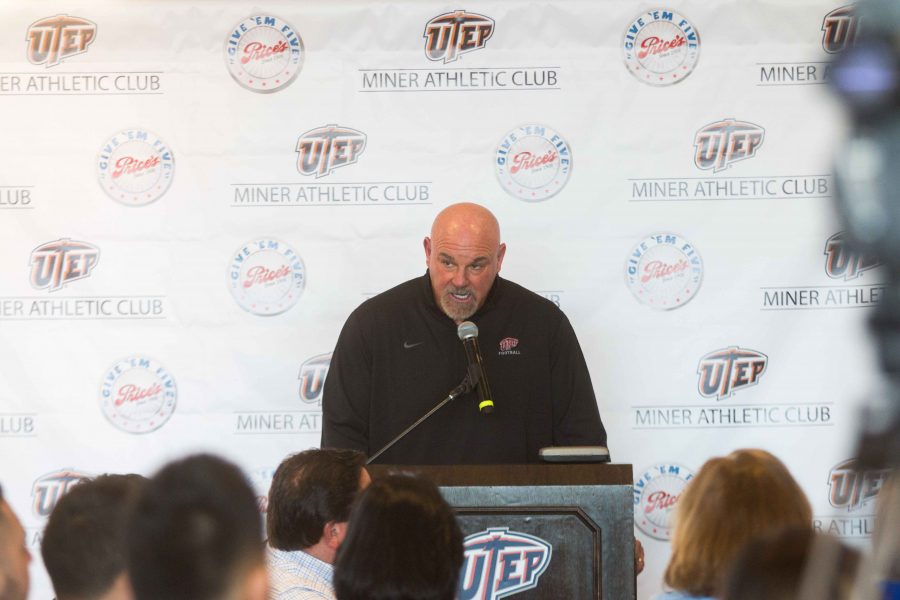 Mike Flores, Reporter
February 2, 2017
UTEP football inked 17 new student-athletes to their roster for the 2017 season on National Signing Day, which took place Feb. 1. Out of the 17 new comers, only three of the players were rated 3-star athletes or better.
However, Kugler does not care for the number of stars by his recruits or the ratings they receive coming out of high school. He looks for who they are as a person first and what their character says about them before he even thinks about putting on their highlight films.
"I know that everybody in this day and age gets caught up in the star system and recruiting services and recruiting rankings. We don't put a lot of stock in that, if any," Kugler said. "This year in the Super Bowl that's about to be played on Sunday between Atlanta and New England, 37 percent of the Super Bowl starters that are going to line up on that field, which is the highest level of football, weren't even in their top 1,000 in the recruiting classes that they participated in."
The main goal for Kugler's team is not the wins or style points his squad may rack up, but it's about setting up his players for a better future and their career after football. Kugler wants athletes that are going to represent the university the right way.
"These are future UTEP Miners and they're going to be productive on the field, they're going to be productive in the classroom and they're going to be productive citizens here in El Paso," Kugler said. "We just came off our best semester ever as a UTEP team. We had our highest GPA collectively as a group. We had 48 players over a 3.0 and we just came off a year with a 1,000 APR score. What that means is progress towards a degree, which means every single player in our program is on point and on progress to get their degree on time."
When Kugler speaks to his recruits he promises the parents one thing. The one thing that can be achieved no matter the talent or size of the people in the jerseys. Being a man of his word, Kugler assures the high schoolers that football will come and go, but an education lasts forever.
"We didn't promise that you're going to be a starter as a freshman or you're going to go to the NFL. Those are false promises. But we did promise every single one of their parents and every single one of these players that they're going to get their degree and as the head coach of the UTEP Miners, that's my number one obligation," Kugler said.
Kugler has been reliant on homegrown kids in his five-year tenure under UTEP. He now has signed 22 El Pasoans, including five from this class.
One of the biggest snatches from the El Pasoans is the up-and-coming running back Josh Fields, who played for Americas High School. In his senior year Fields was named El Paso Time's offensive MVP for the season after he ran wild for 2,477 yards (7.5 average), 26 rushing touchdowns and 32 touchdowns total.
Fields is rated a 3-star recruit, according to 247Sports. The 5-foot-8 back decided to stay in the Sun City despite interest from Texas Tech, New Mexico, Colorado and Stanford. The new Miner will likely be the one to fill the shoes of UTEP's all-time leading rusher Aaron Jones.
"We're very excited about this young man. I really feel he's the best player in El Paso. He's probably the most qualified player that we have recruited to take over an offense since Aaron Jones, and that is Josh Fields from Americas High School in El Paso," Kugler said. "Fields puts up Aaron Jones type of numbers. But Aaron was 165-pounds, Fields is 195-pounds and he's only going to get bigger."
The other much-anticipated pick up is on the defensive side of the ball. UTEP has picked up Parkland's linebacker Joshua Wells. Coming out of high school he was named District 2-5A's defensive MVP, after his strong senior year, which saw 25 sacks from the 6-foot-2, 225-pound player. He also totaled 132 tackles and 14 for a loss in his last year.
"He was District MVP following senior season; all total he brings 33.0 overall sacks to UTEP on his resume," Kugler said. "In the NFL, you call those Pro Bowl numbers."
With possibly the biggest name on signing day, the 6-foot-3, 200-pound quarterback Alex Fernandes signed his letter of intent to attend UTEP next fall. The 3-star had his breakout year during his 11th grade year, when he threw for 37 touchdowns and 2,918 passing yards. In total the Austin-produce totaled 53 throwing touchdowns, six rushing scores, 4,814 yards of passing and 410 yards on the ground. He is a multiple-sport athlete in high school (football and basketball).
"Very productive high school career. He reminds me a lot of Ryan Metz, our own quarterback. Except Ryan Metz when he came out of high school weighed 170 pounds. This kid weighs 200 pounds and is also going to get bigger. He can make all the throws," Kugler said.
Helping Fernandes will be the JUCO tight end transfer David Lucero. In two years, under Boise State and then Arizona Western College, the 6-foot-5, 230-pound signee hauled in 12 receptions, 154 yards receiving and one touchdown. Coming out of high school, Lucero was ranked No. 27 in the nation.
From Onate High School, Kugler found his replacement for former fullback Darrin Lafusa, in Forest McKee. At 6-foot-1, 235 pounds McKee was a member of the 6A first-team all-state selection for the 2016 season, after he totaled 167 tackles (11 for a loss), four sacks and two interceptions. However, he is a threat from both sides of the ball. When he was at fullback, McKee rushed for 717 yards and seven touchdowns his junior year. So the Miners got themselves a do it all athlete.
With the cavalry of last year's team departing, the Miners believe they have received the right pieces to build a unit that can grow and flourish together. UTEP will kick off their season against one of the best teams in the nation, when the Miners will travel to Oklahoma, on Sep. 2. Until then, the young UTEP team will start preparation now.
"That wraps up our 2017 signing class. We're doing something a little bit different this year. We're going to be extremely patient. We have two scholarships available. We're going to hold on to those scholarships until May and possibly look for a late qualifying high school player," Kugler said. "We're ultimately looking for football players who care about getting a degree and that they are on the same mission we are on – win a bowl and a conference championship. We're not going to stop working at it until we achieve it."